A Riad is "a traditional structure consisting of a number of rooms on several floors centred around a patio, courtyard or
garden. It is based on a traditional Arab-Andalusian design, originating from Roman villas and Persian gardens. Such
characteristics can also be found in some 18th and 19th century Sicilian buildings."
The inspiration for building a "RIAD" in San Vito Lo Capo came from the strong link that exists between the Maghreb
and the Province of Trapani, the most Arab part of Sicily. Couscous, our traditional dish, formalises this link.
Today, San Vito Lo Capo is regarded as the world capital of couscous, the dish of peace, and an intangible UNESCO
world heritage site.

We are proud to say that the RIAD is one of the most popular places to stay in San Vito Lo Capo.

Designed to offer maximum comfort to its guests, the RIAD Comfort Rooms 3* is a new hotel, which opened in July
2016 and is located about 50 metres from the white sandy beaches of San Vito Lo Capo.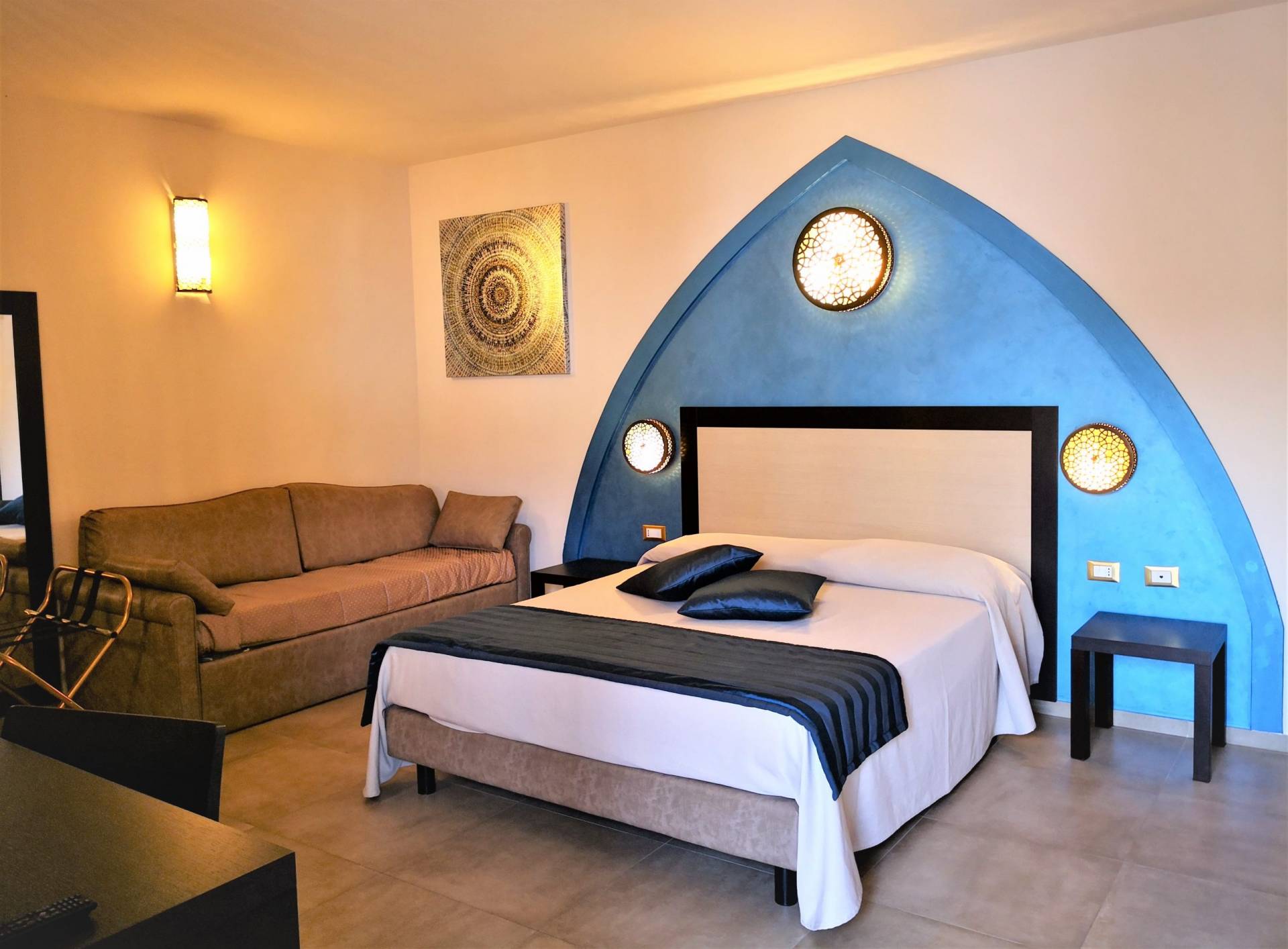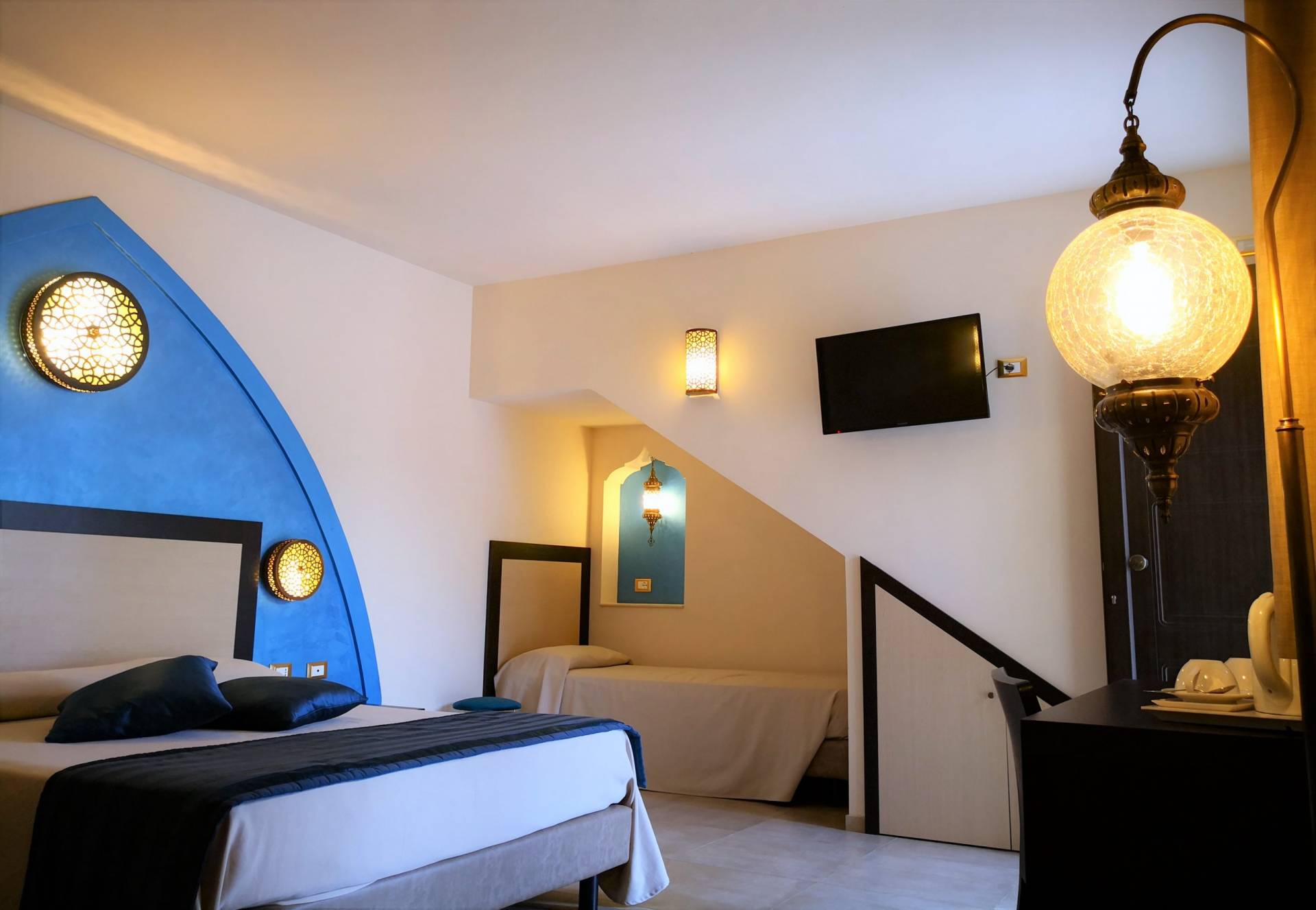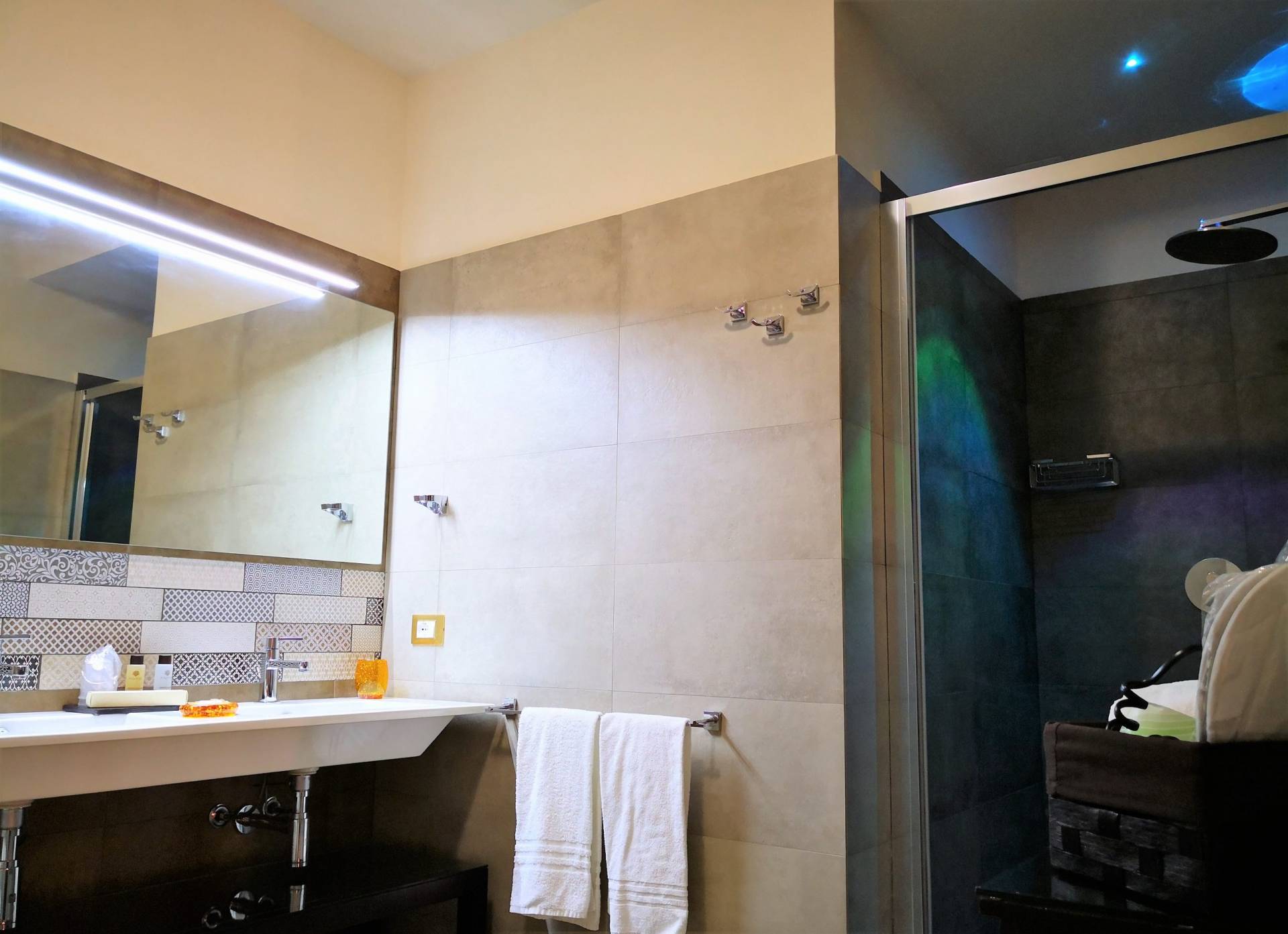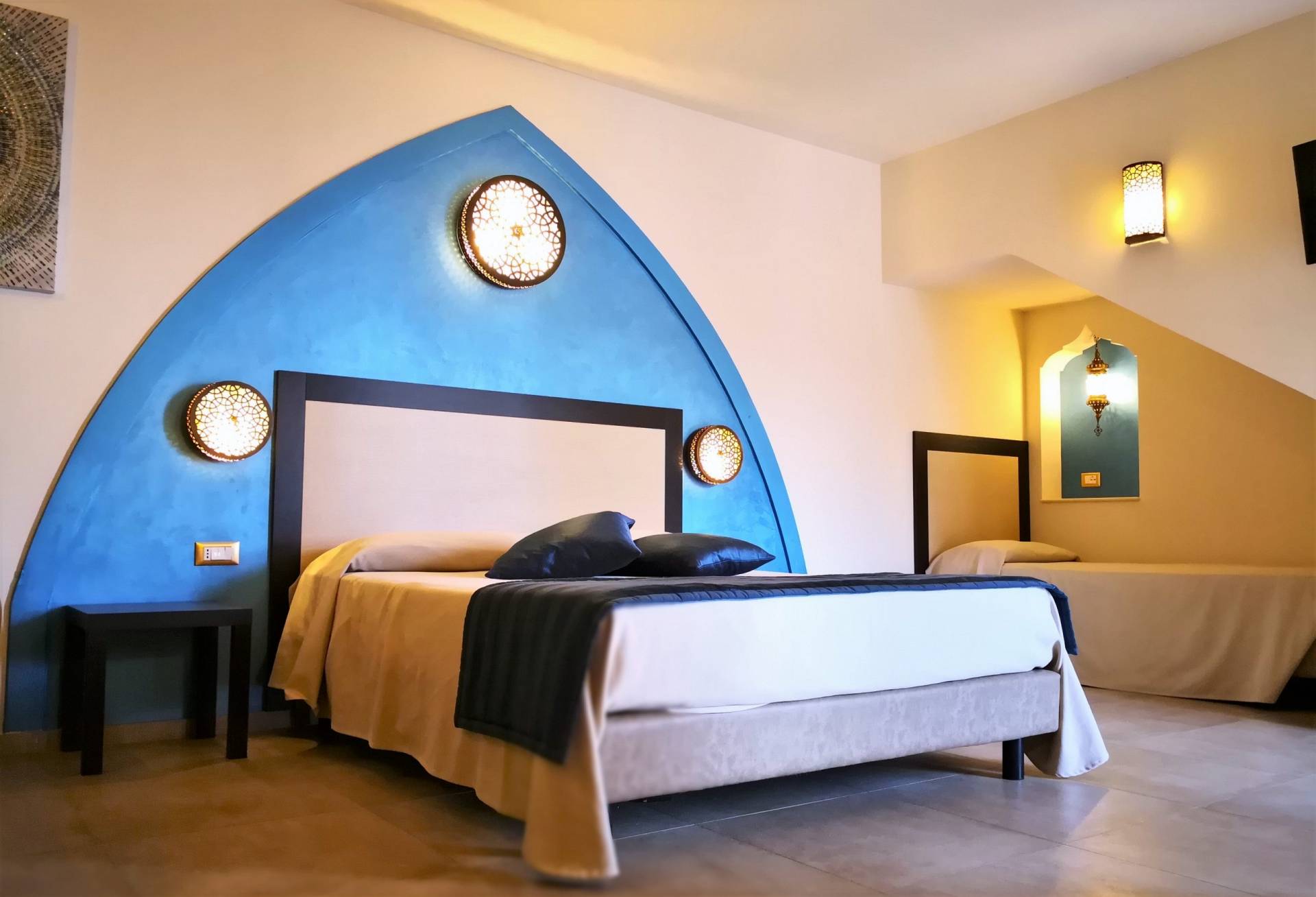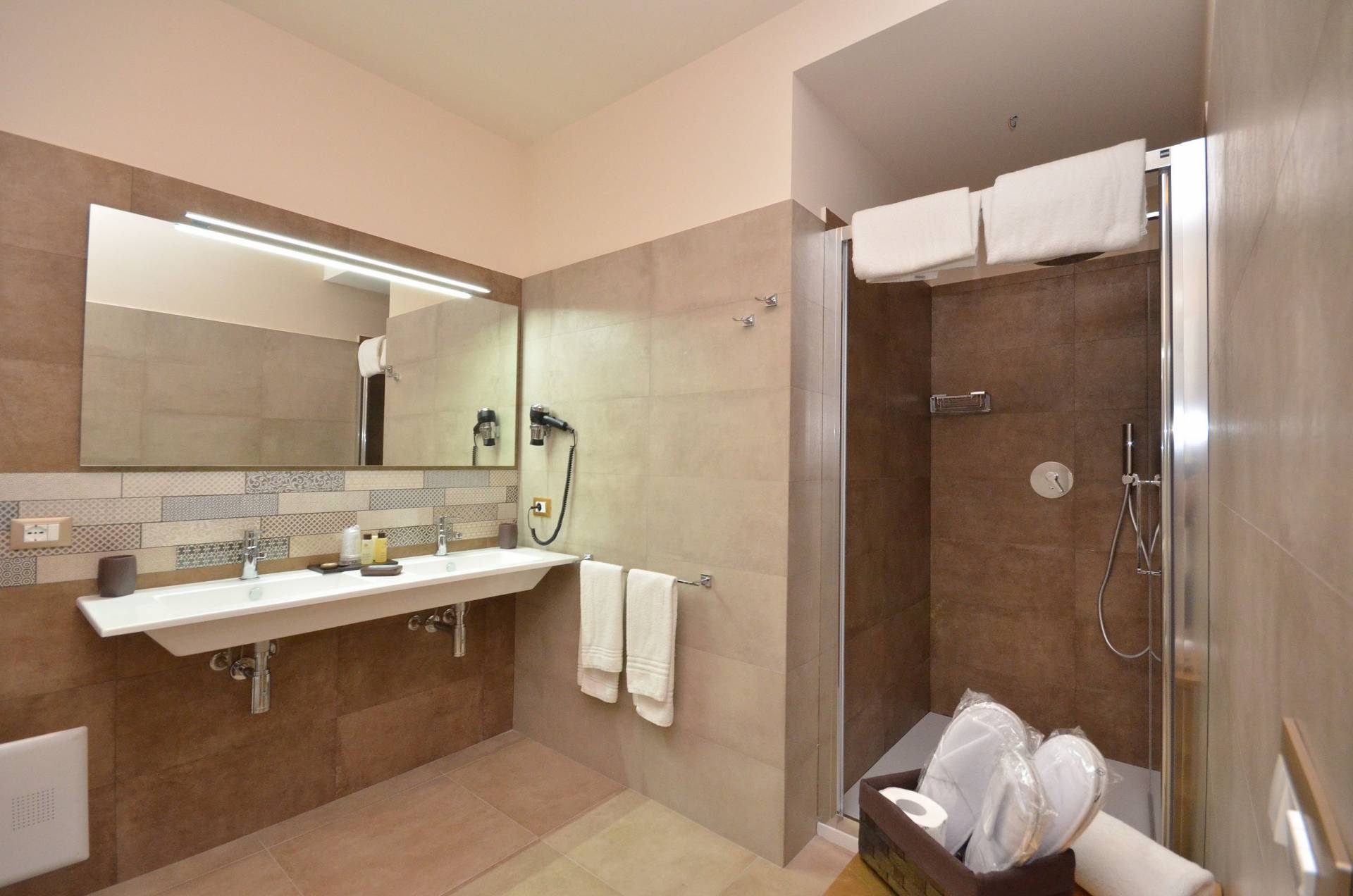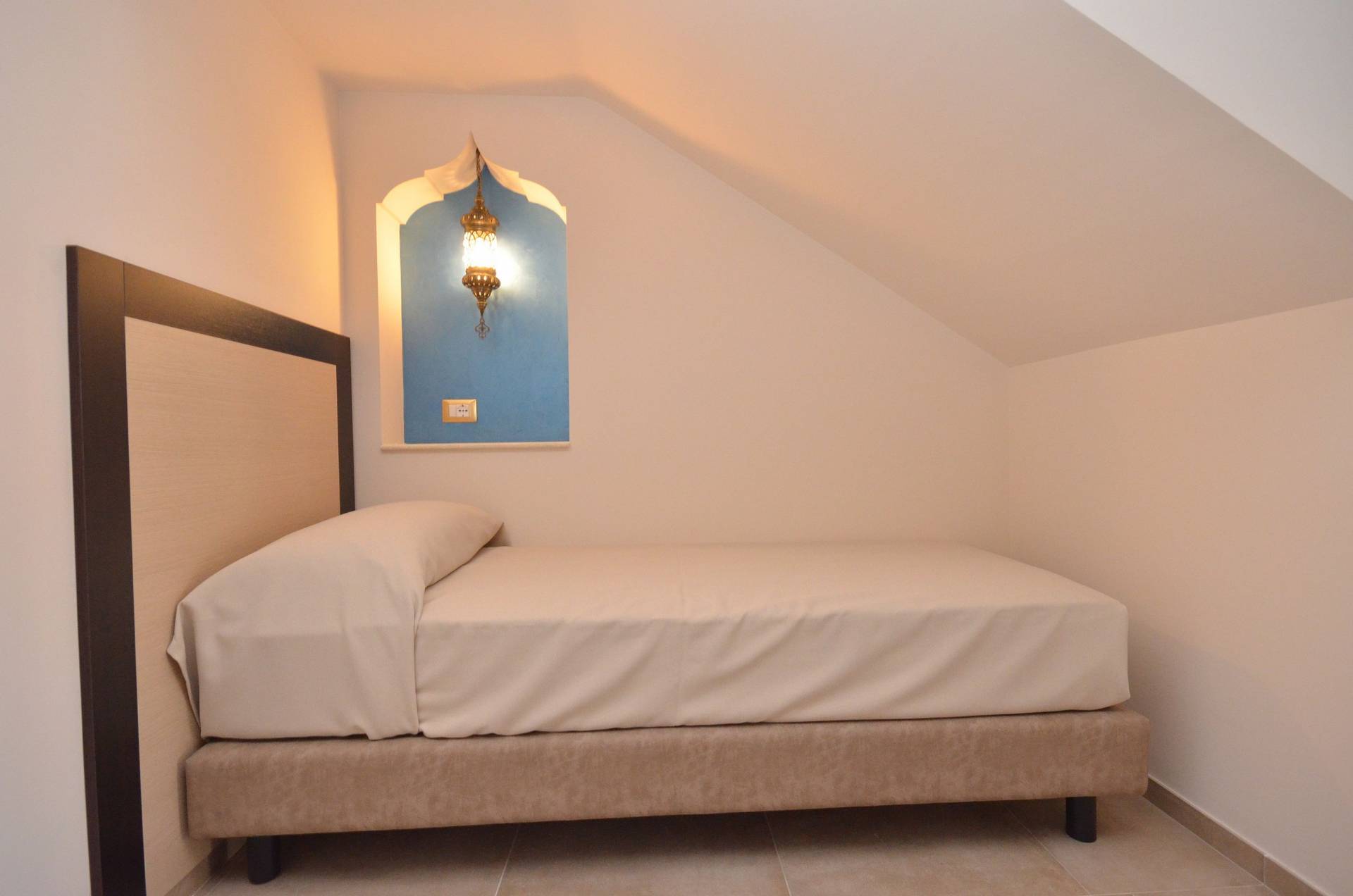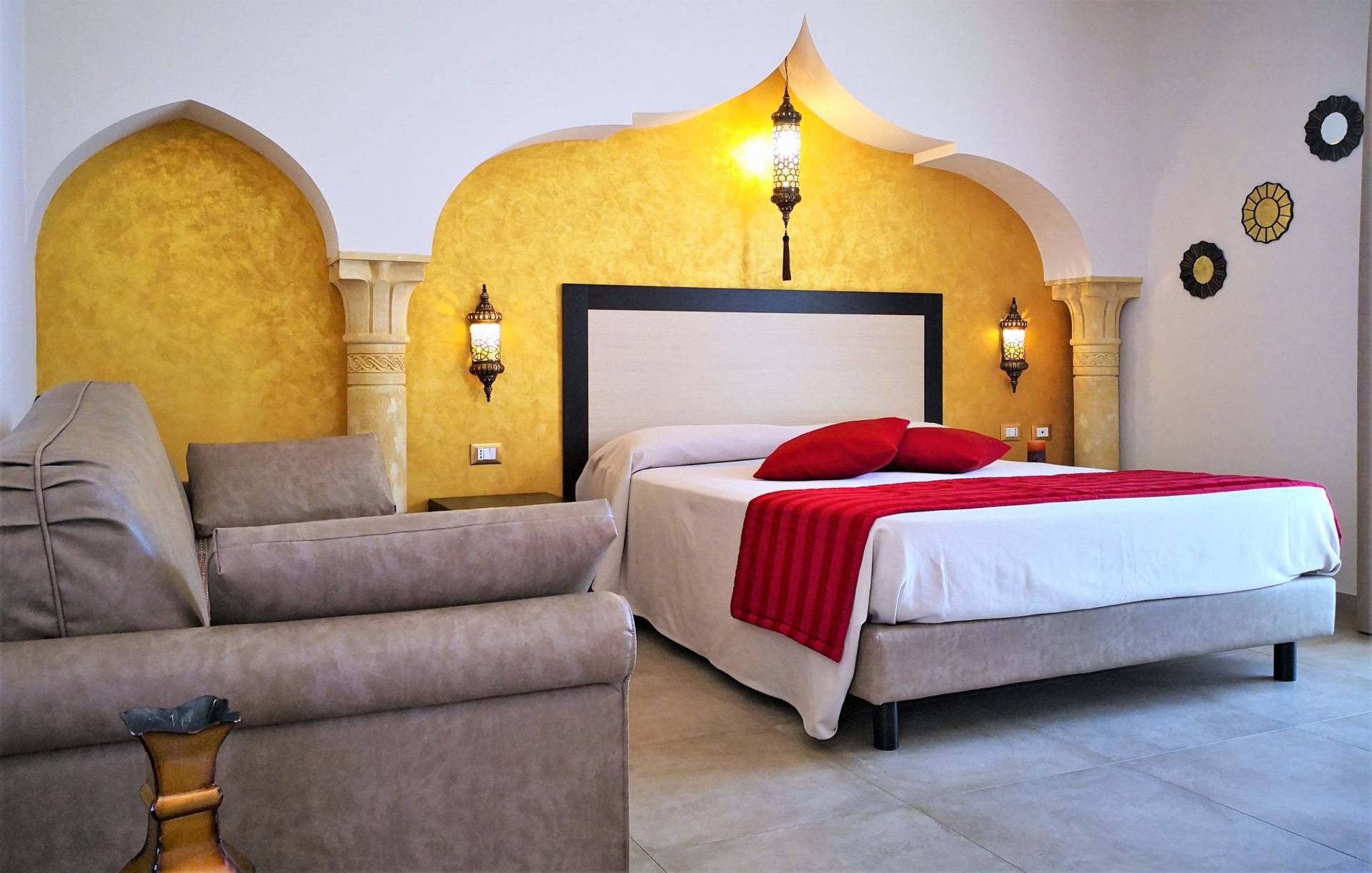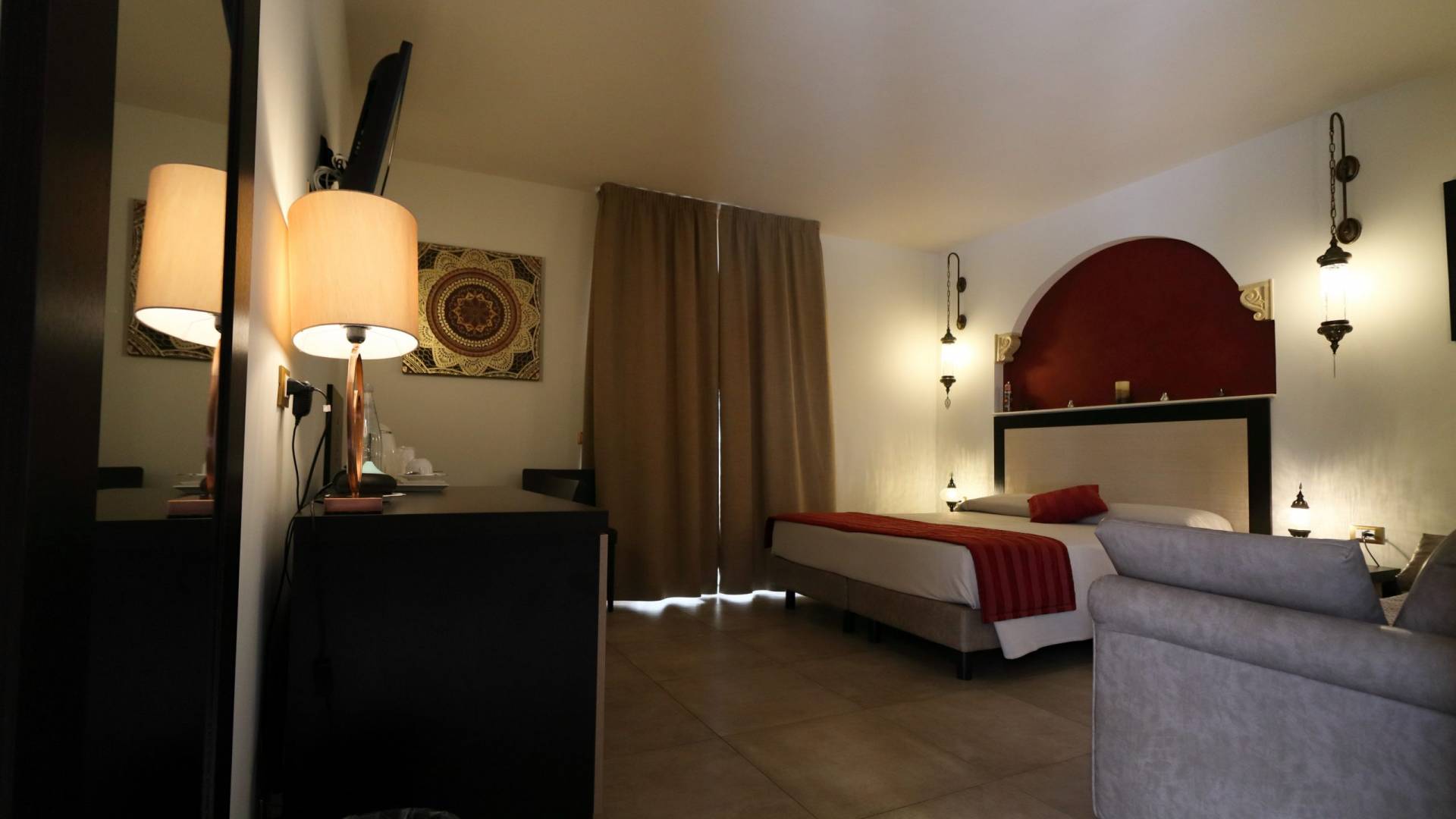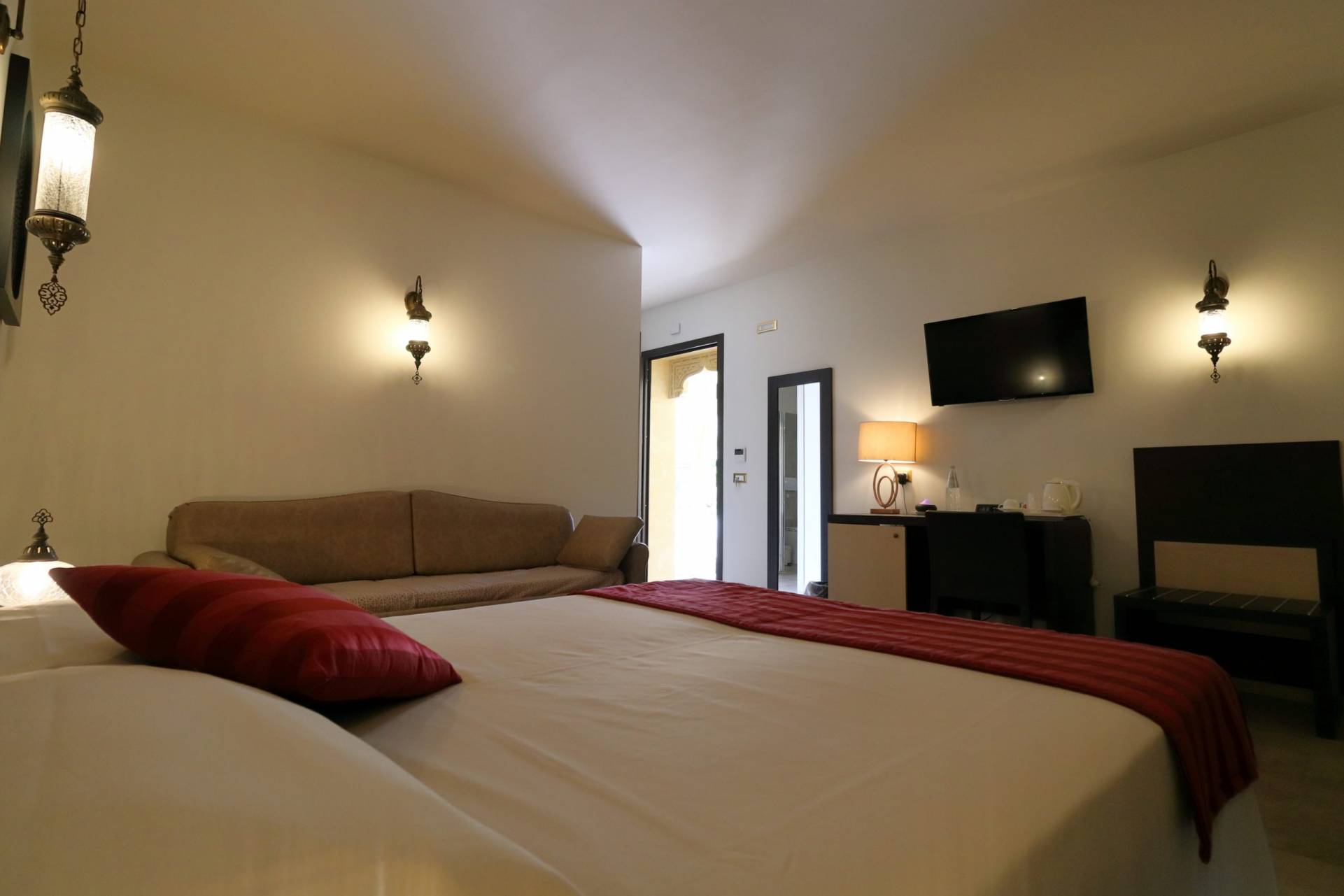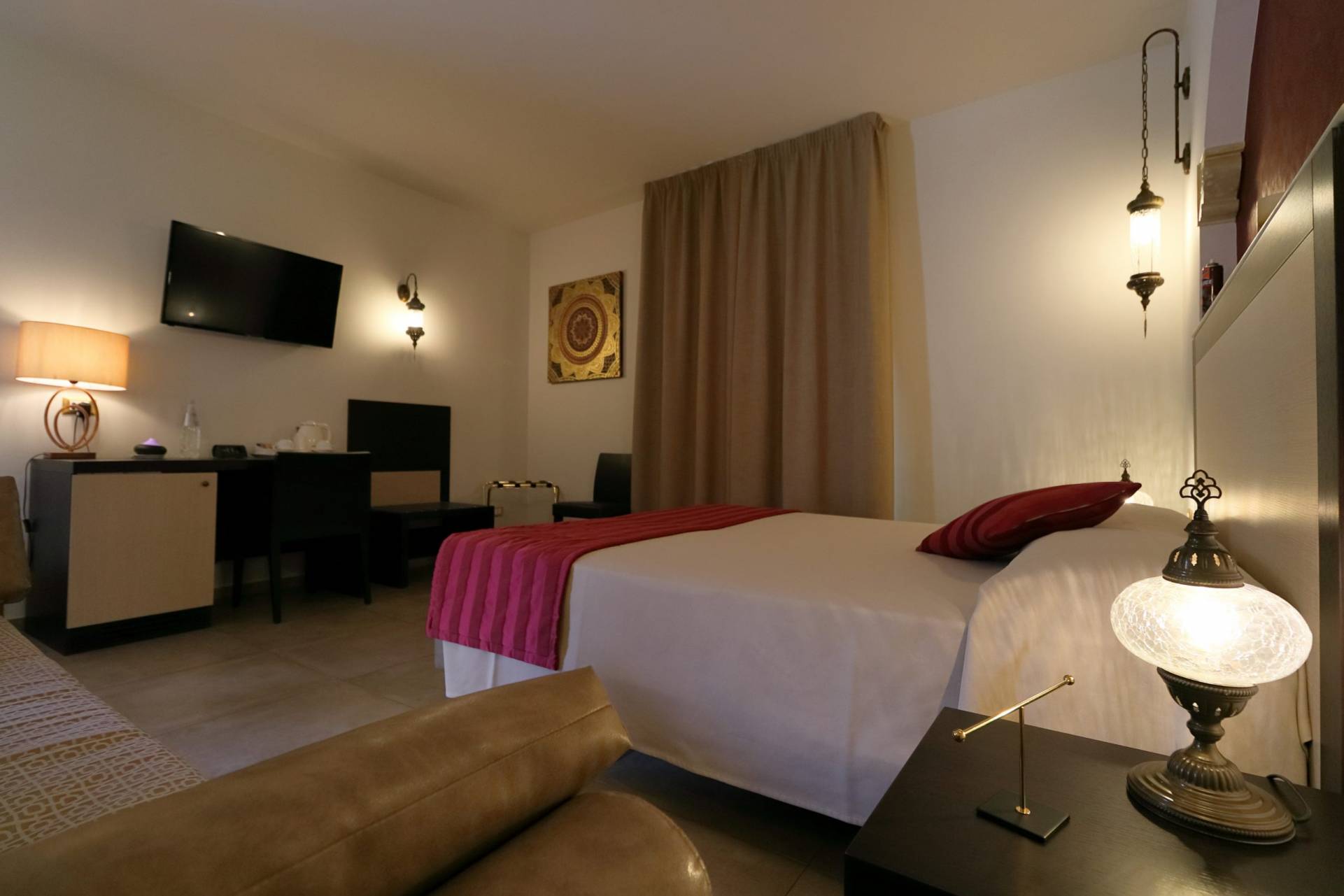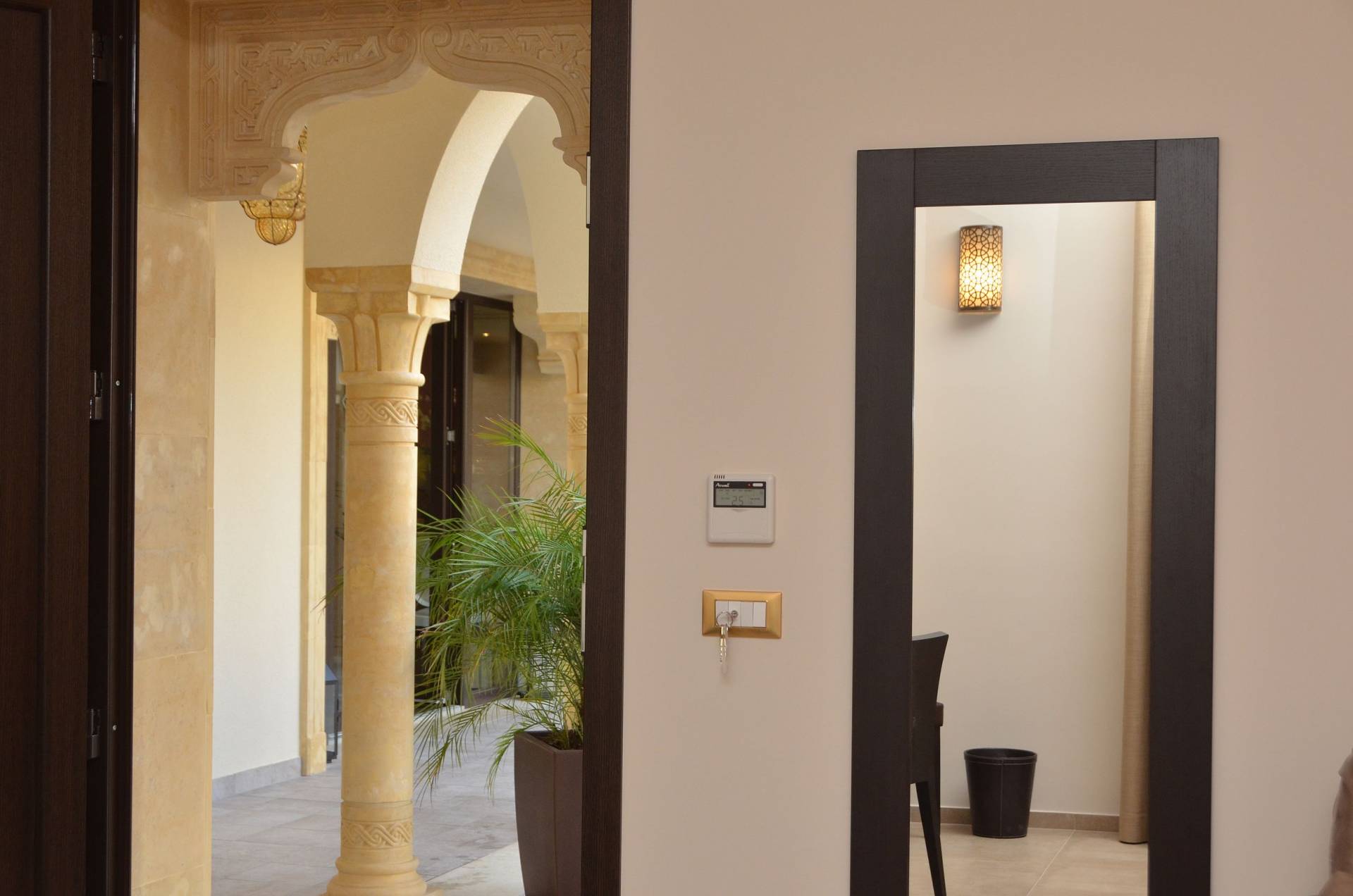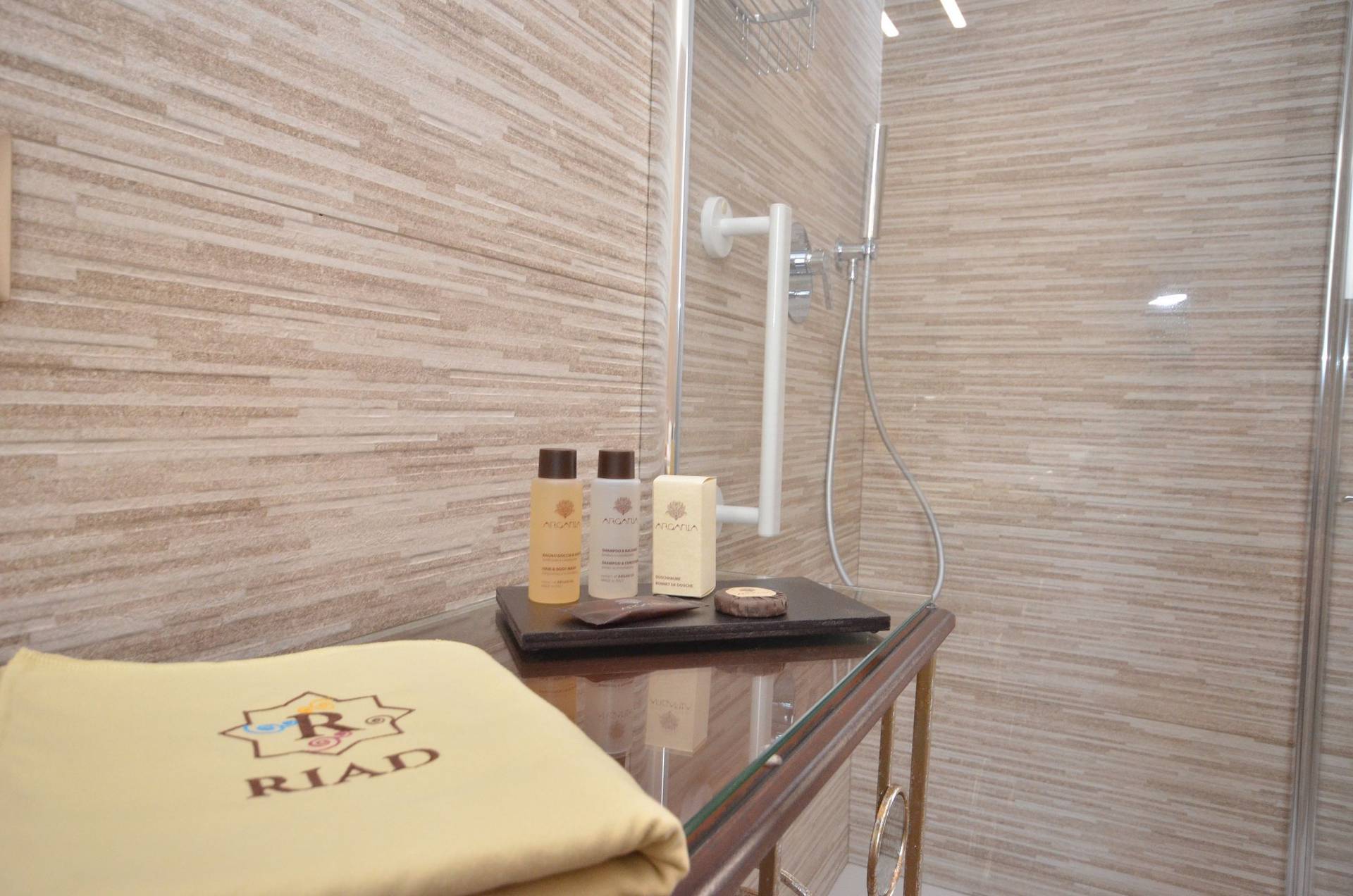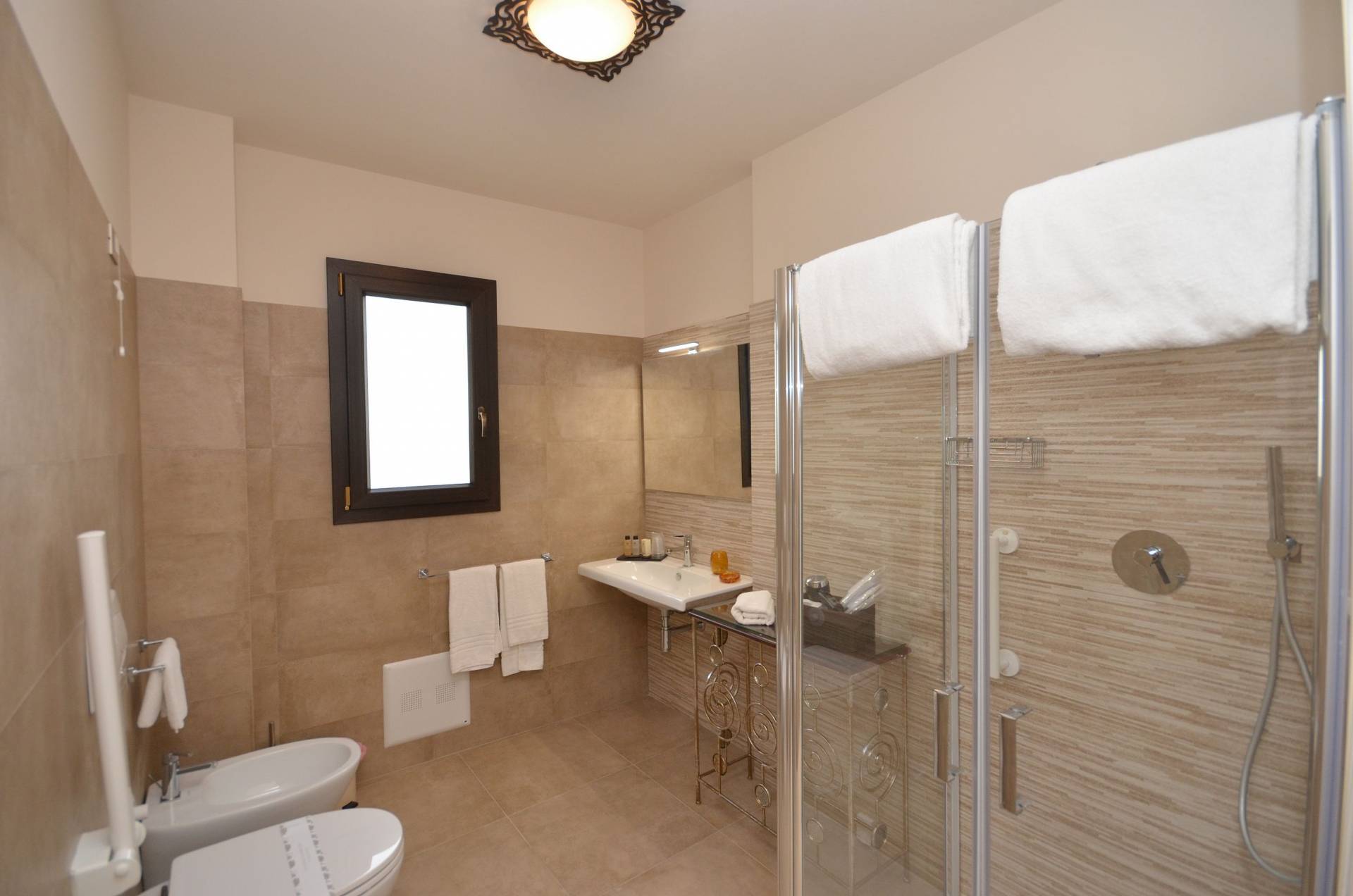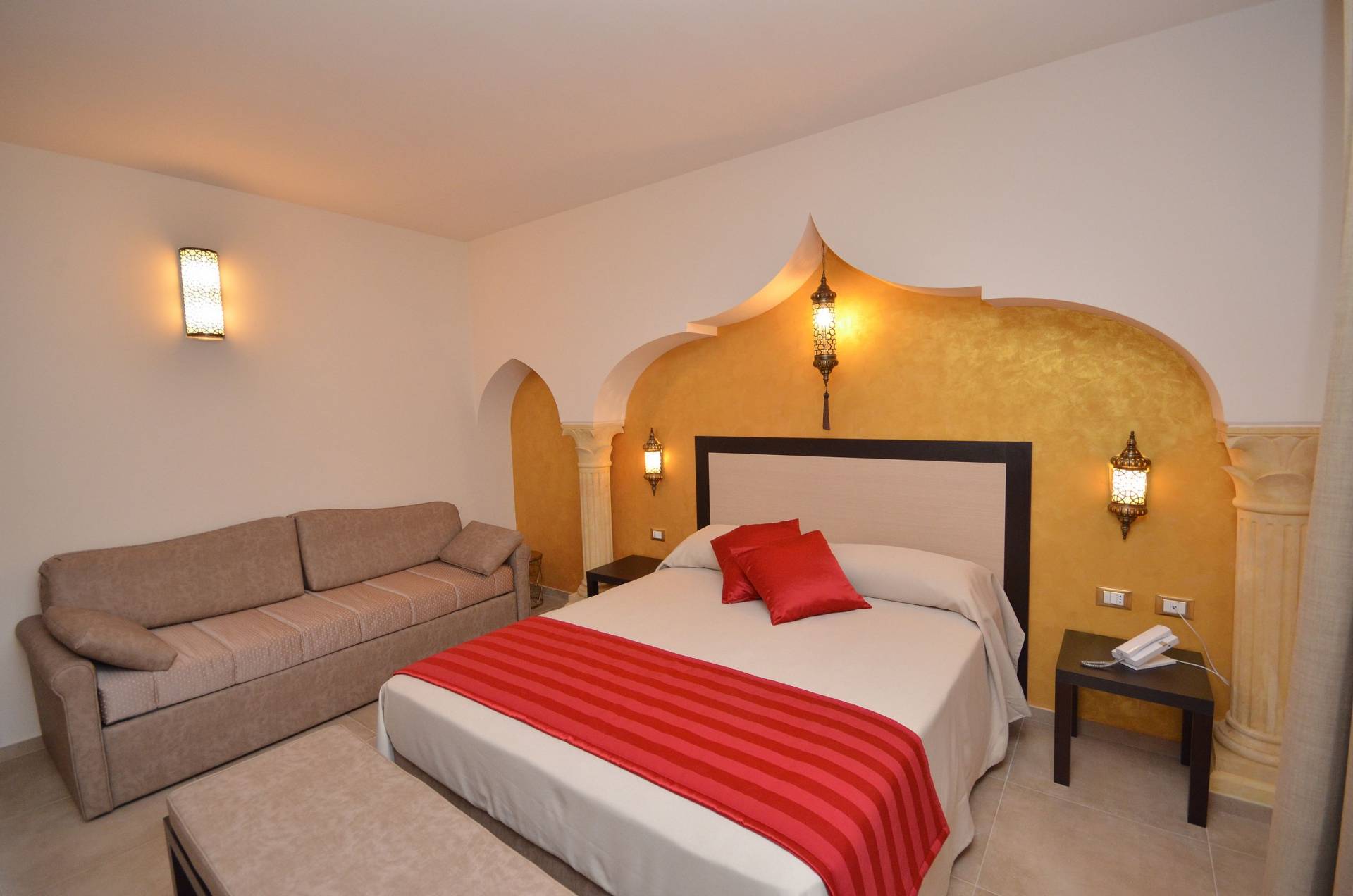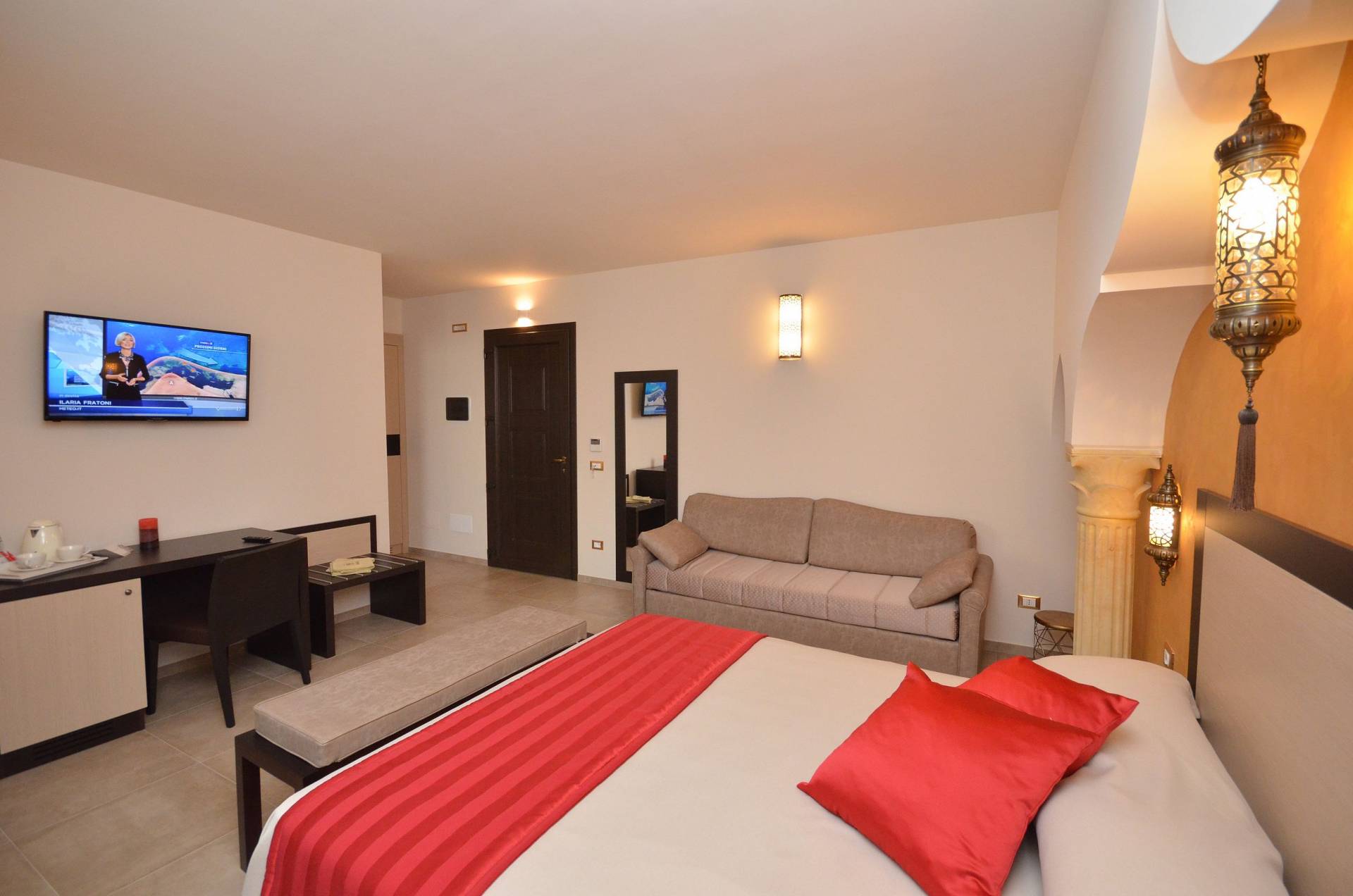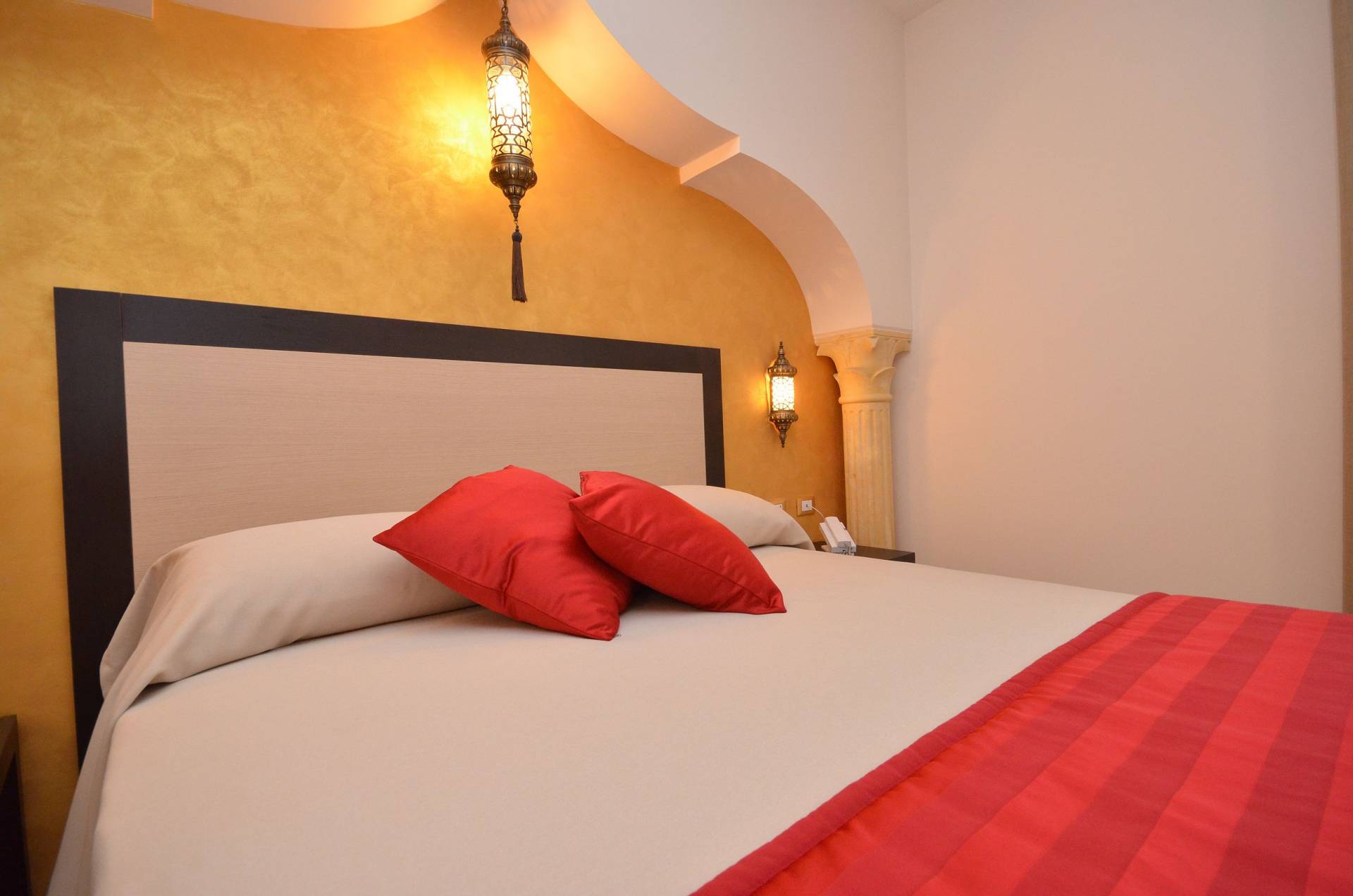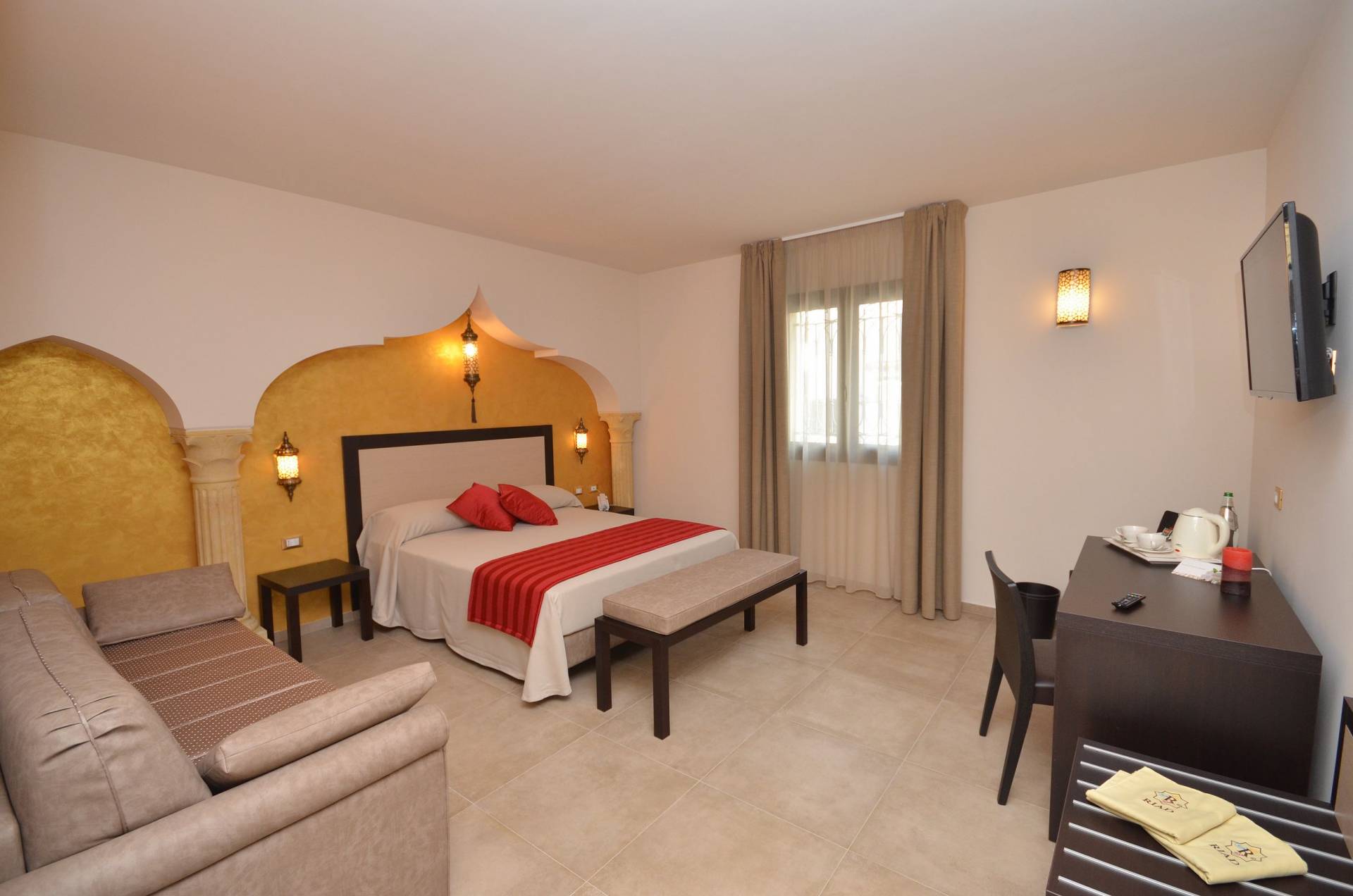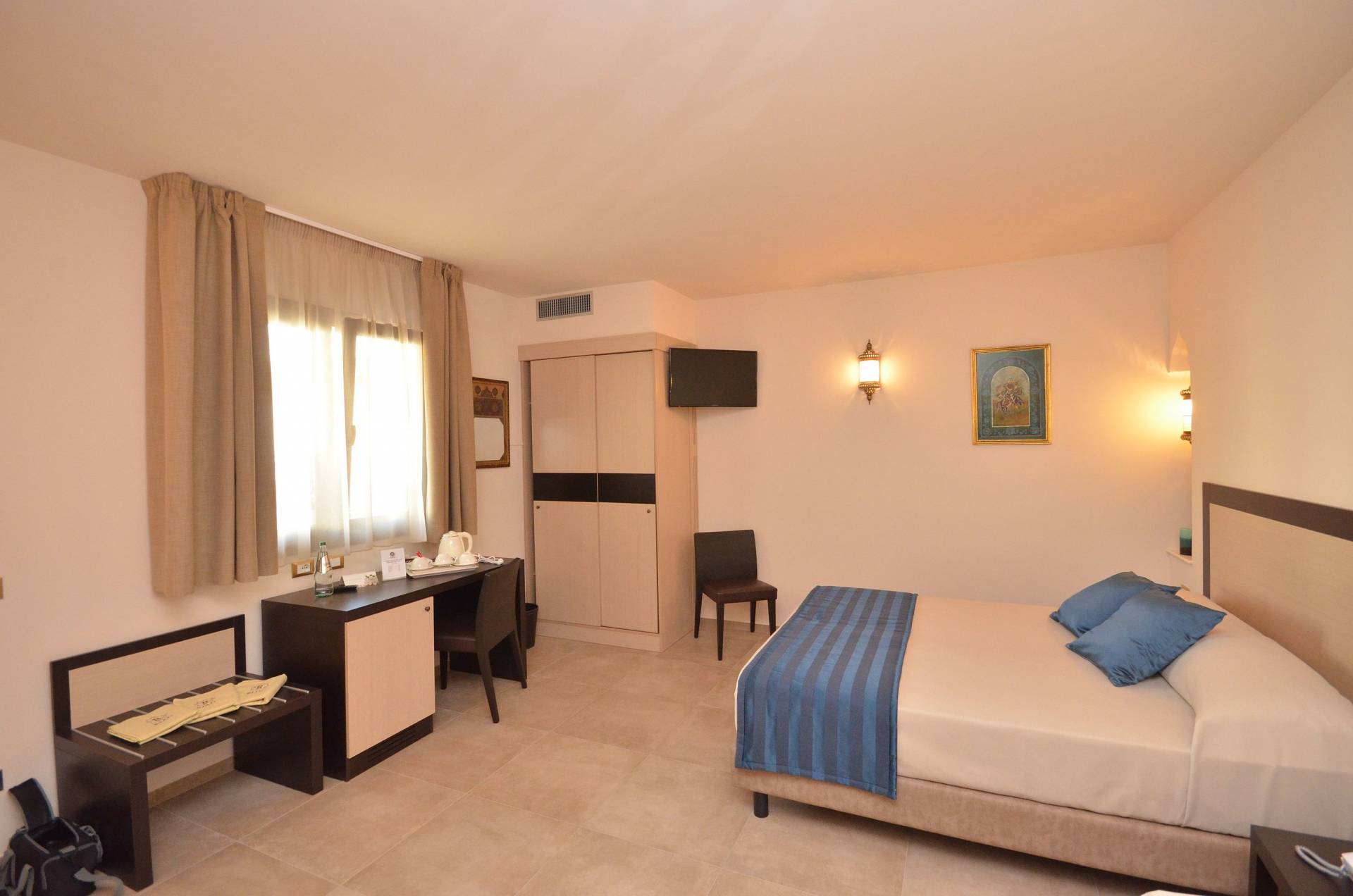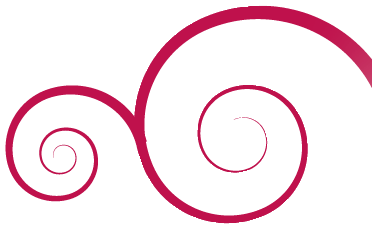 The RIAD has just 6 spacious and exclusive rooms ranging in size from 25 to 35 square metres, all with large bathrooms and soundproof walls and windows. The quality standard of our rooms is certainly among the highest in San Vito Lo Capo.

The hotel is arranged over two levels (ground floor and first floor) around an elegant outdoor patio, from where you can access the rooms and the splendid terrace overlooking the sea and Monte Monaco.

All our rooms are "NON-SMOKING"; the Riad has large open spaces where you can smoke.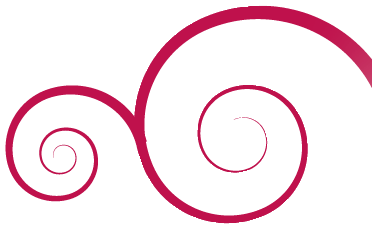 COMFORT rooms vary in size from approx. 25 to 30 square metres and include a bathroom with cubicle and shower tray.
They boast a double bed (or two single beds on request and subject to availability), a sofa/single bed, mini-bar, safe, LCD flat-screen TV, hairdryer, bathroom linen, bathroom toiletries, disposable slippers, air conditioning, beach towels, luggage rack, electric kettle, free Wi-Fi and curtains and blinds. They either have a window or a balcony overlooking the street and the patio.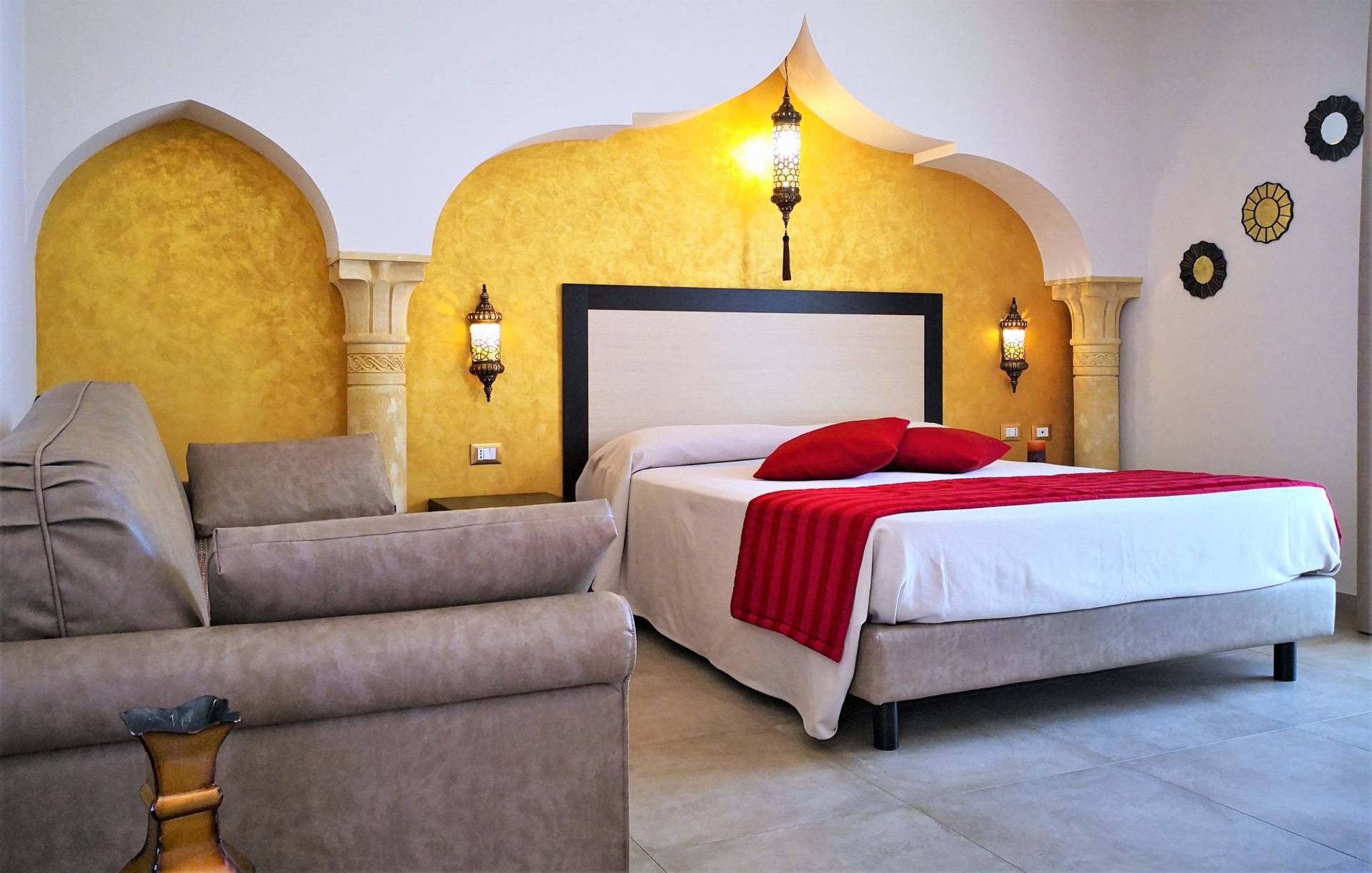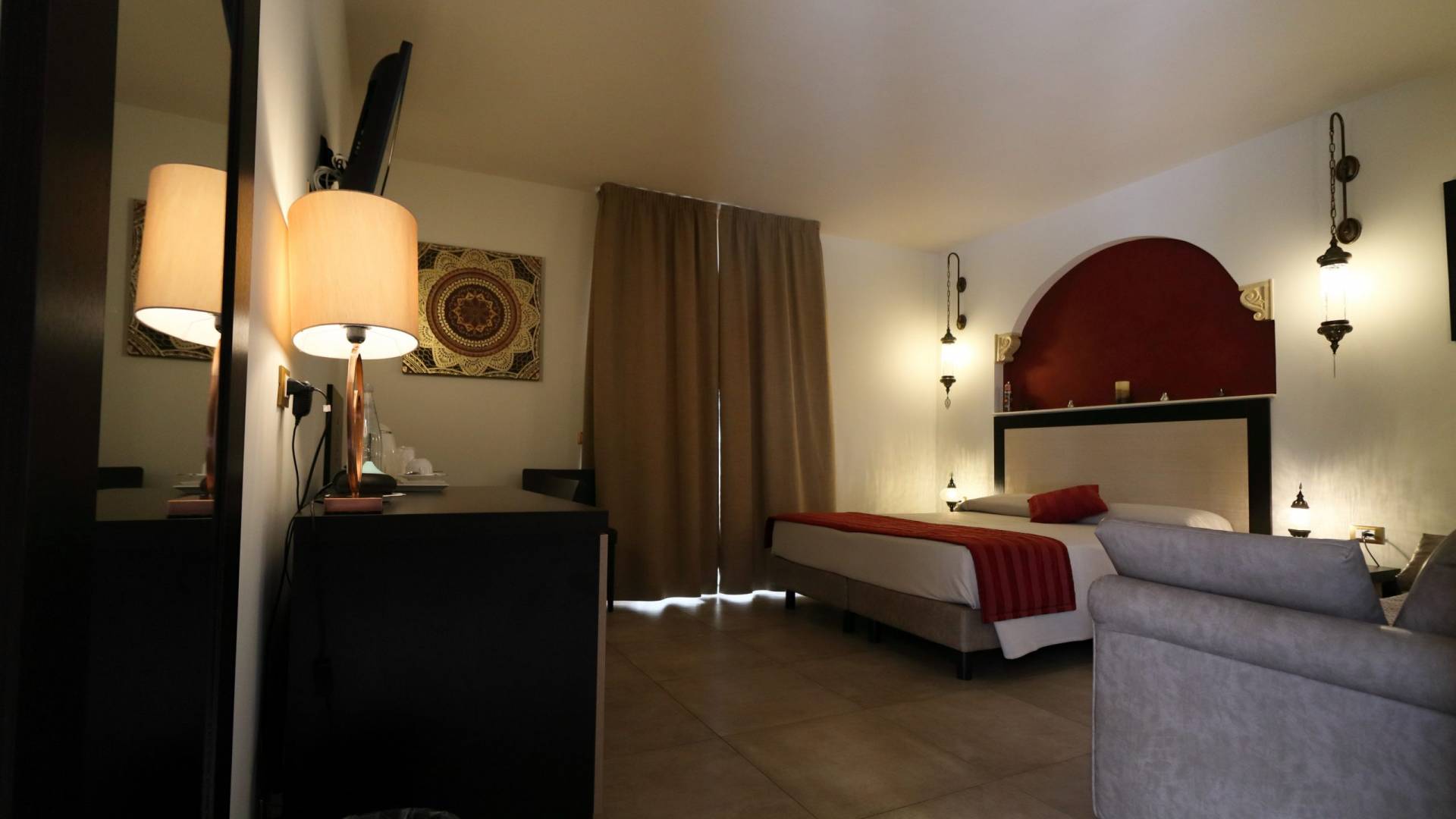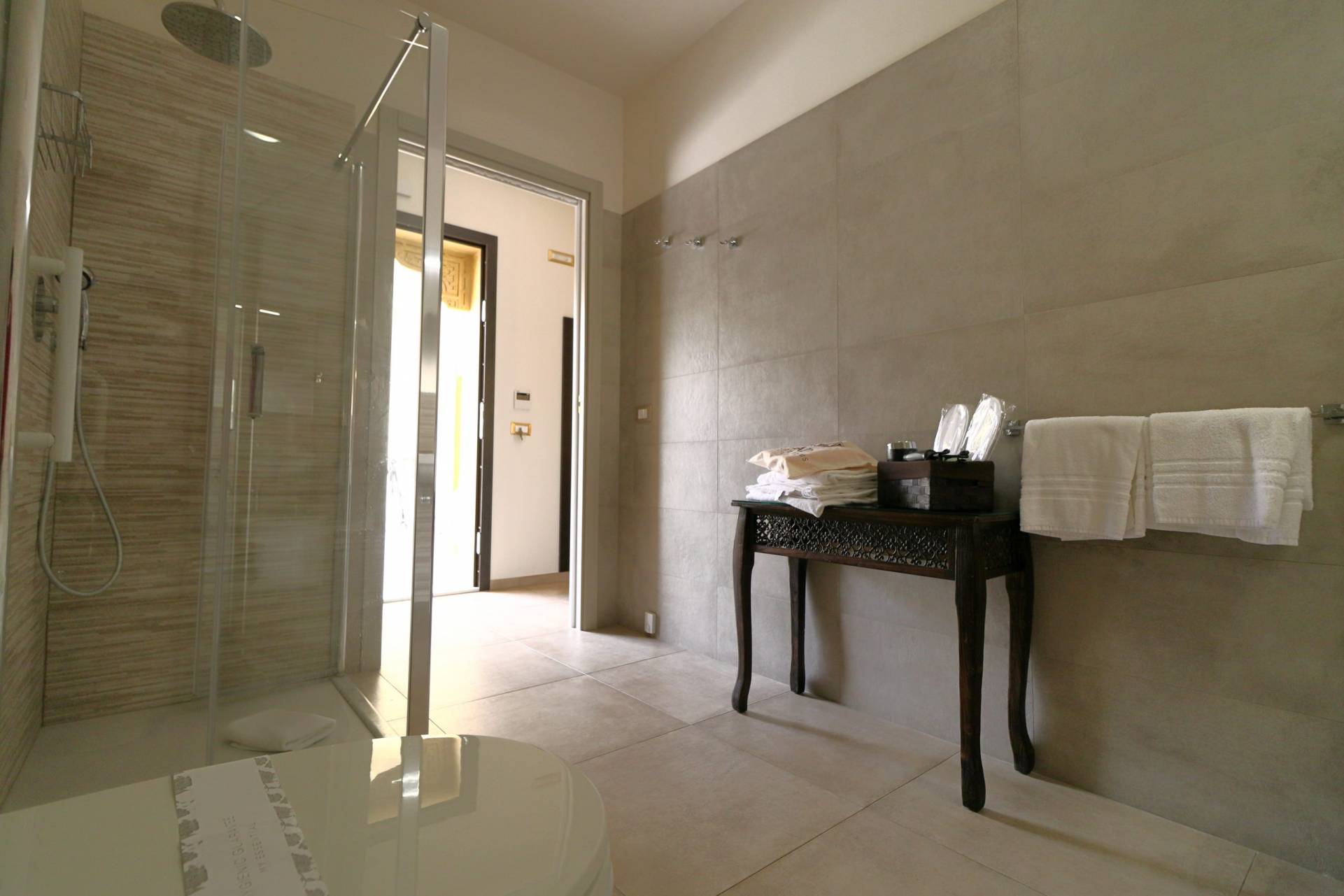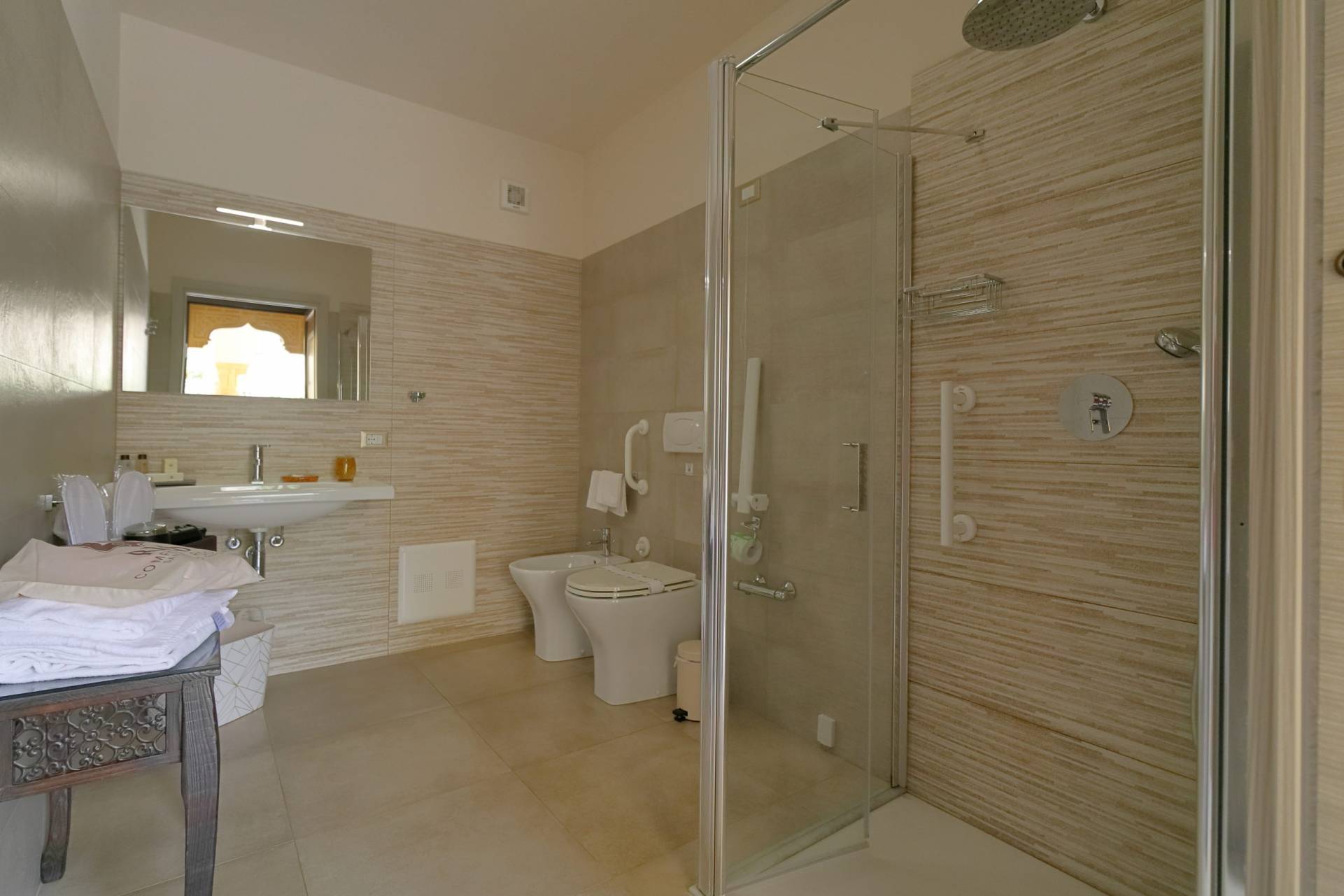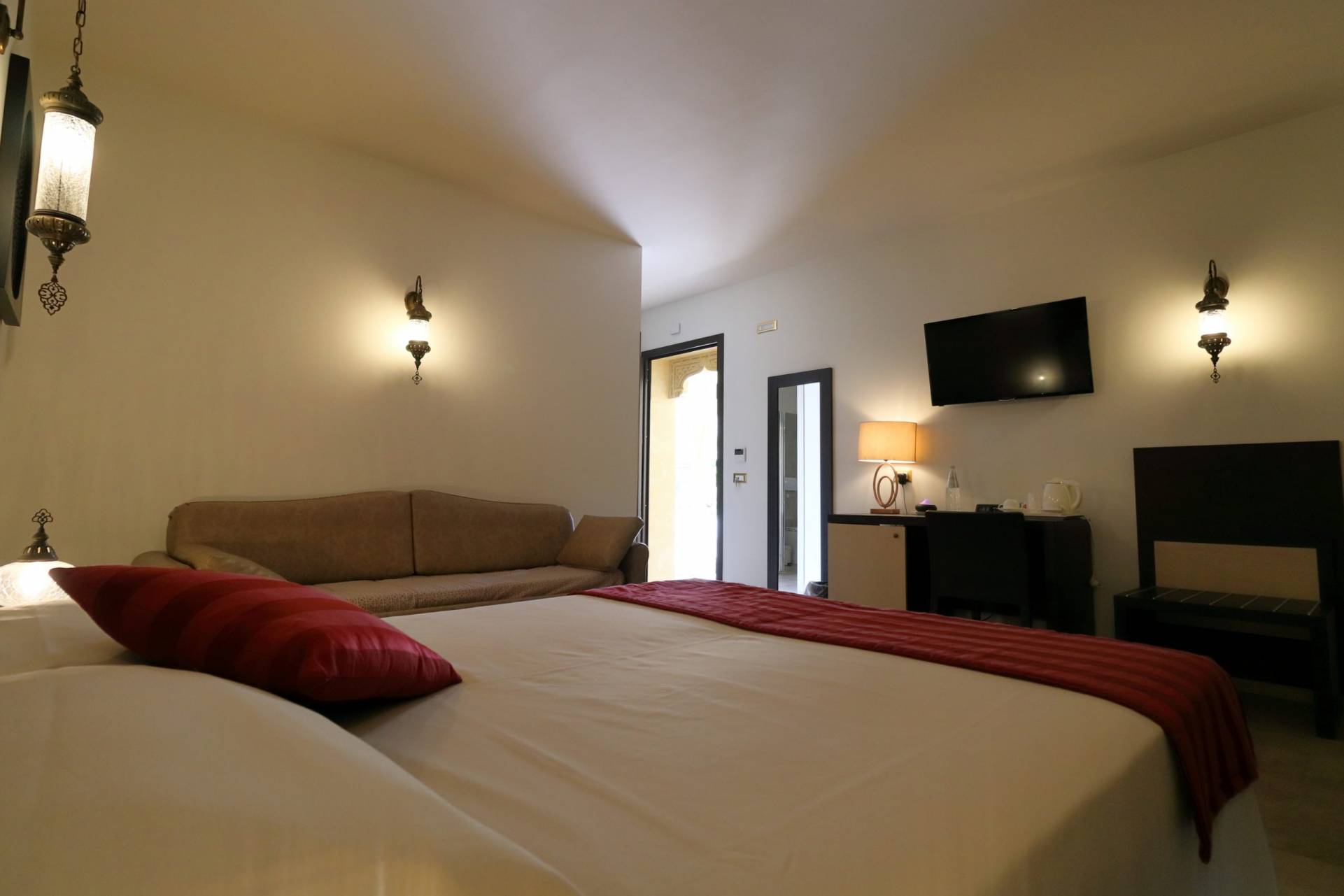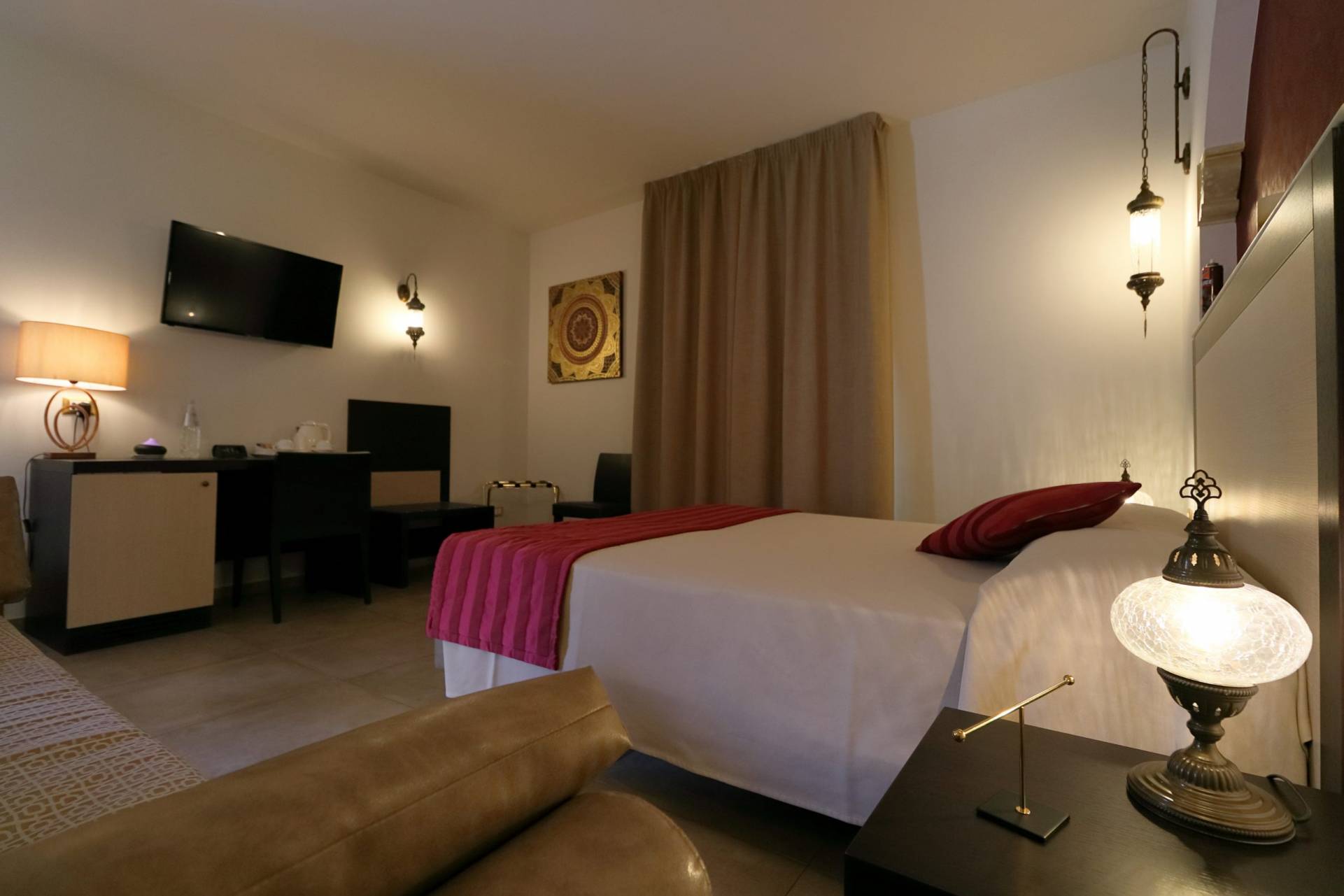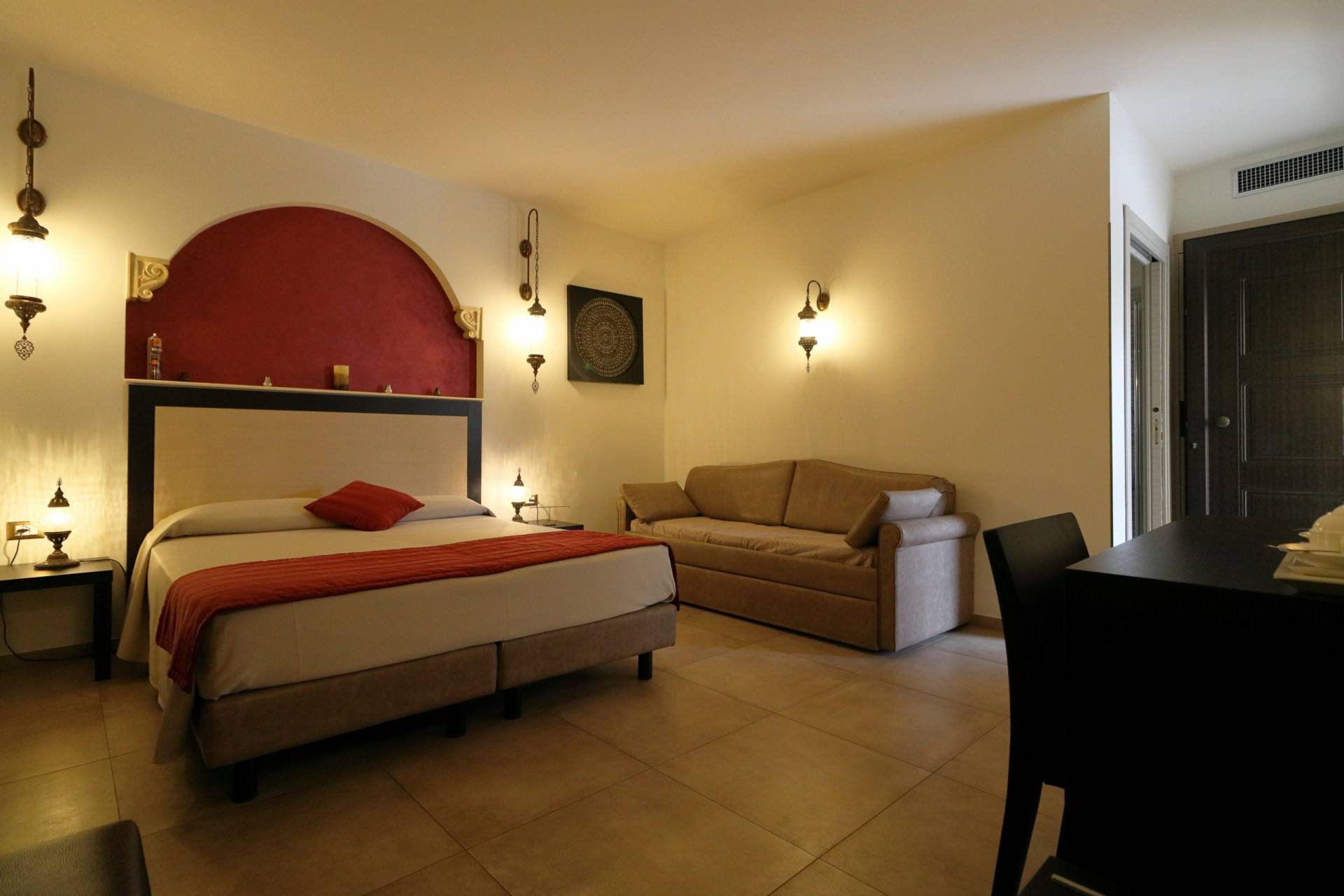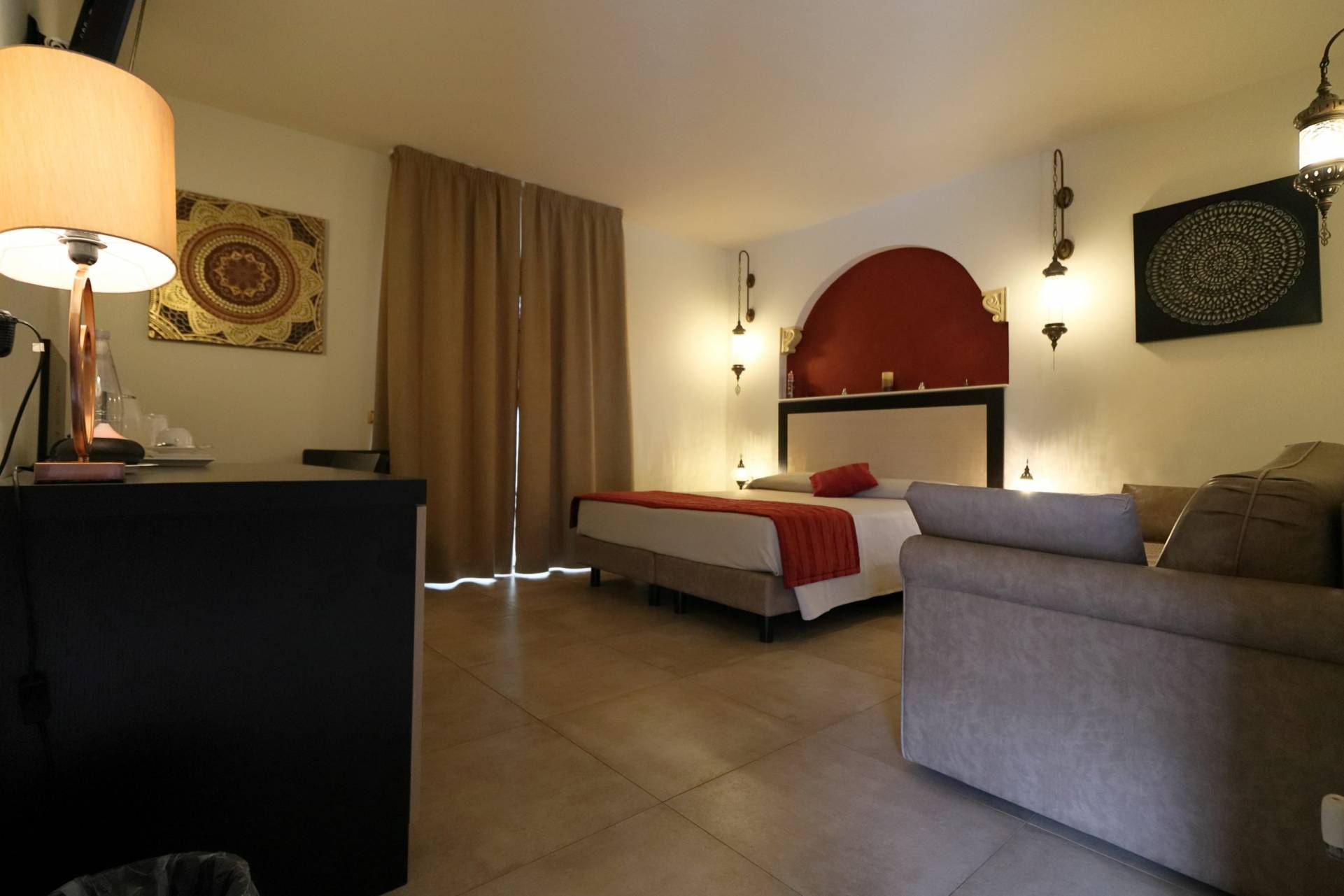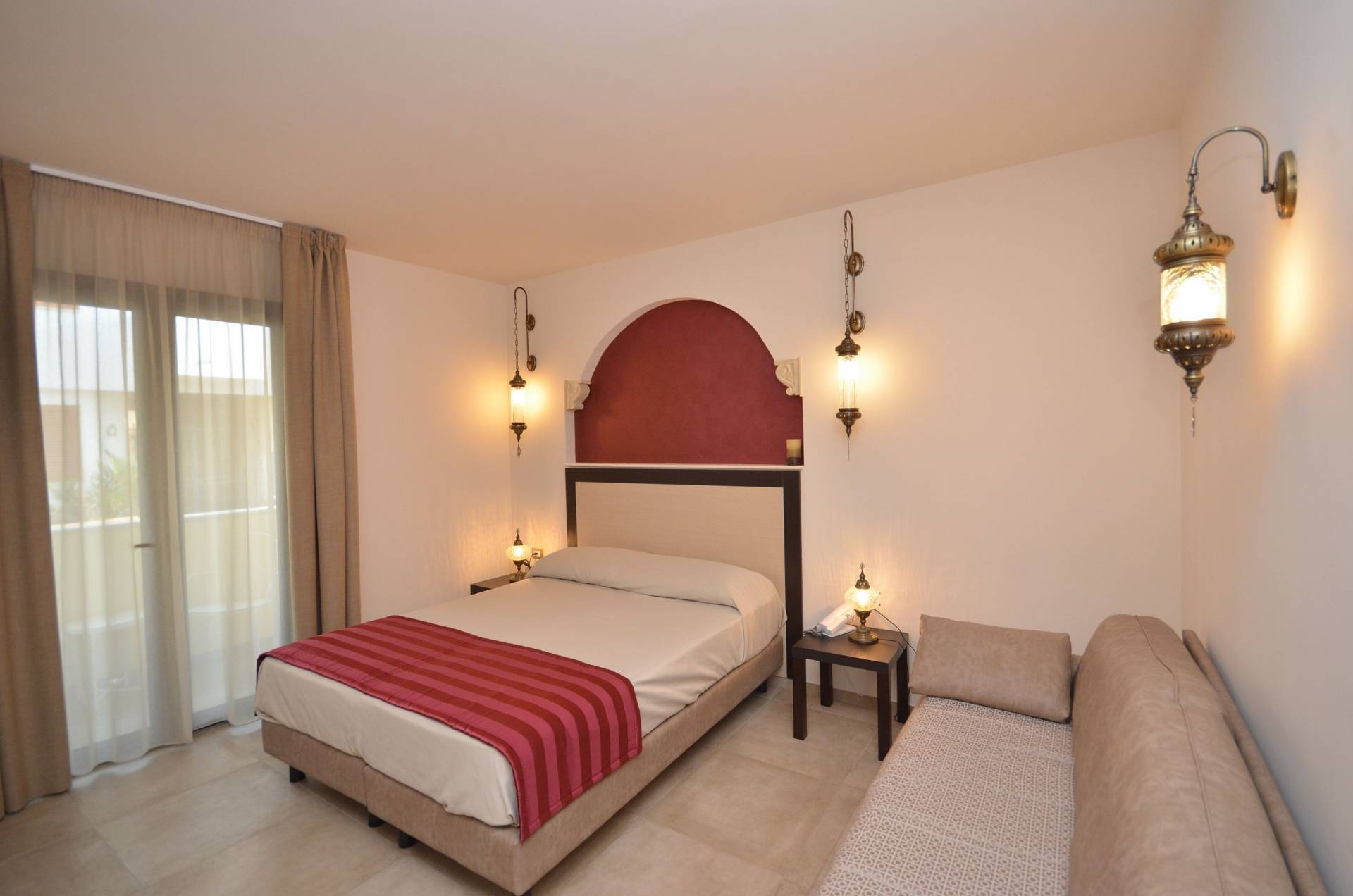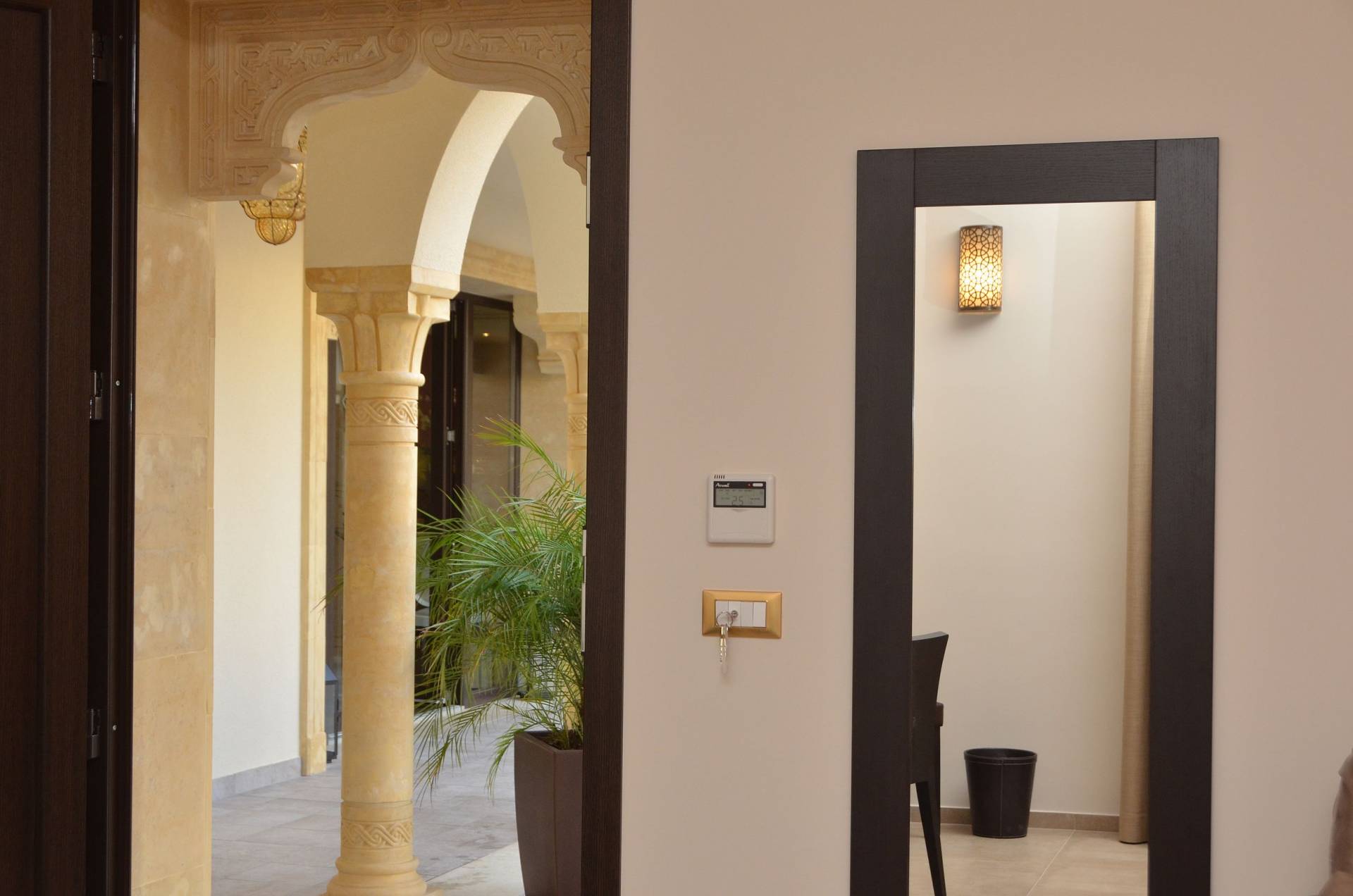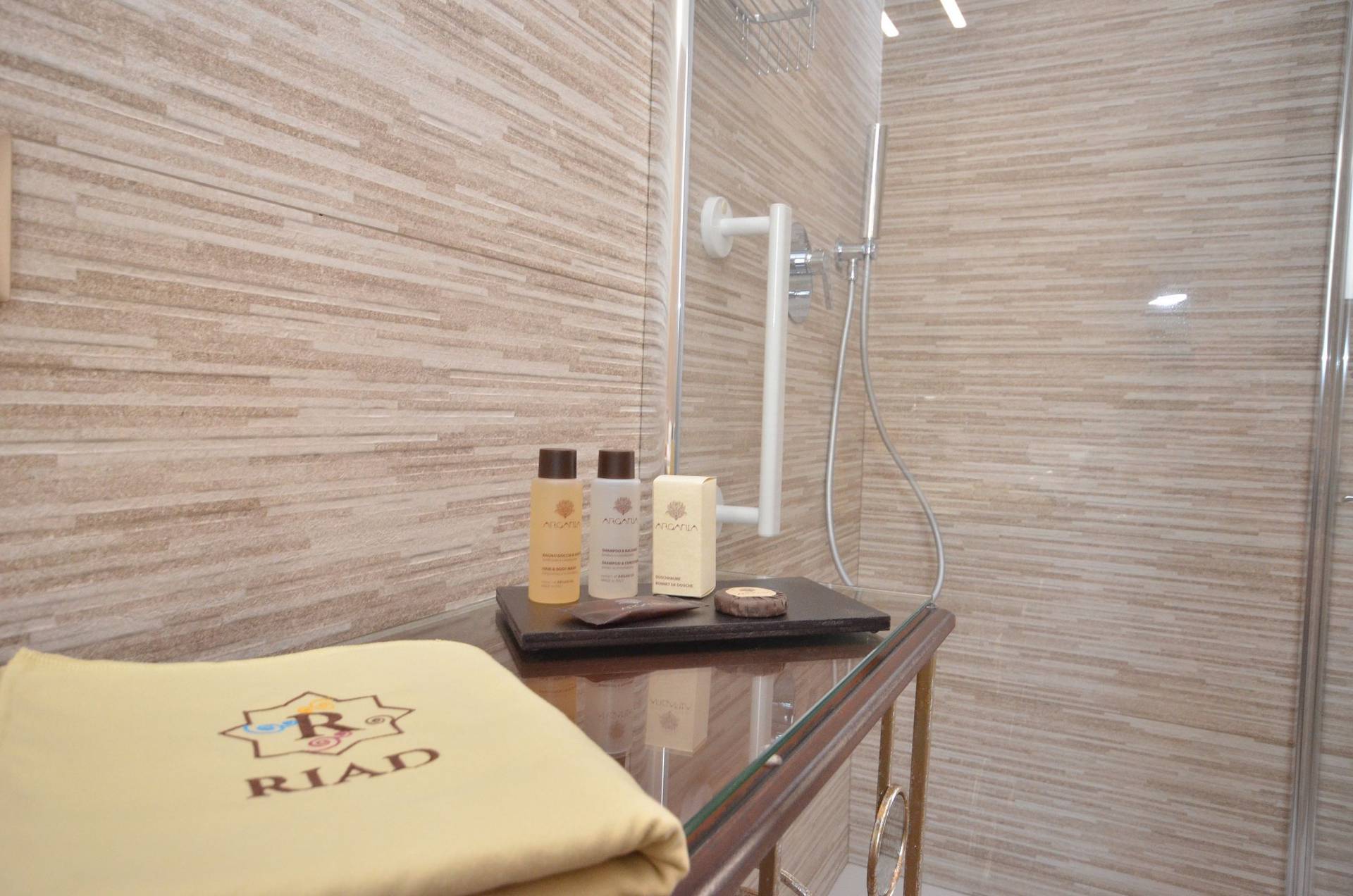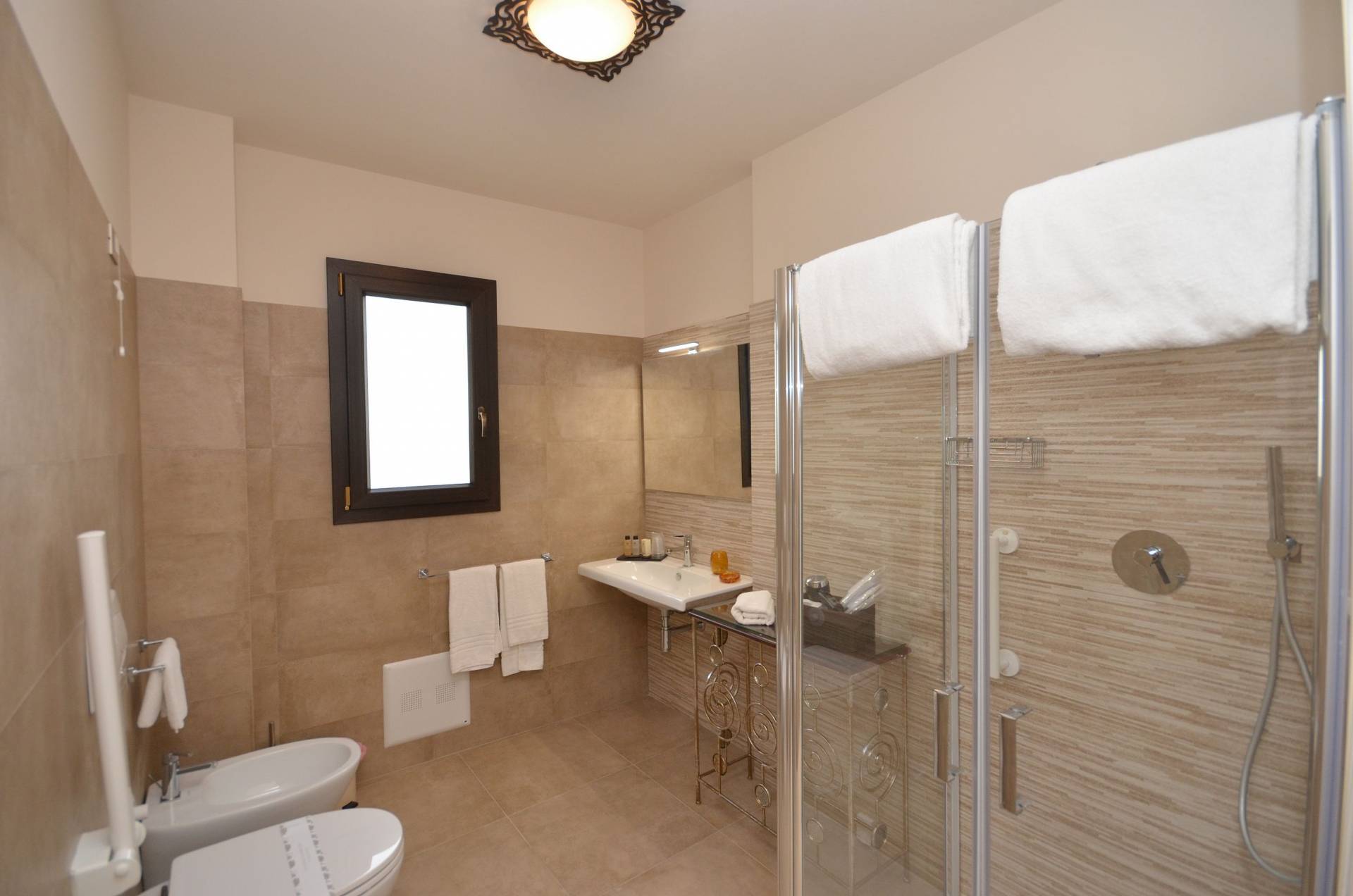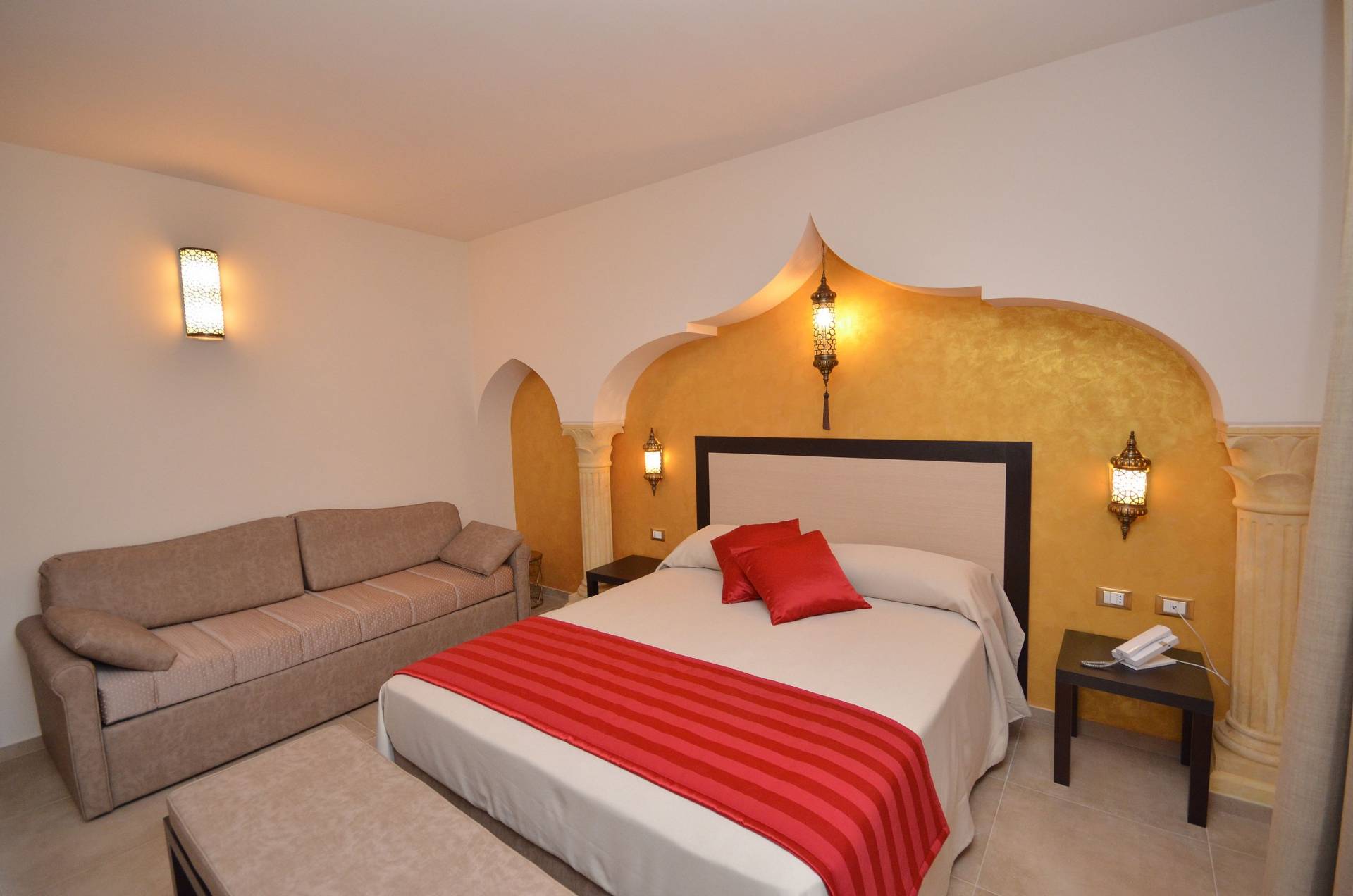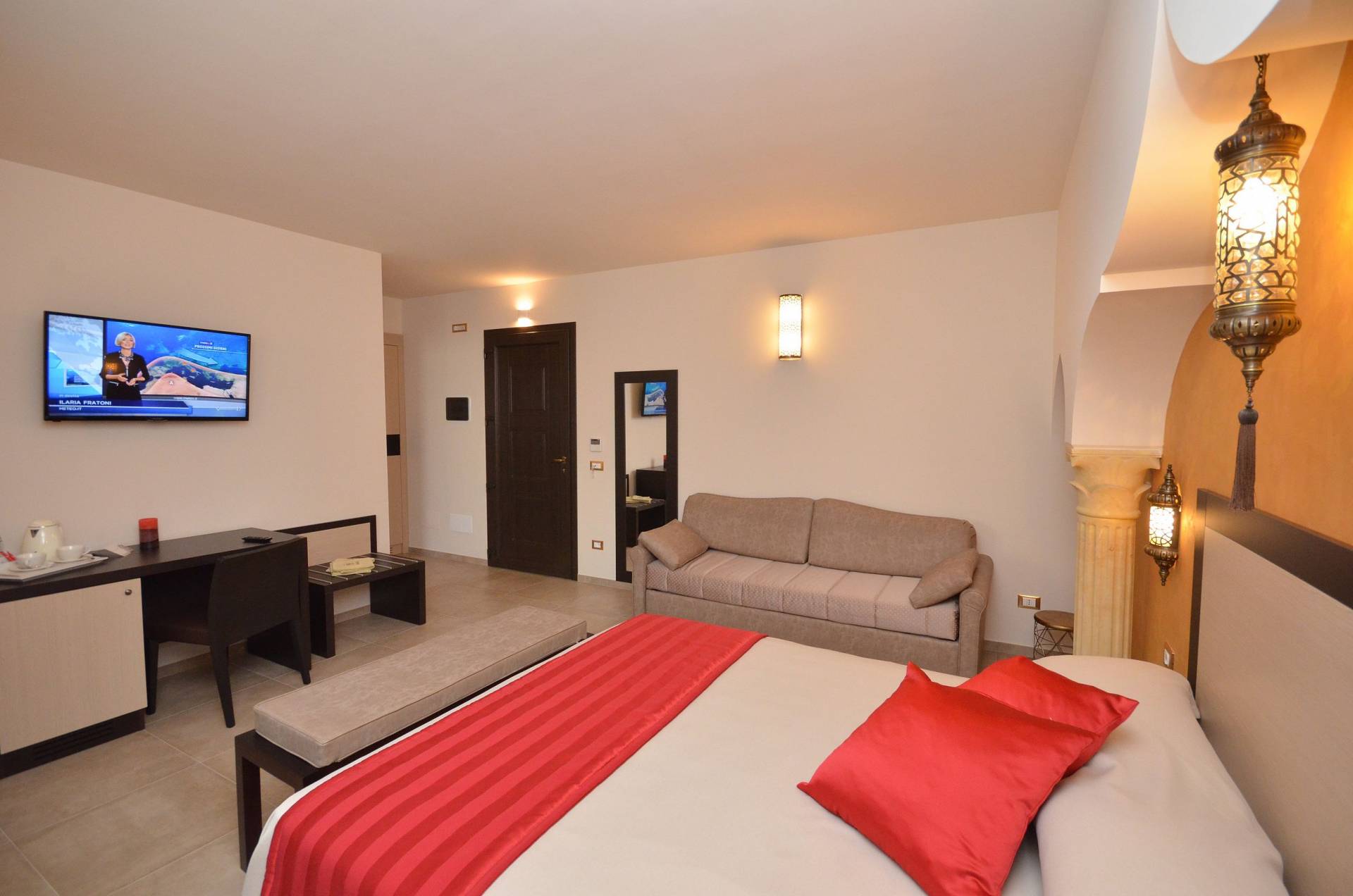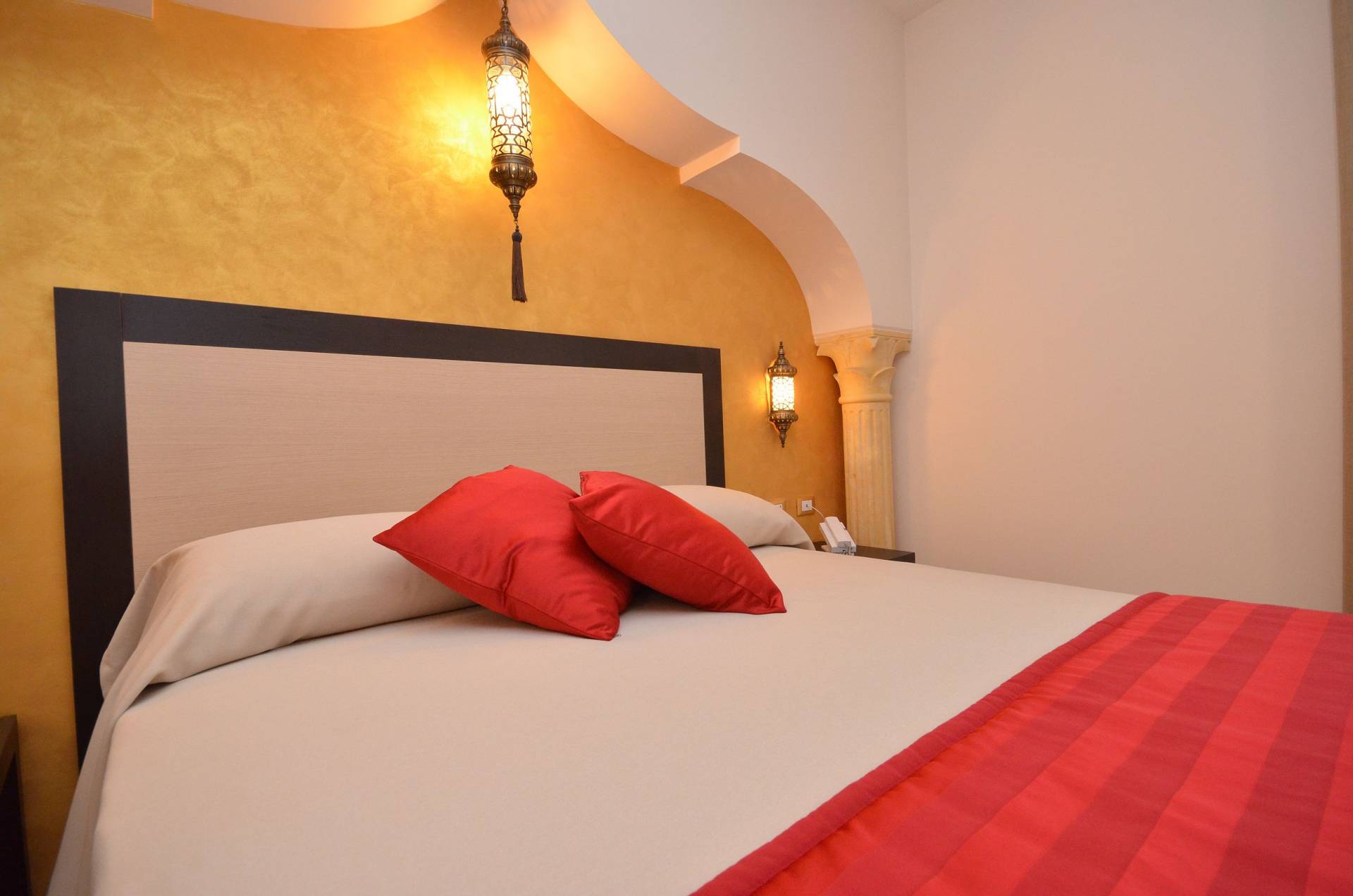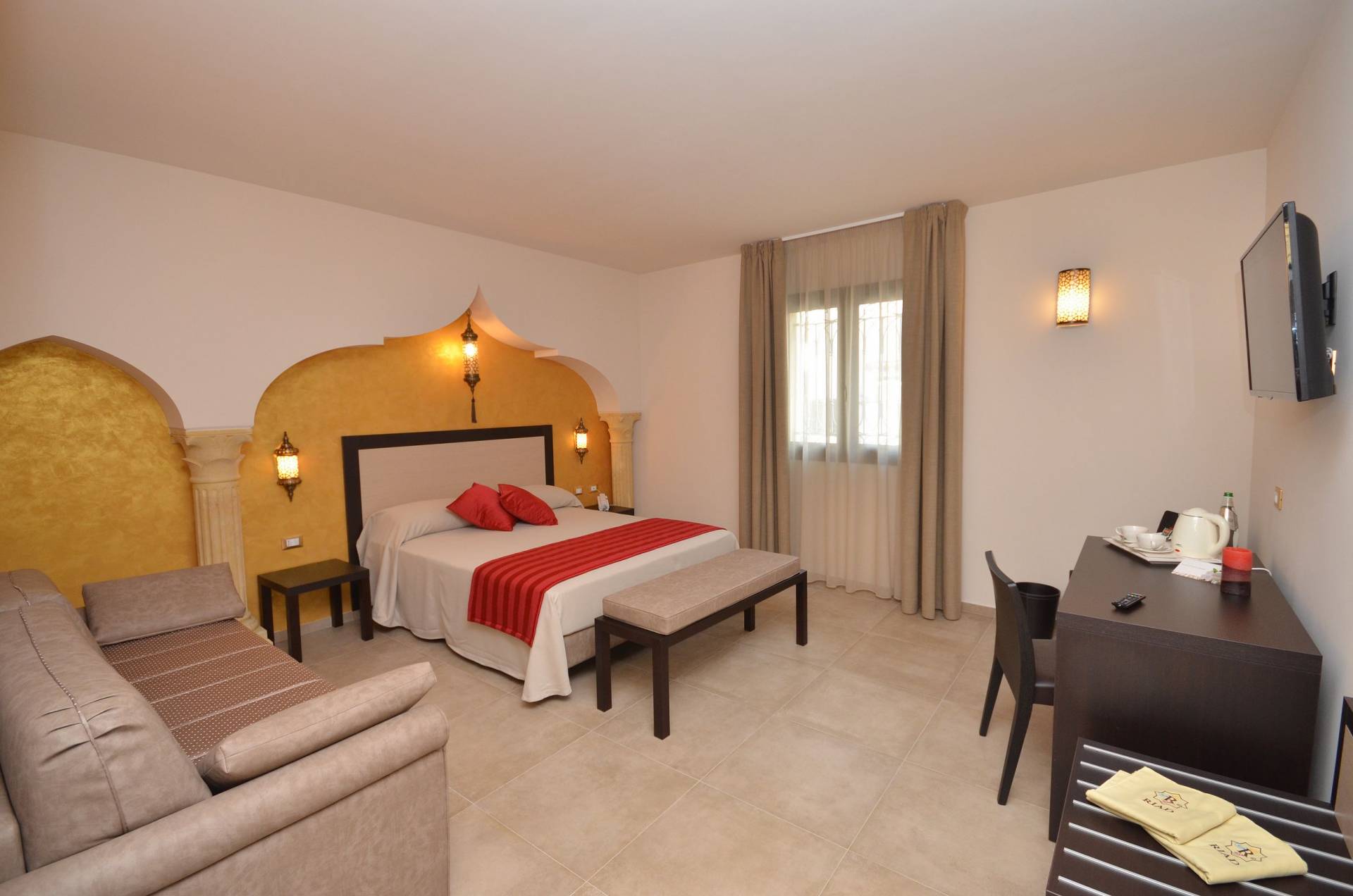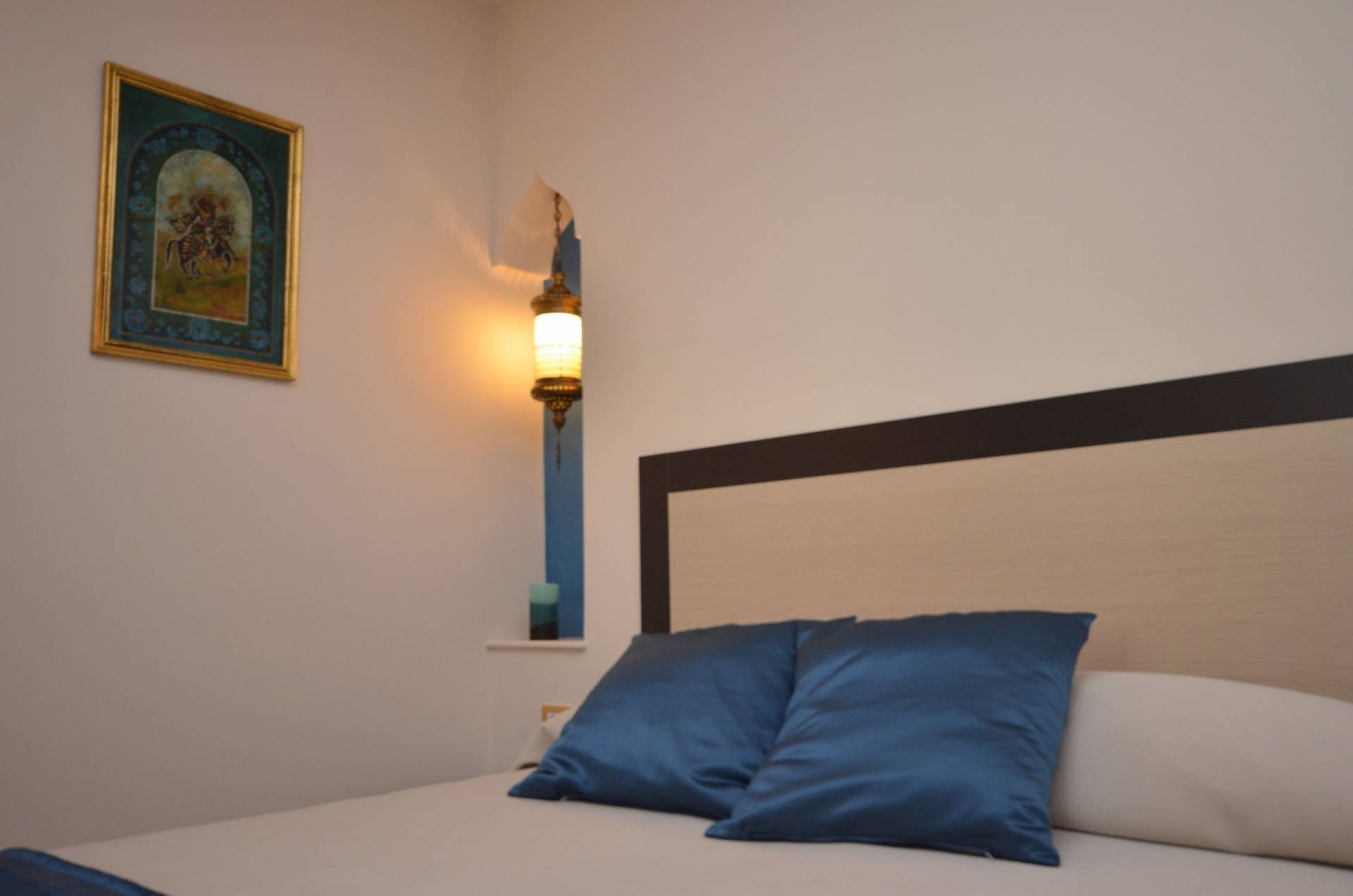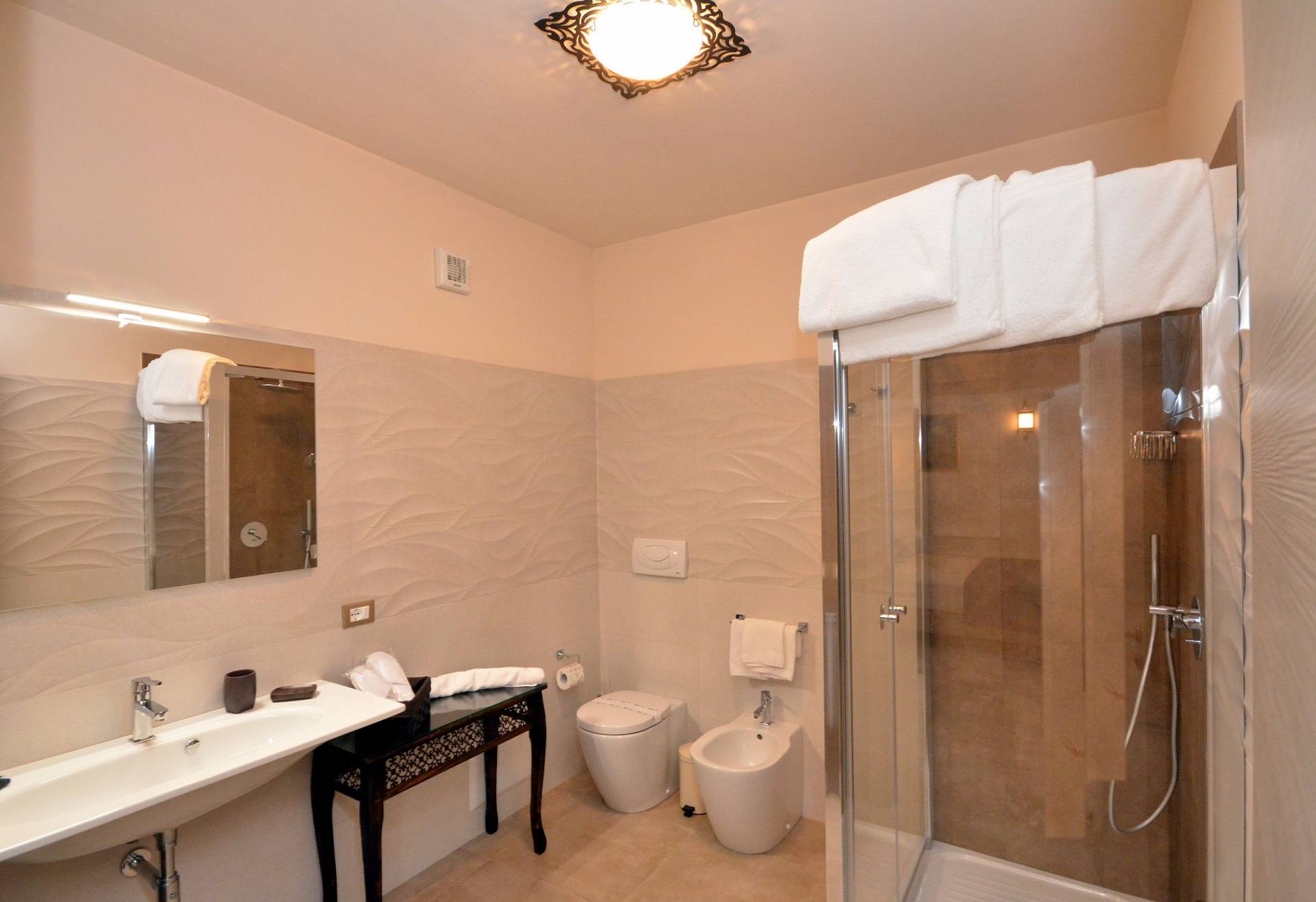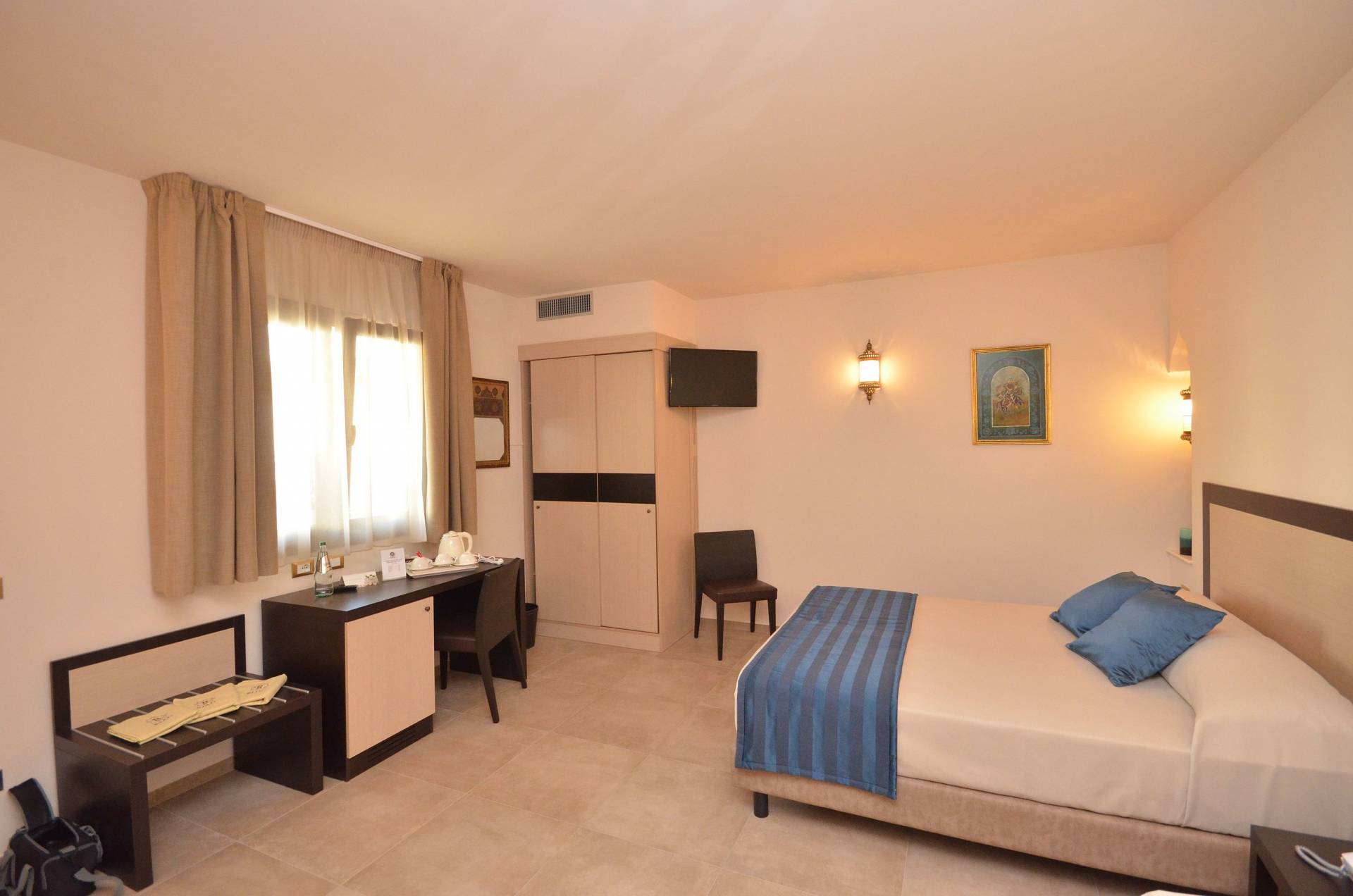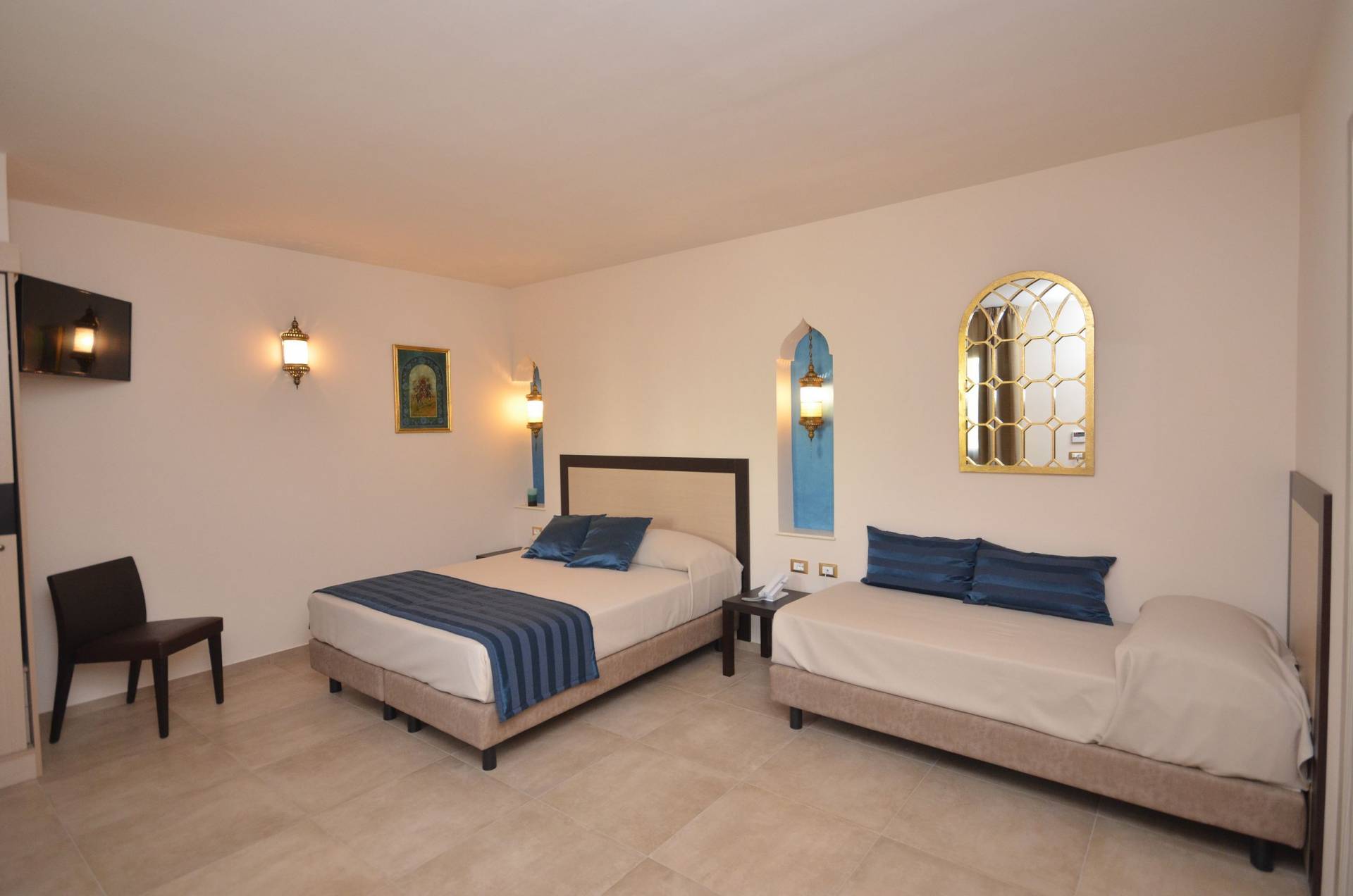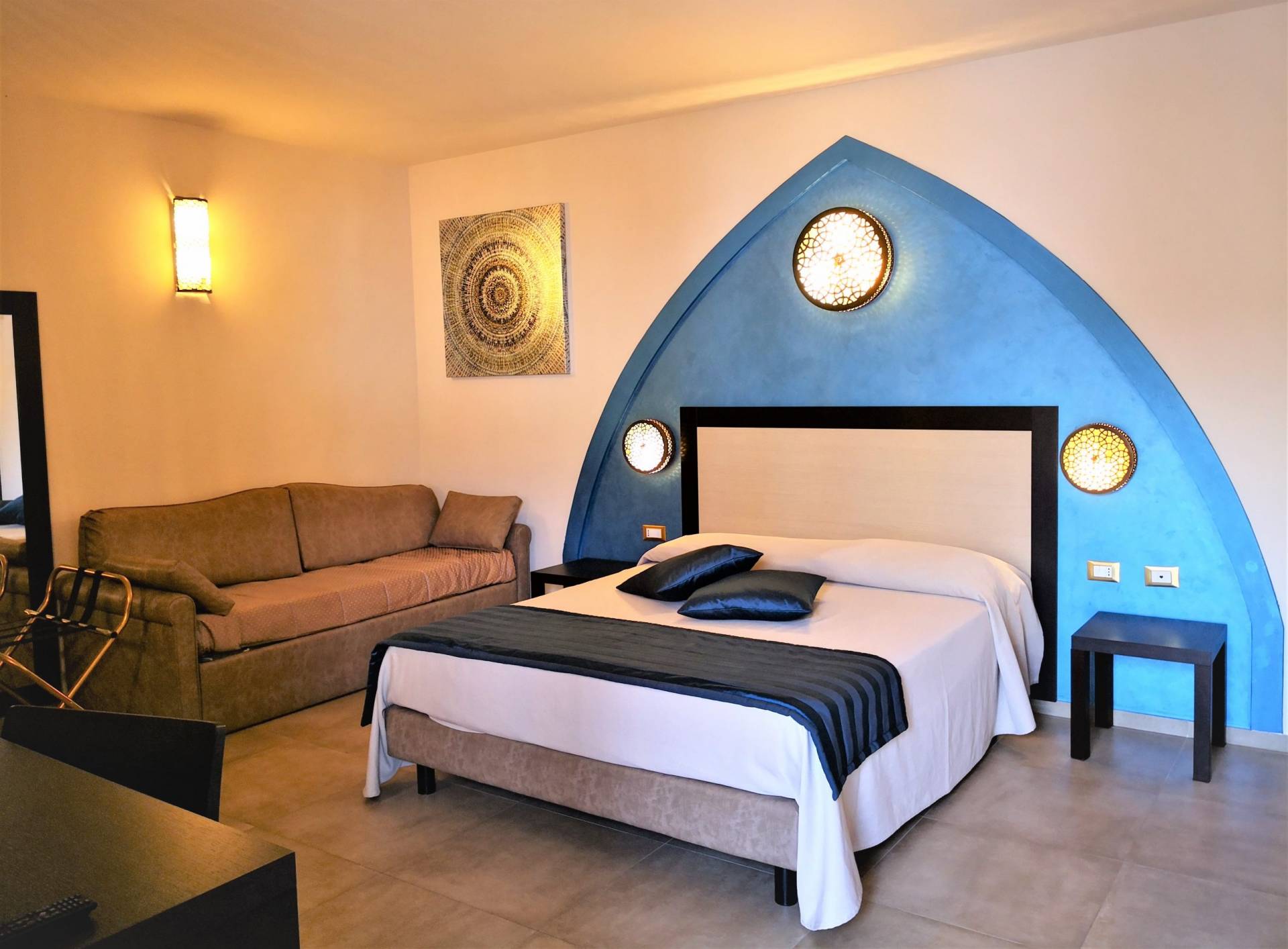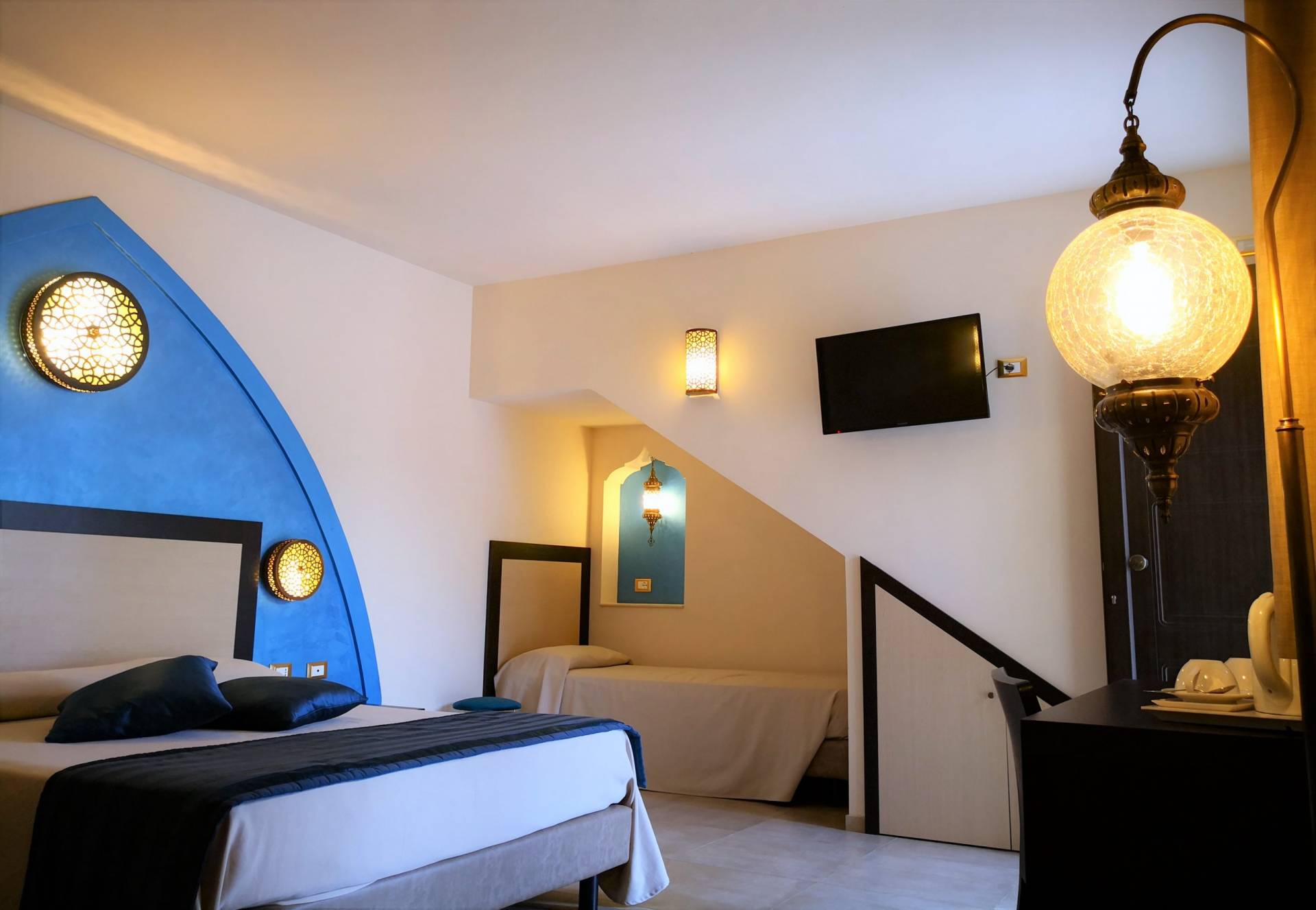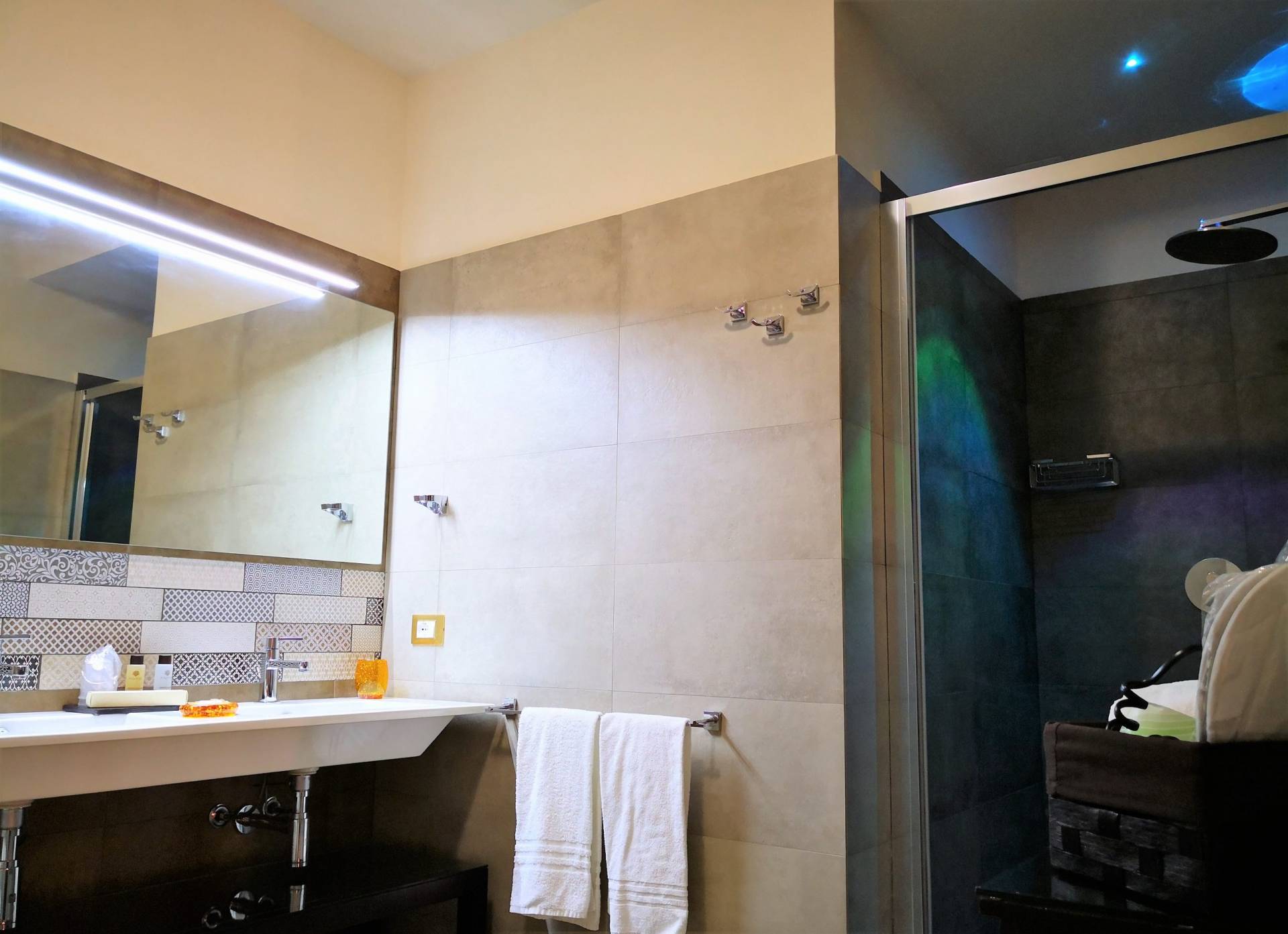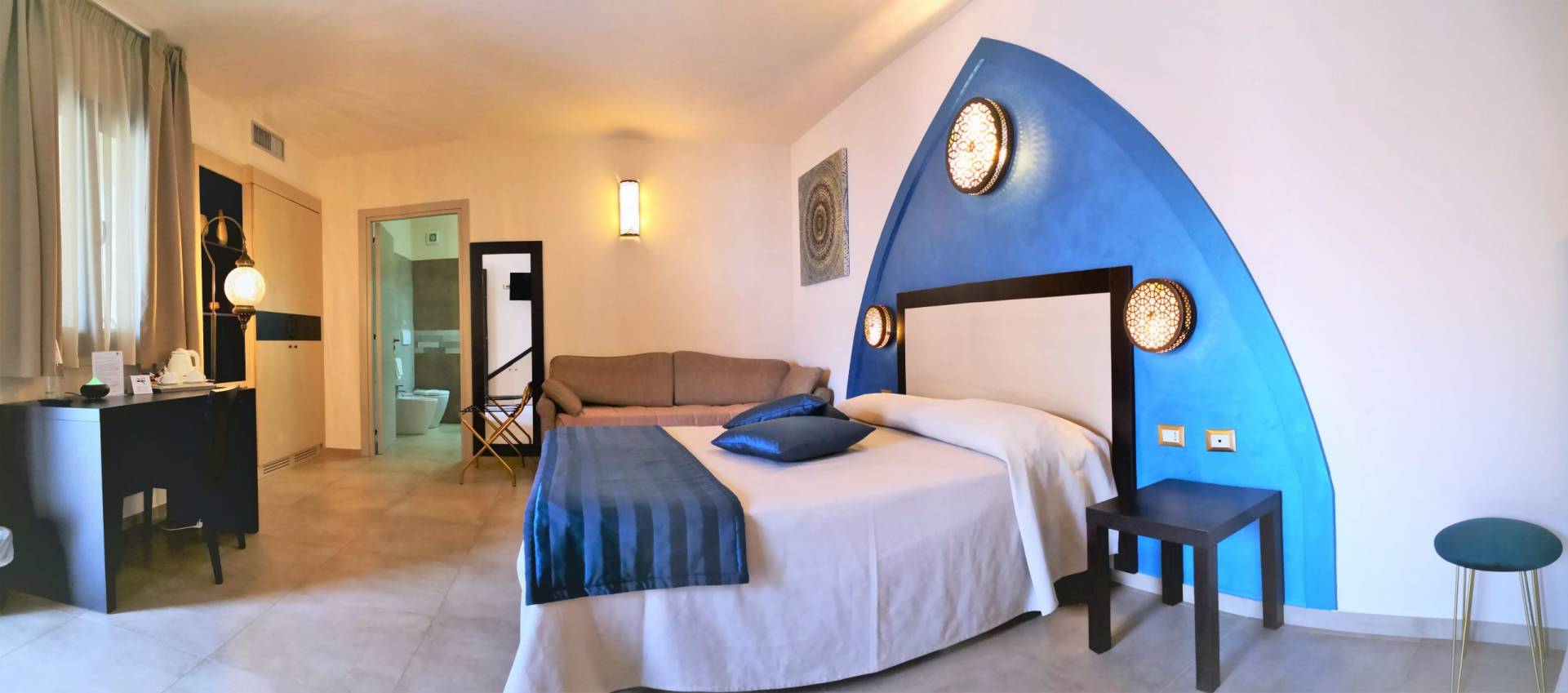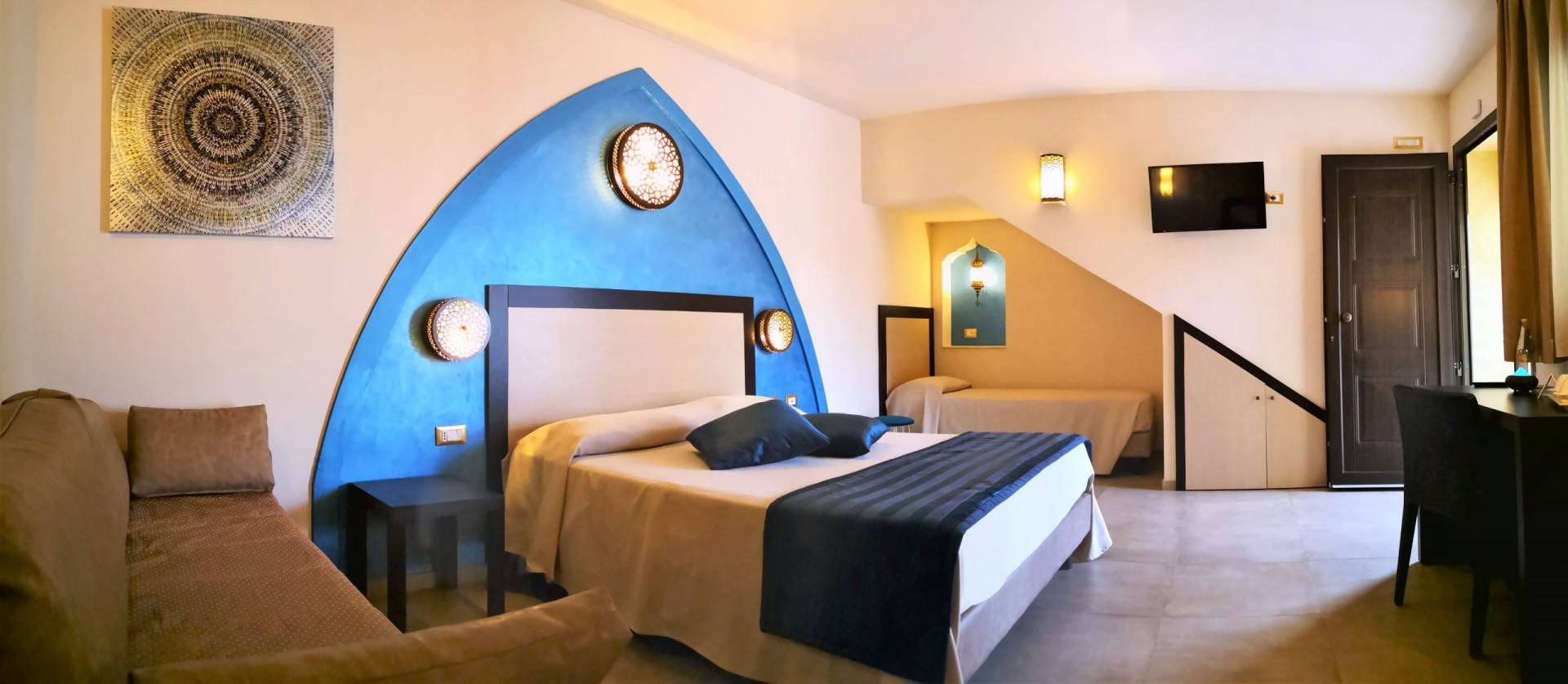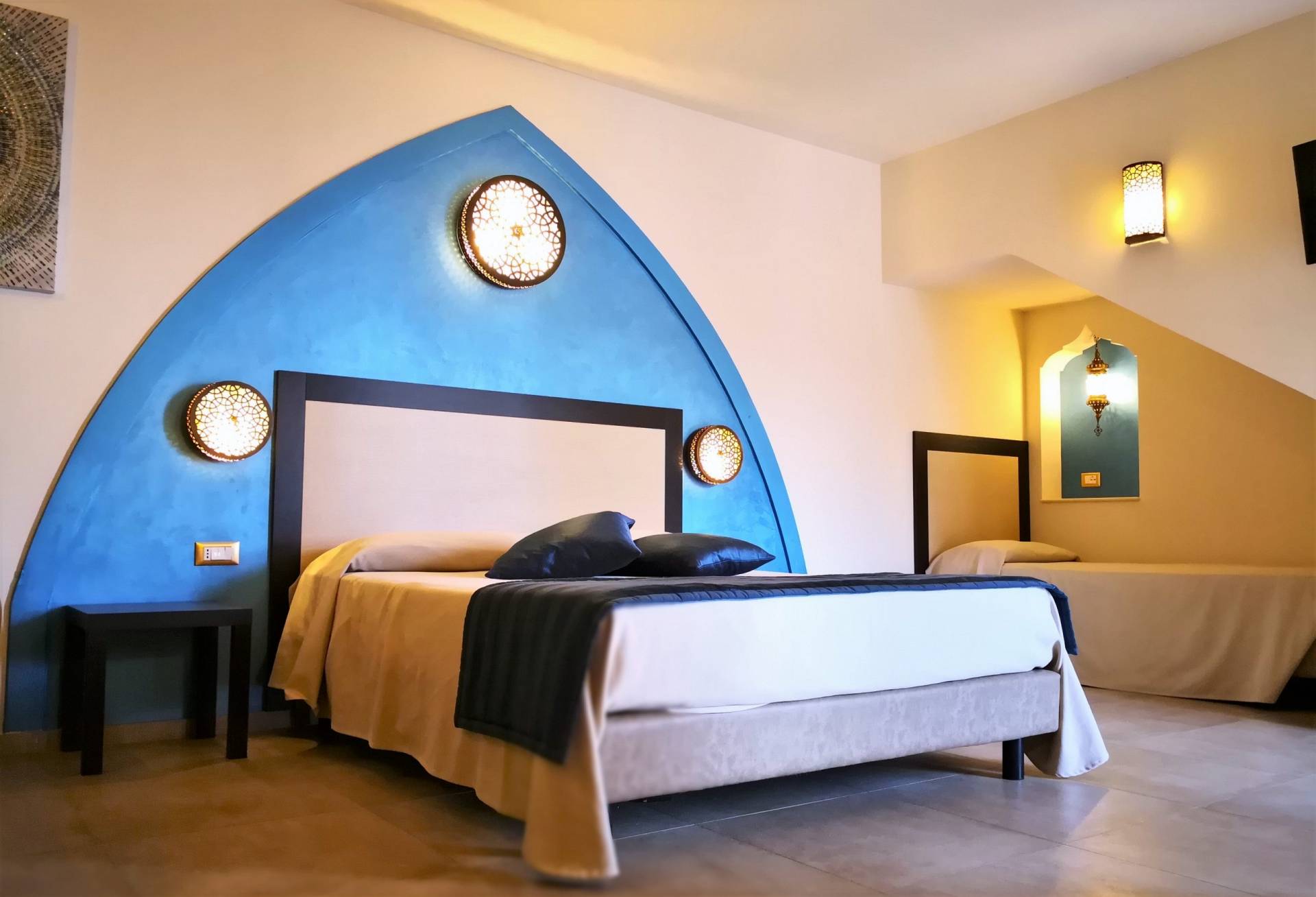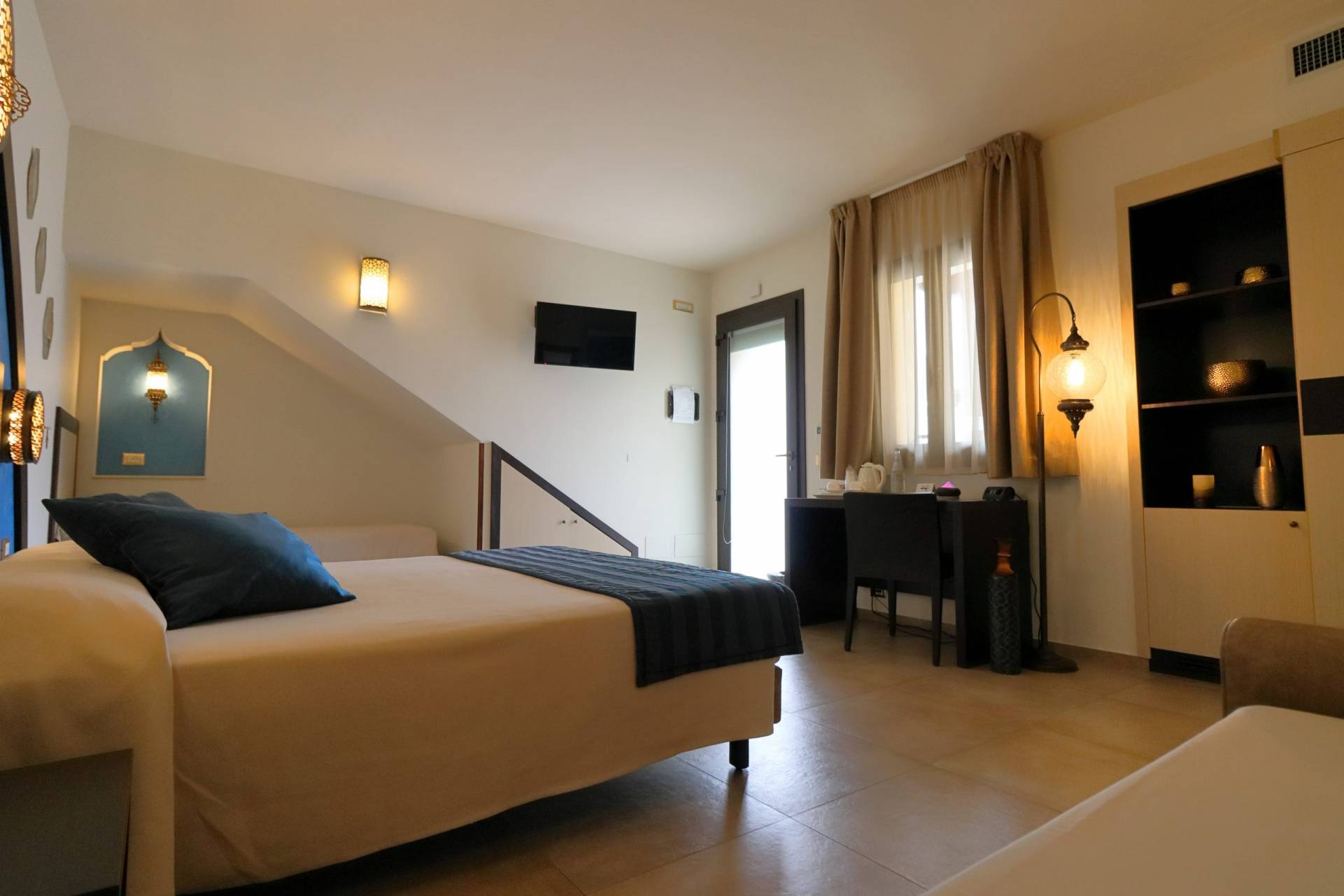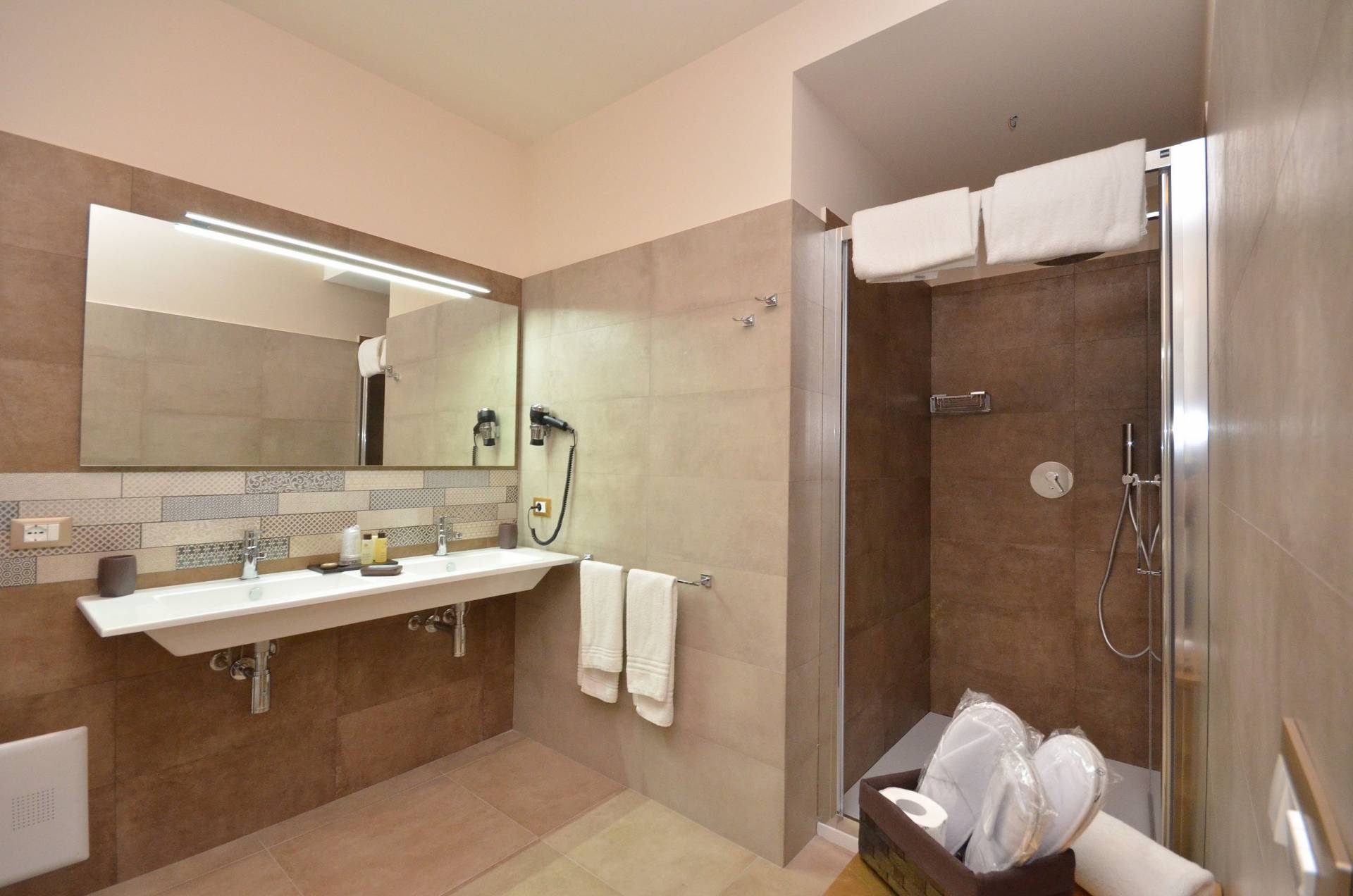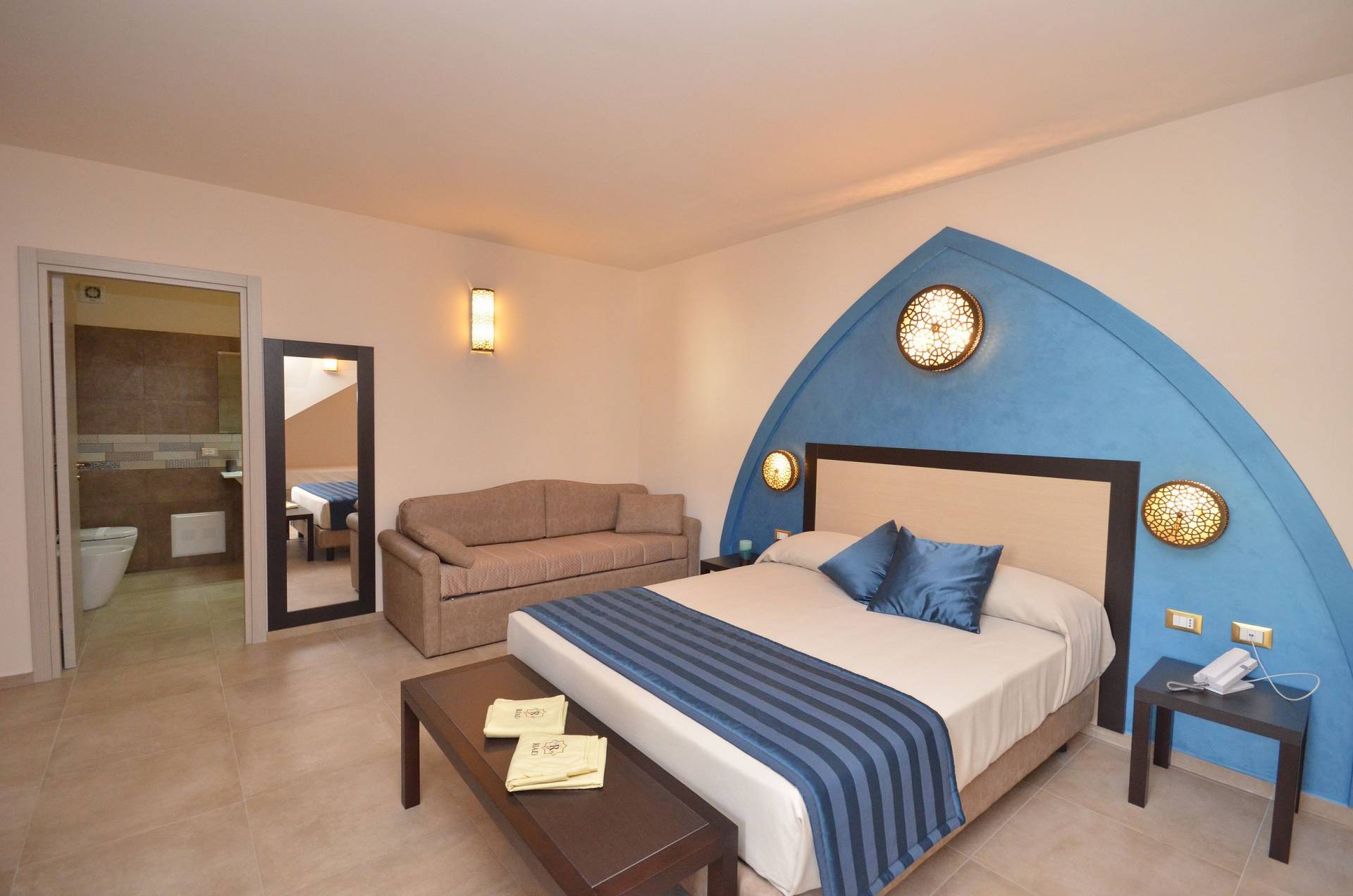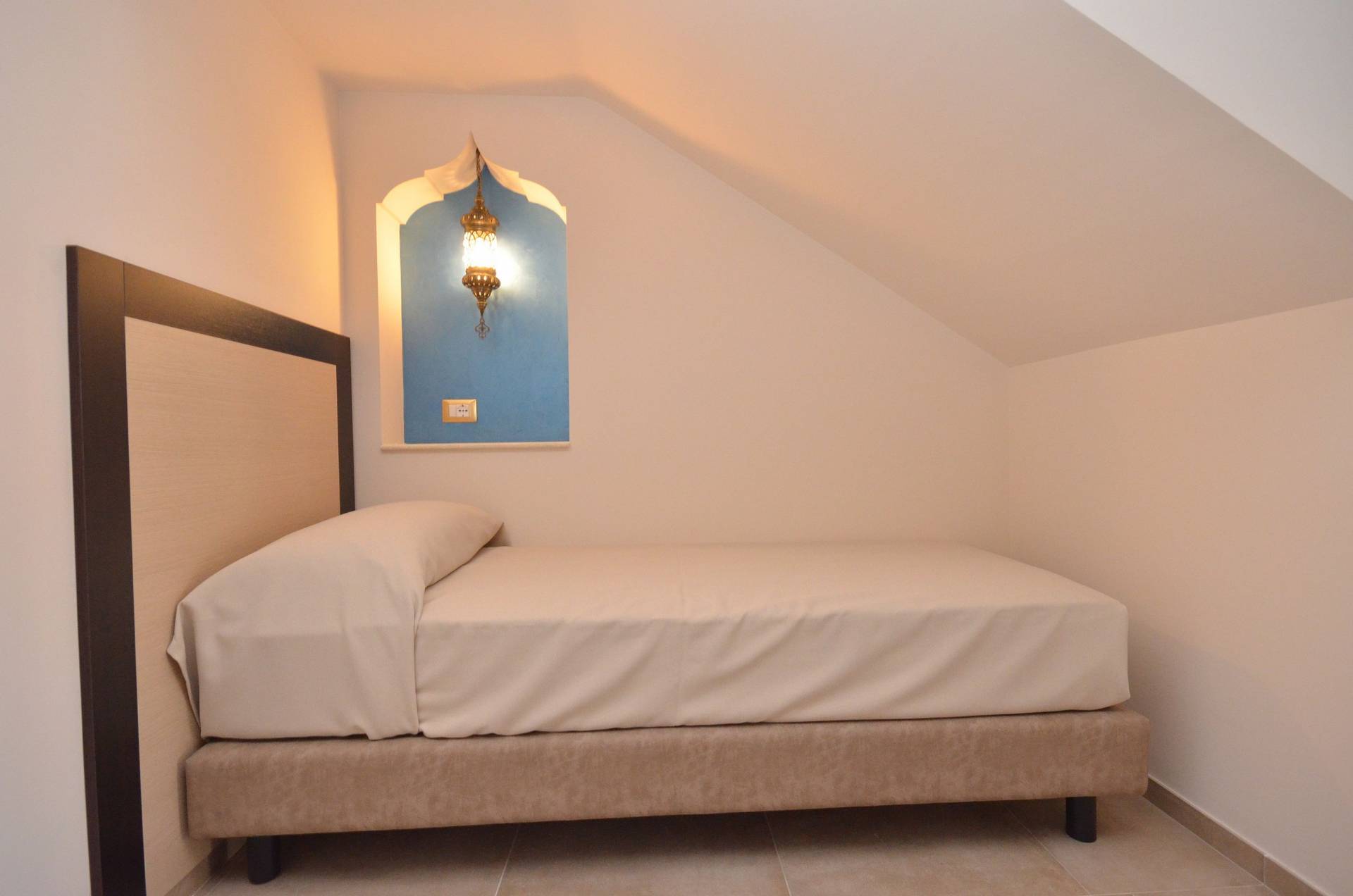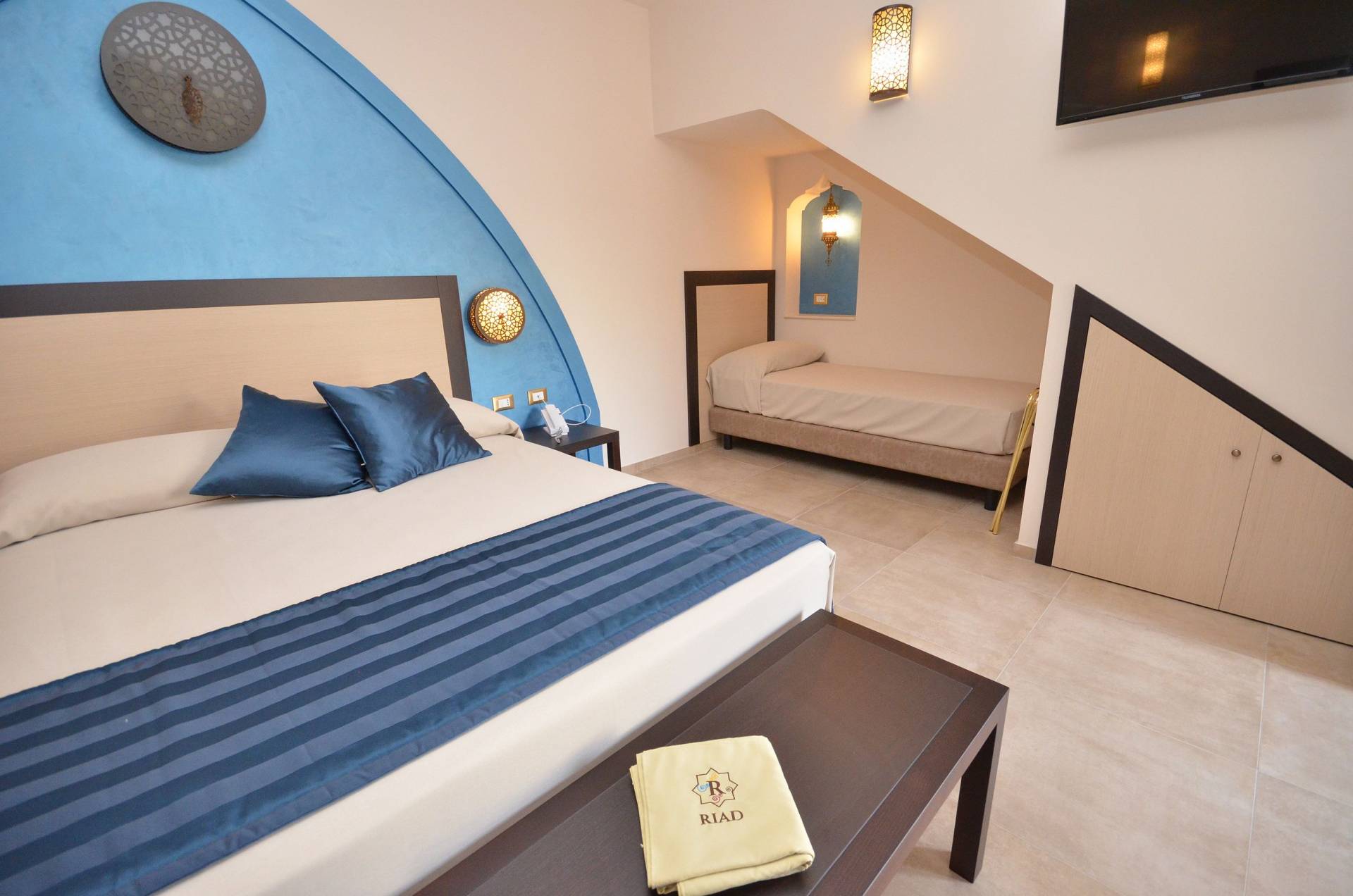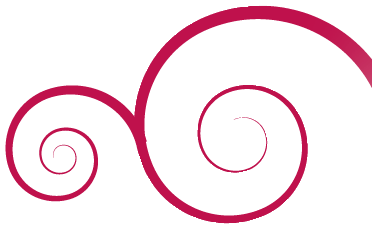 The DELUXE room is located on the first floor and is about 35 square metres in size. The bathroom is 7 square metres, with a 140cm double sink and a 120 X 100cm shower tray, which also features an emotional light.
It boasts a double bed and two single beds in the one room, a wardrobe, luggage rack, minibar, safe, flat-screen LCD TV, hairdryer, air conditioning, bathroom linens, bathroom toiletries, disposable slippers, beach towels, electric kettle and free Wi-Fi. The room overlooks the patio and has a standard double-glazed window and frosted glass door, which can be darkened at night.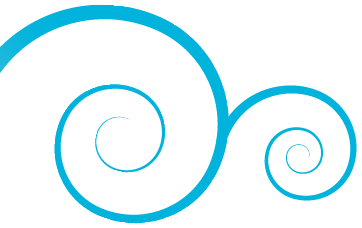 Our elegant patio is renowned for its Arabian Nights atmosphere, whether in the morning sun or in the soft evening light. Distinctive plants and flowers and the gentle sound of water gushing from a fountain provide an almost exclusive setting for your moments of relaxation. A beautiful sun terrace overlooking the sea and Monte Monaco is available for guests to use as a place to relax in the sun or under the shade of a gazebo.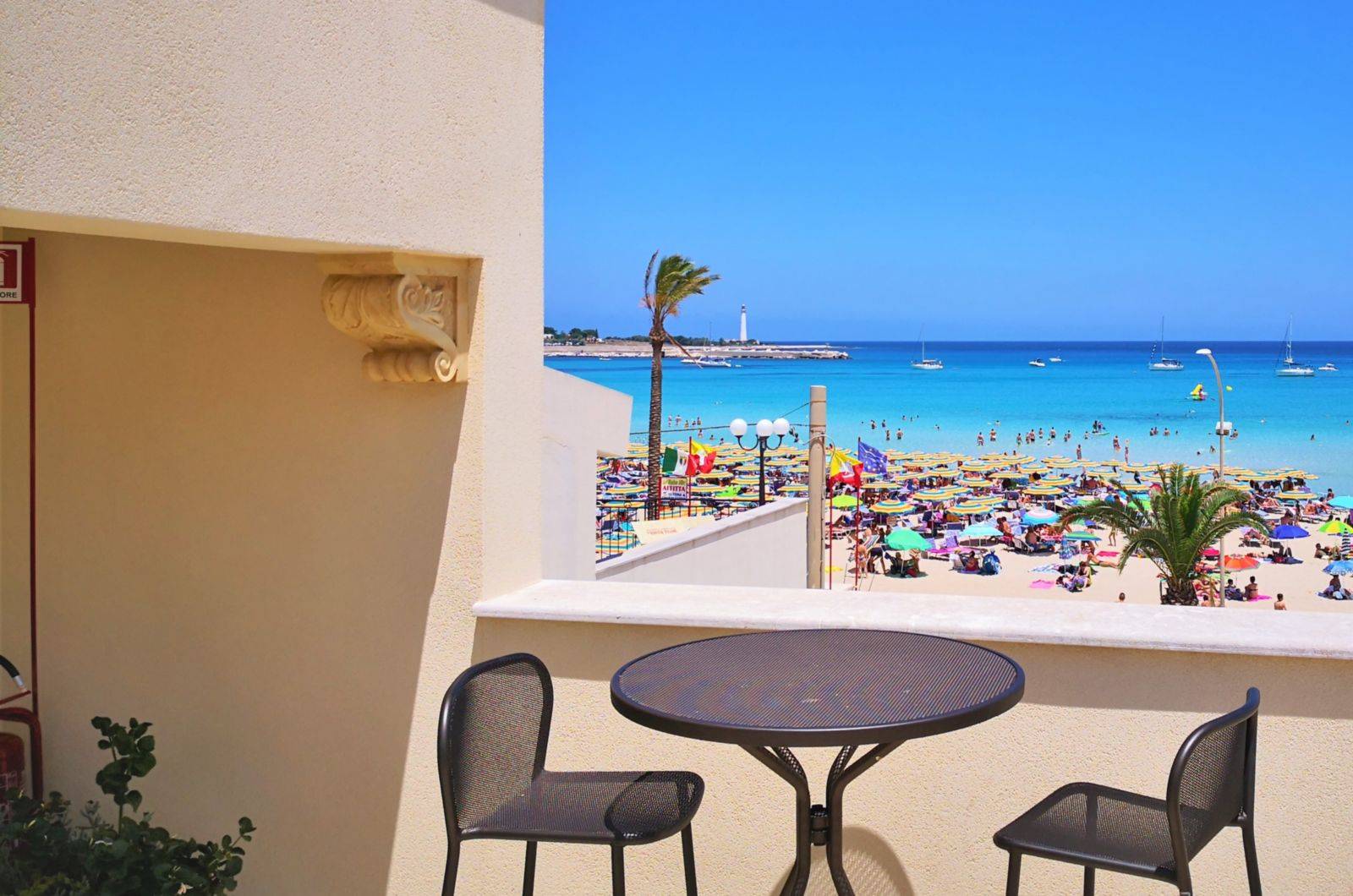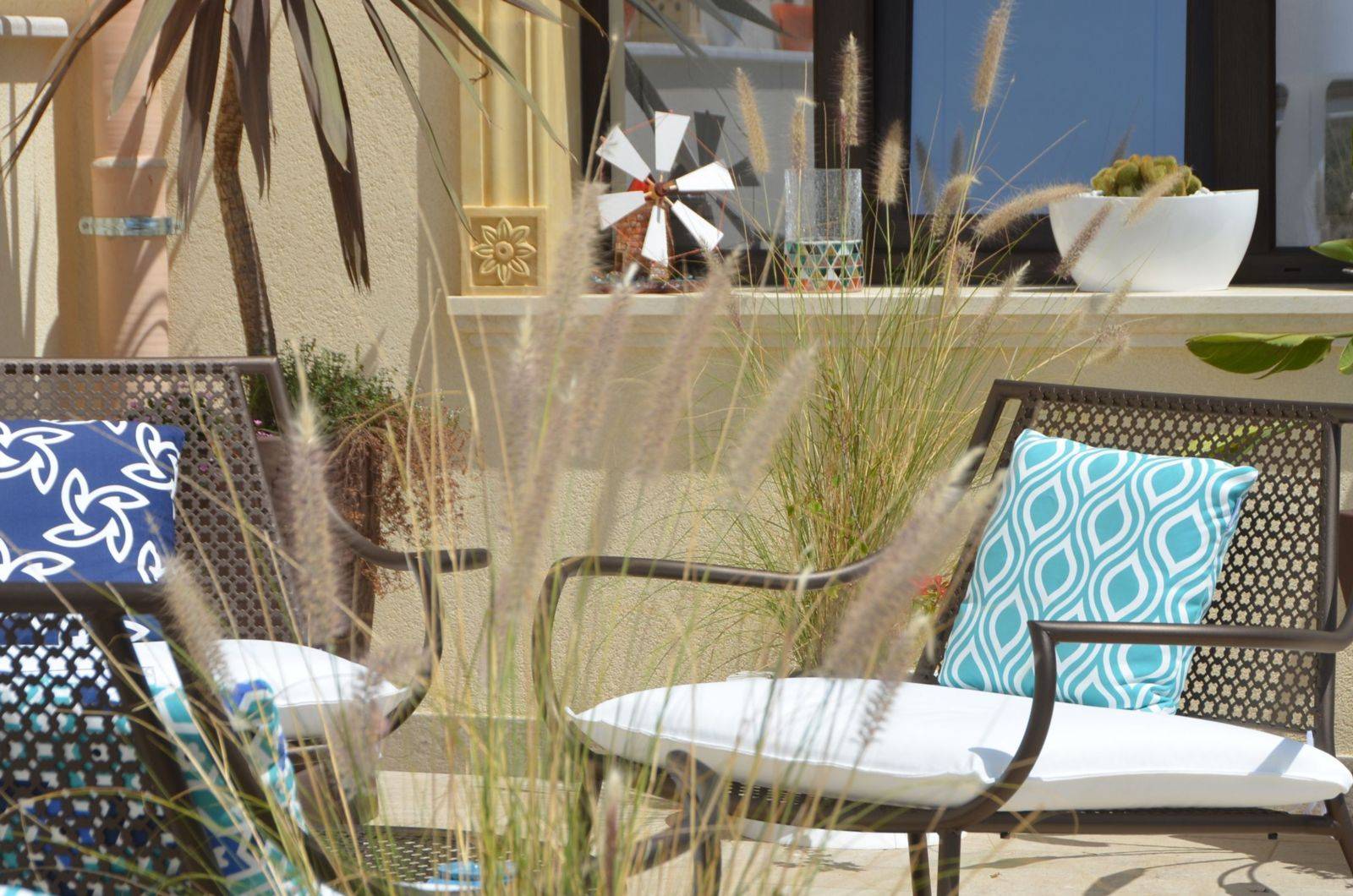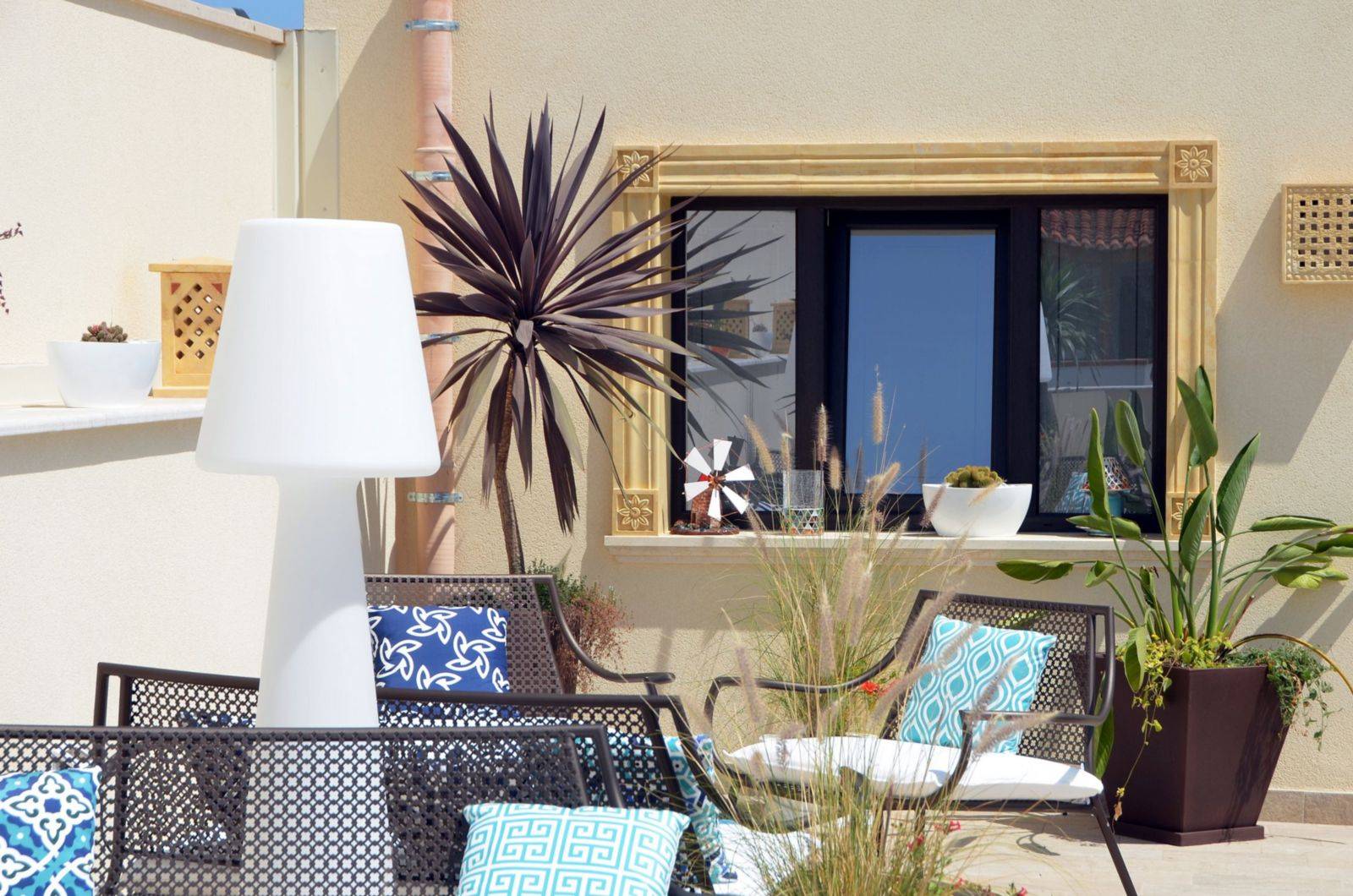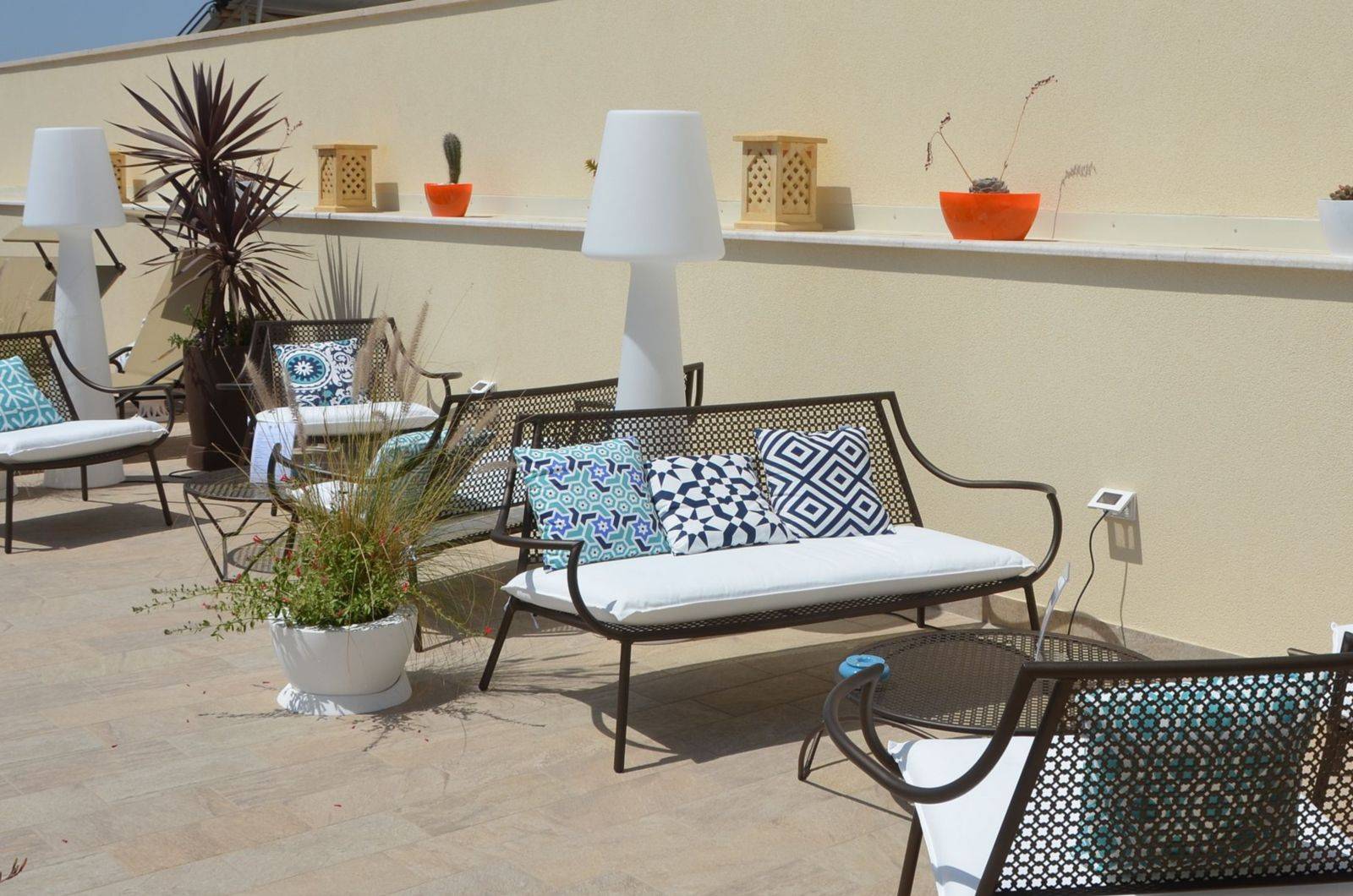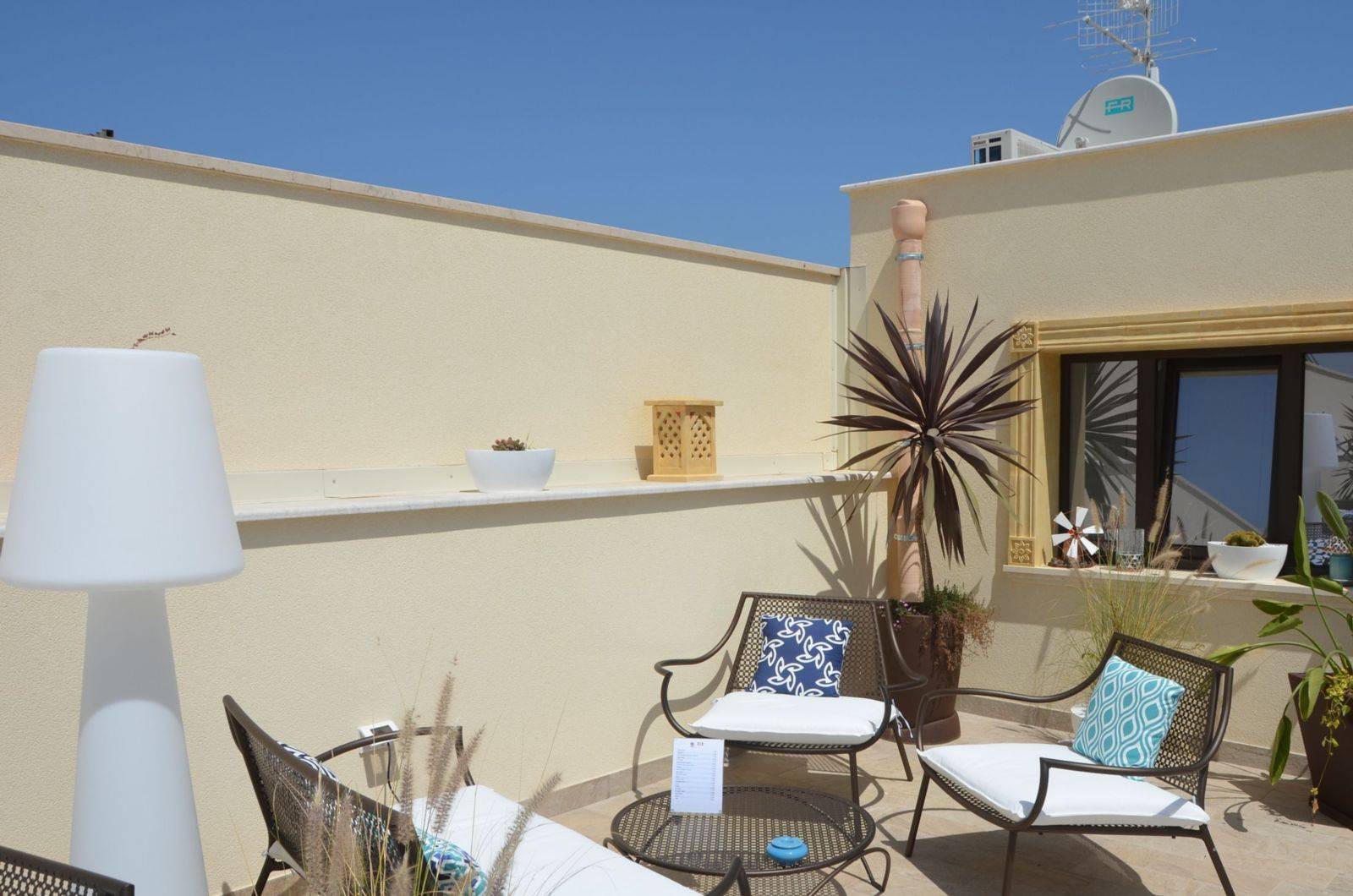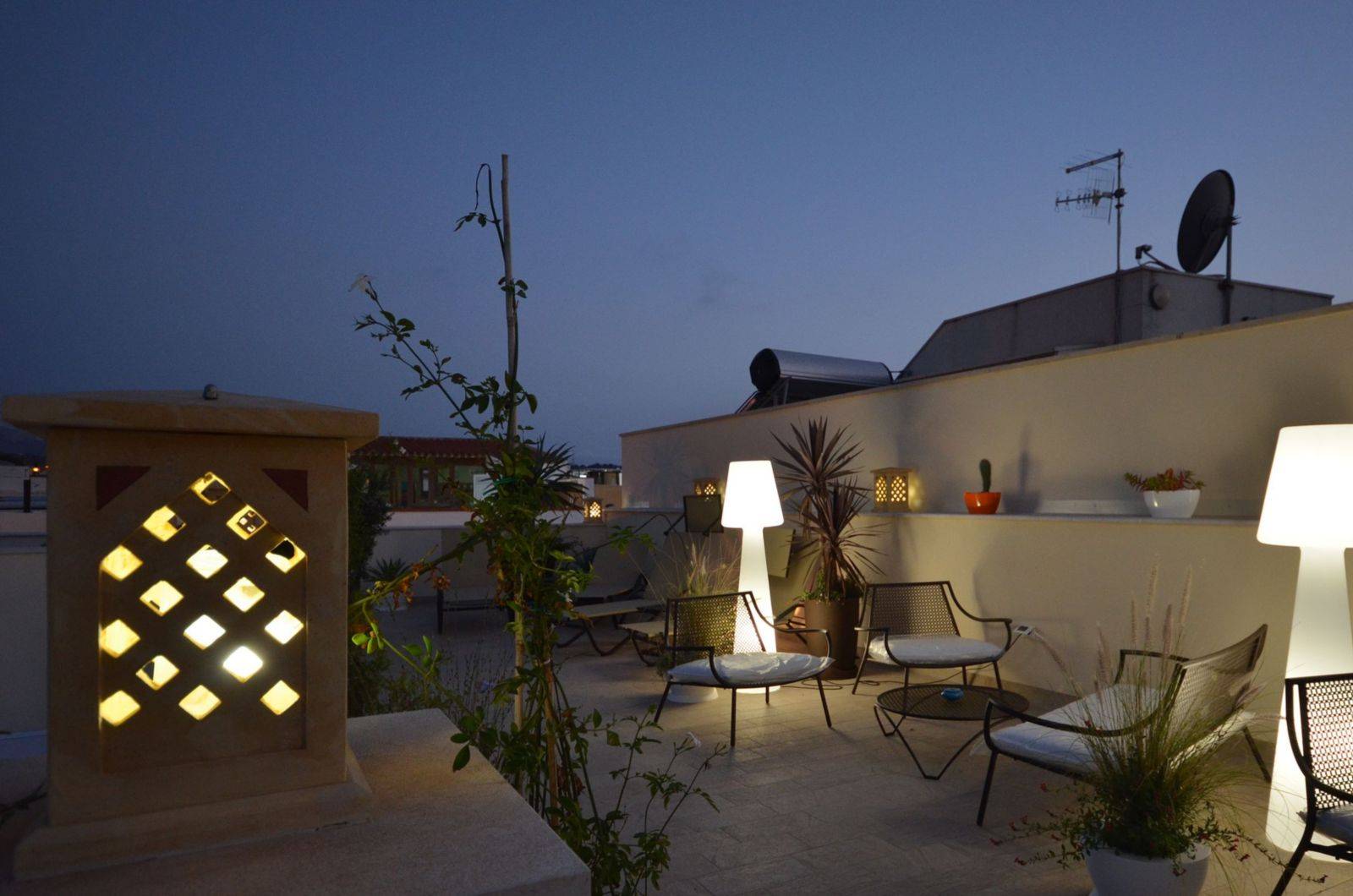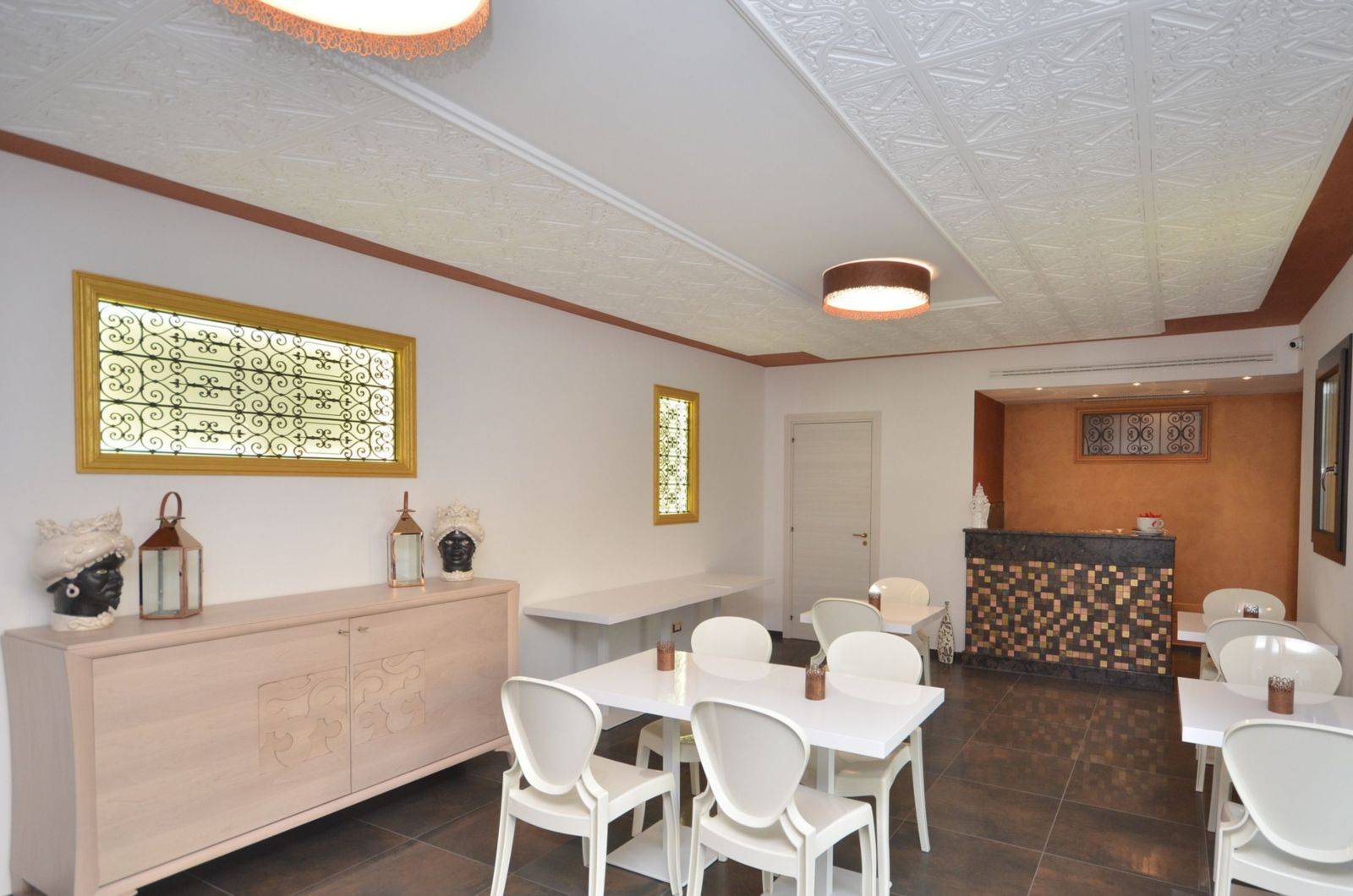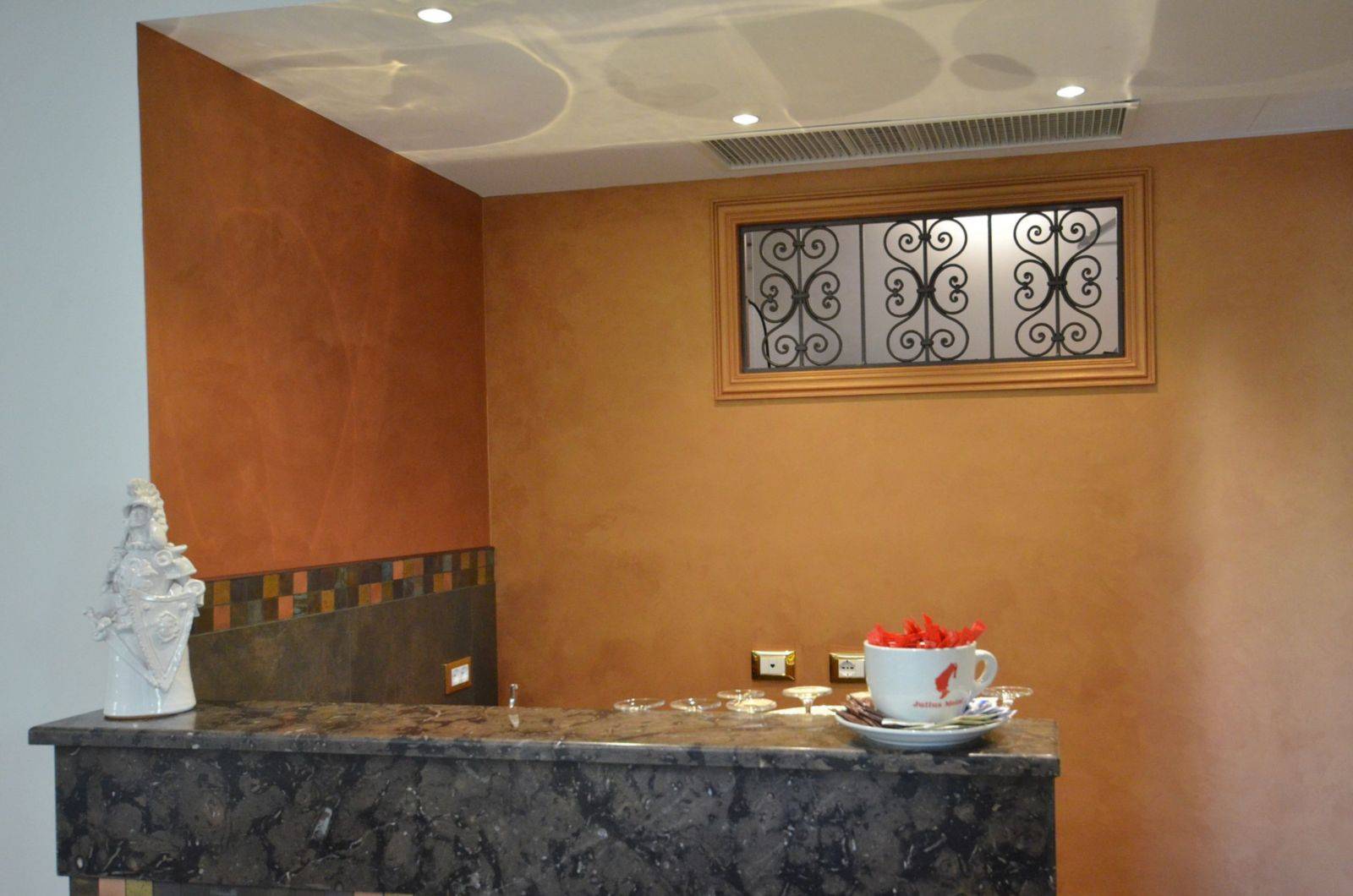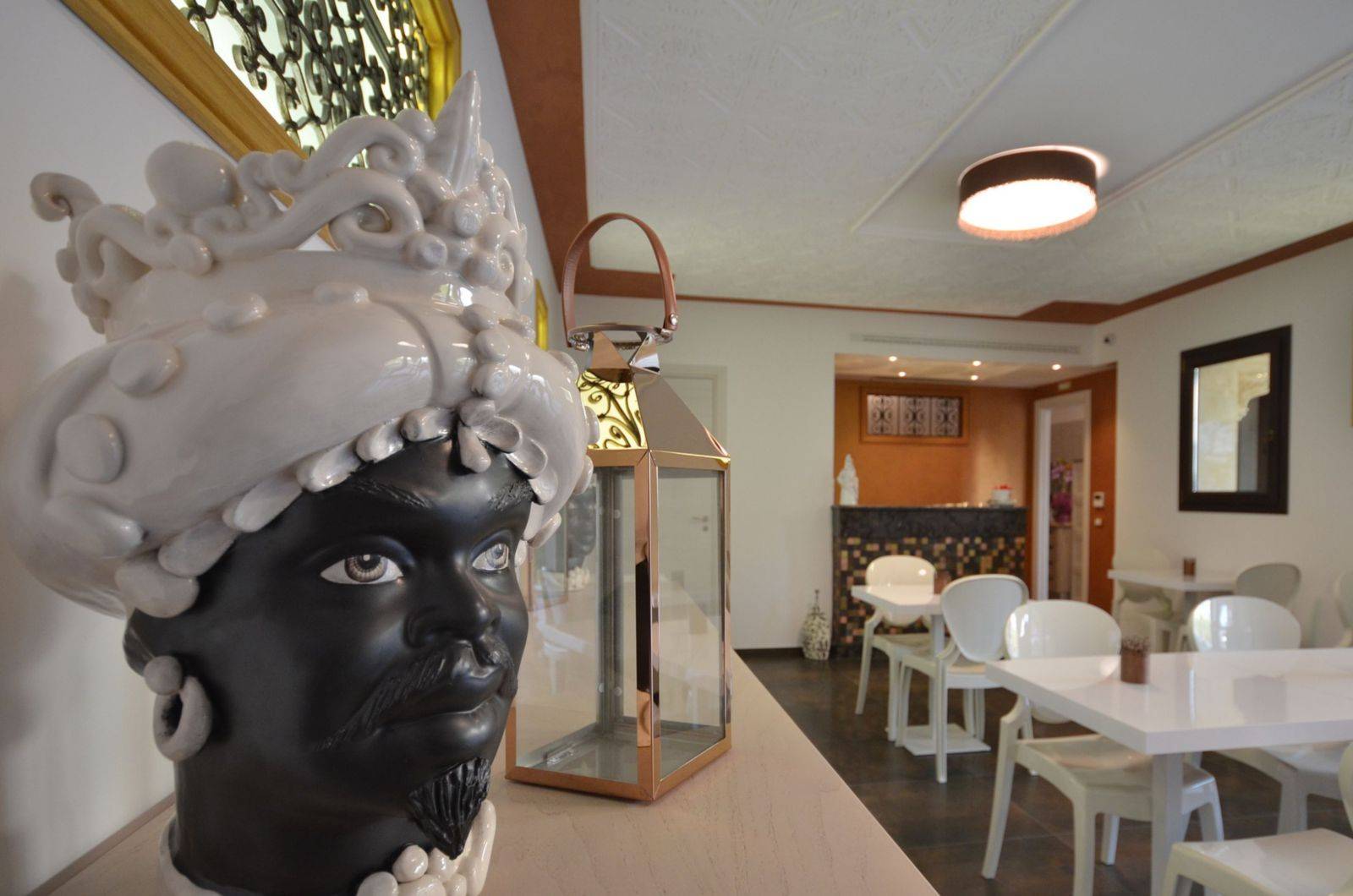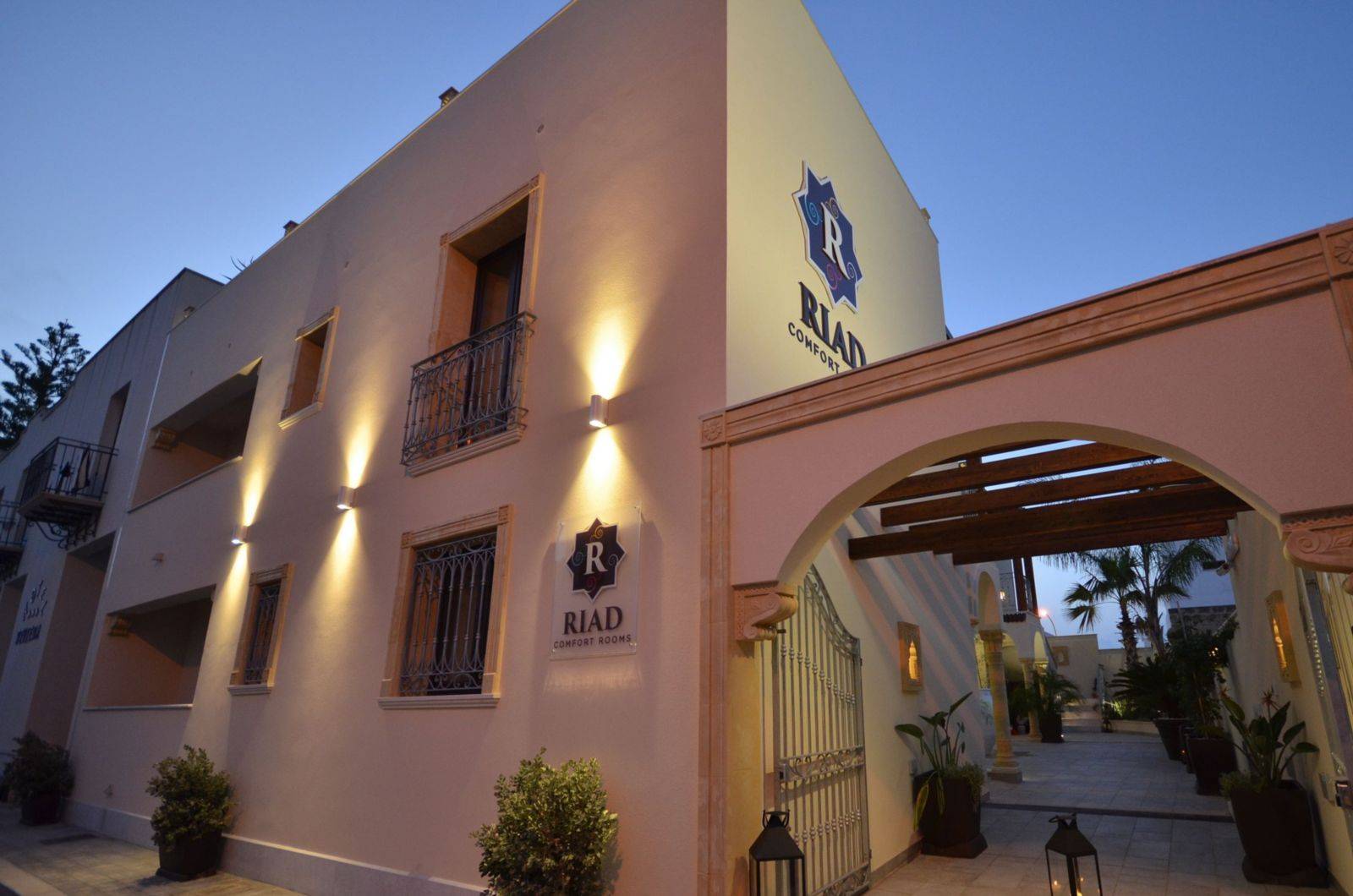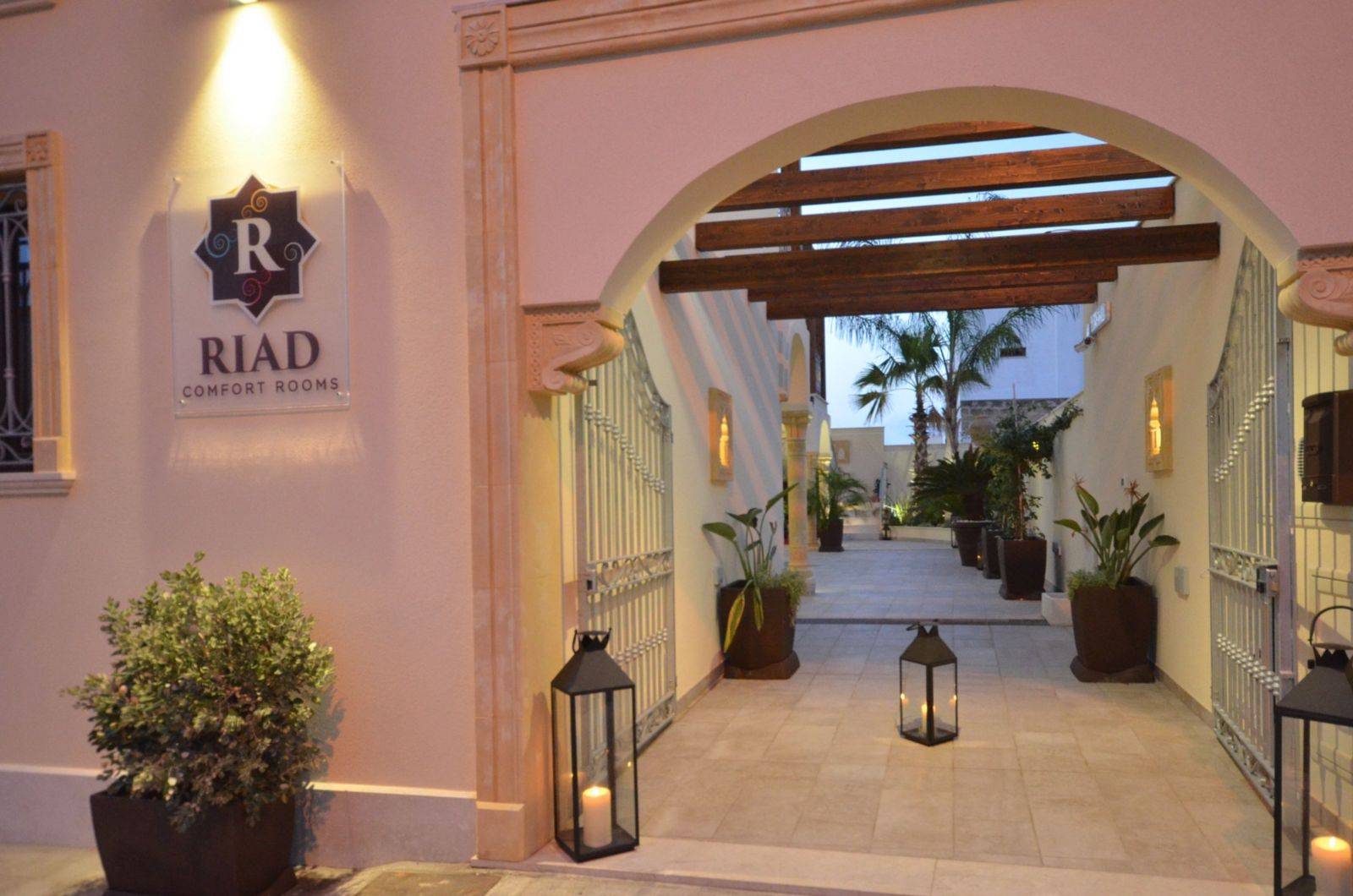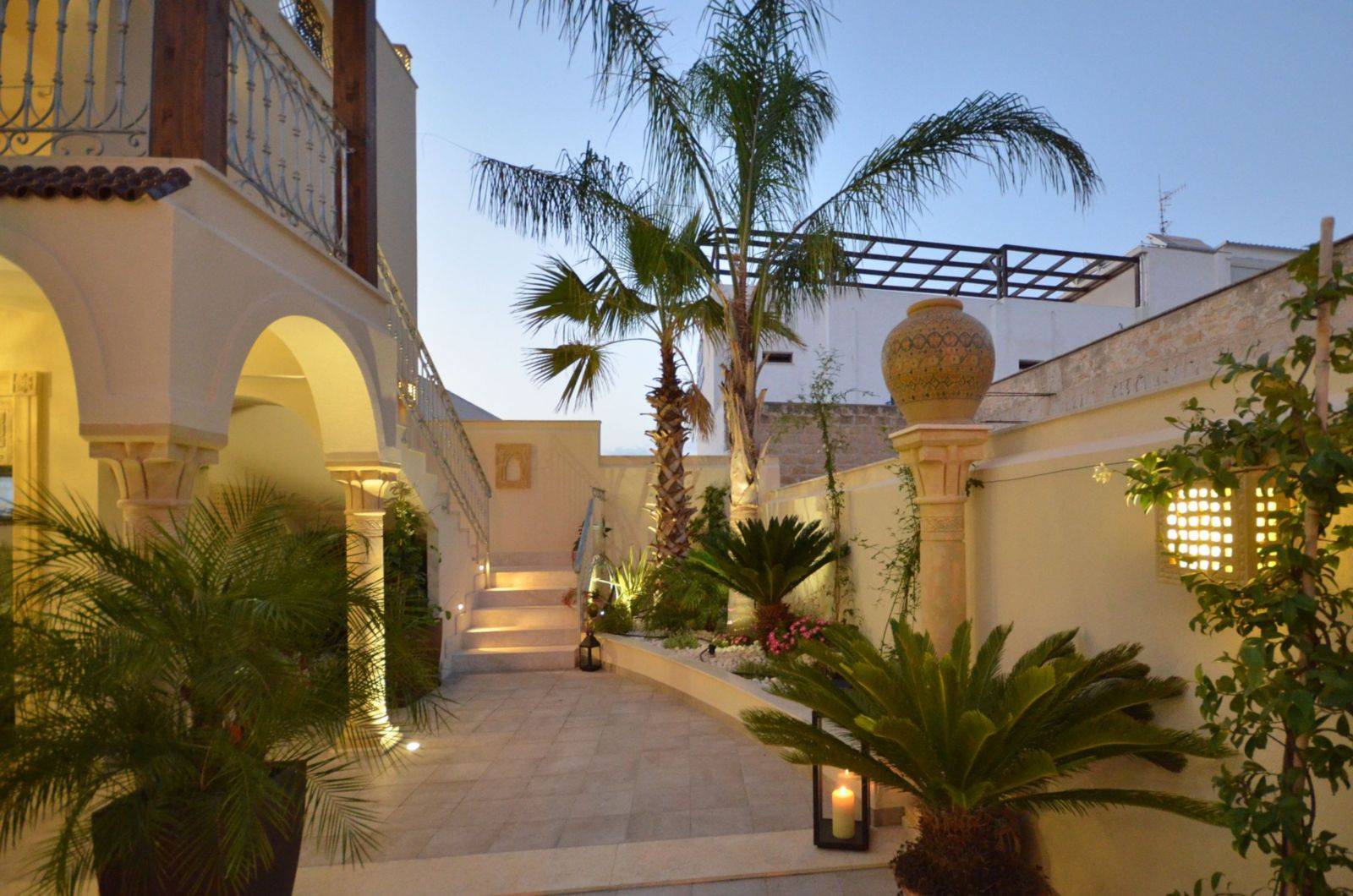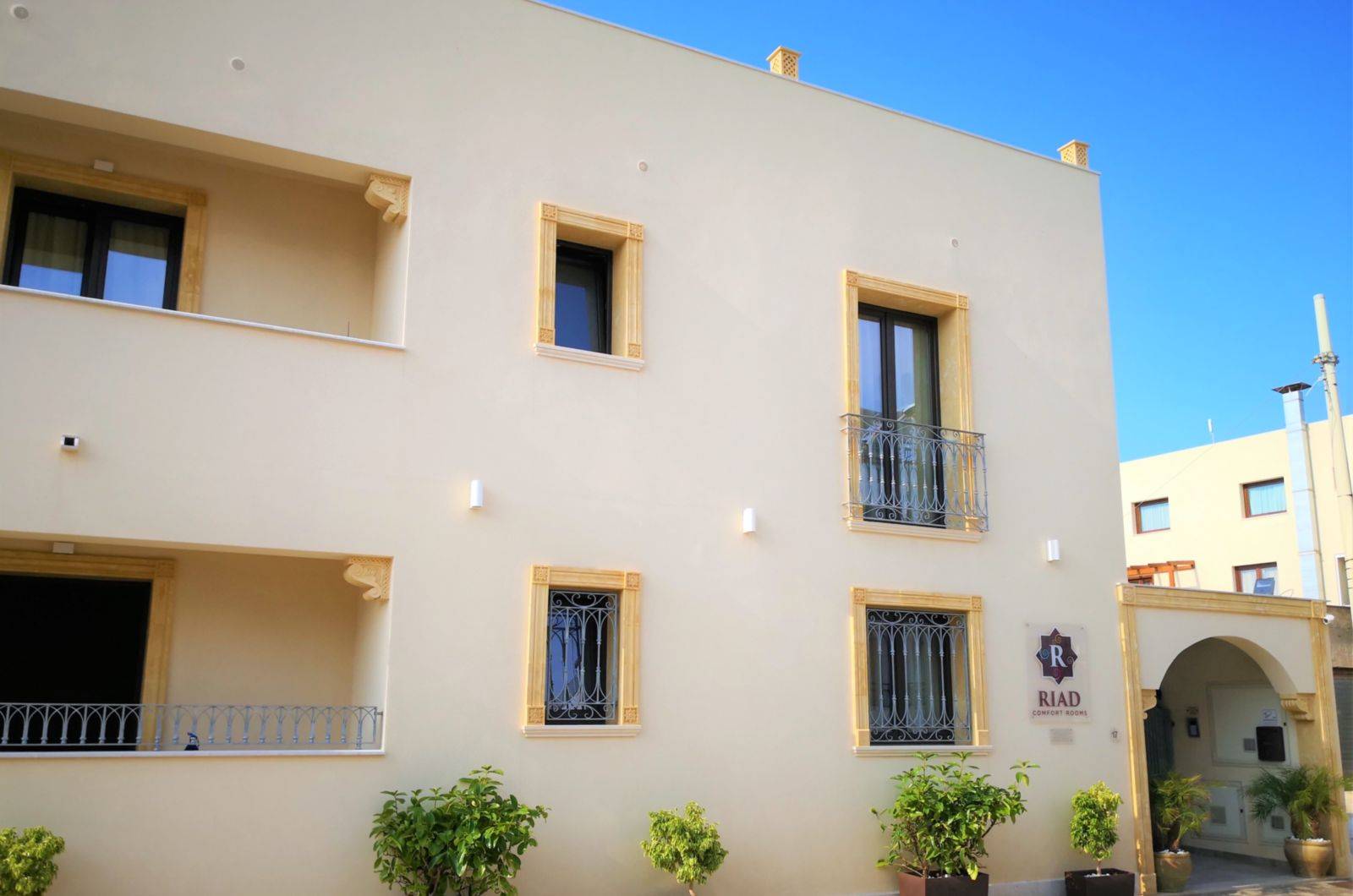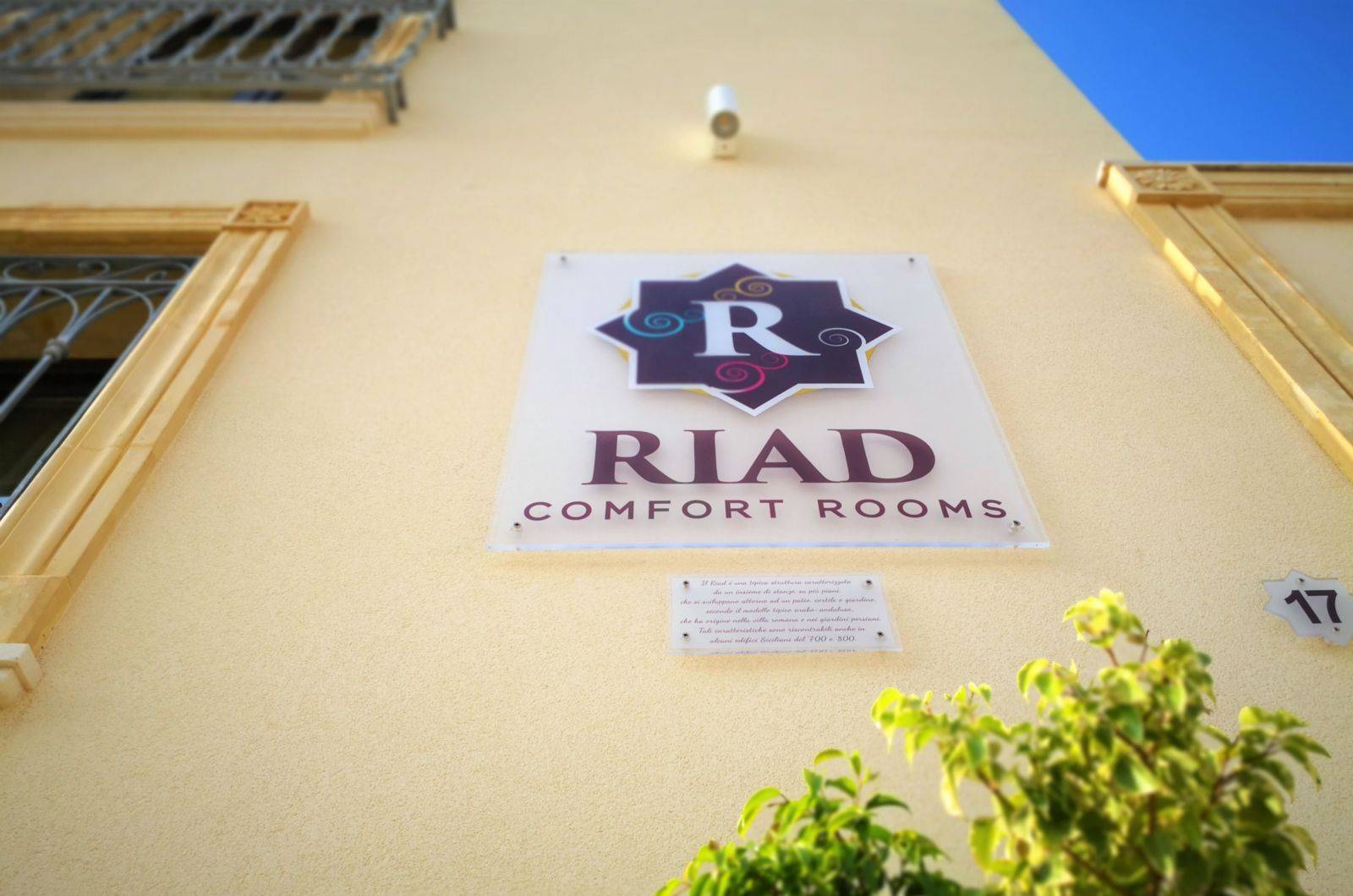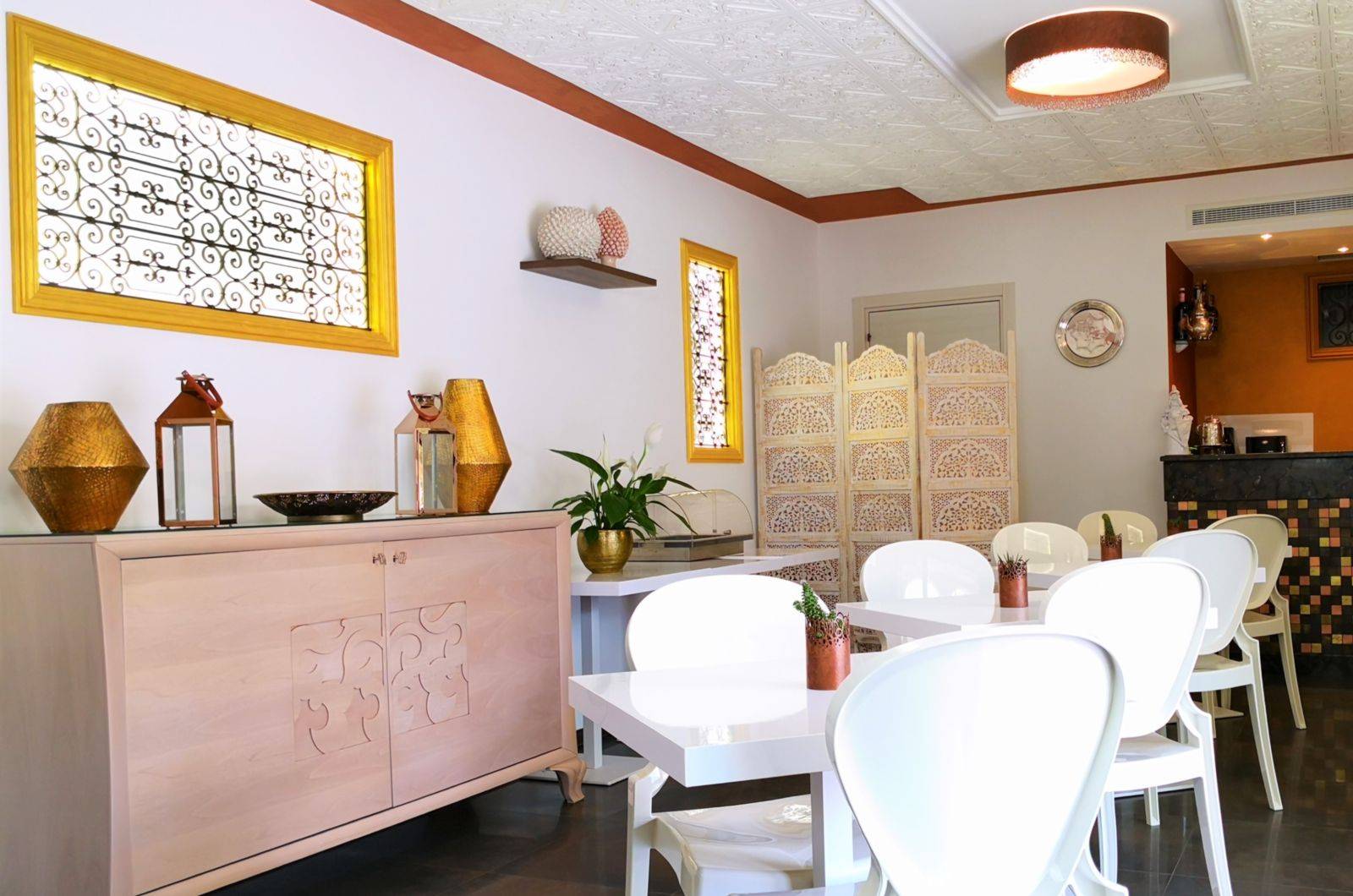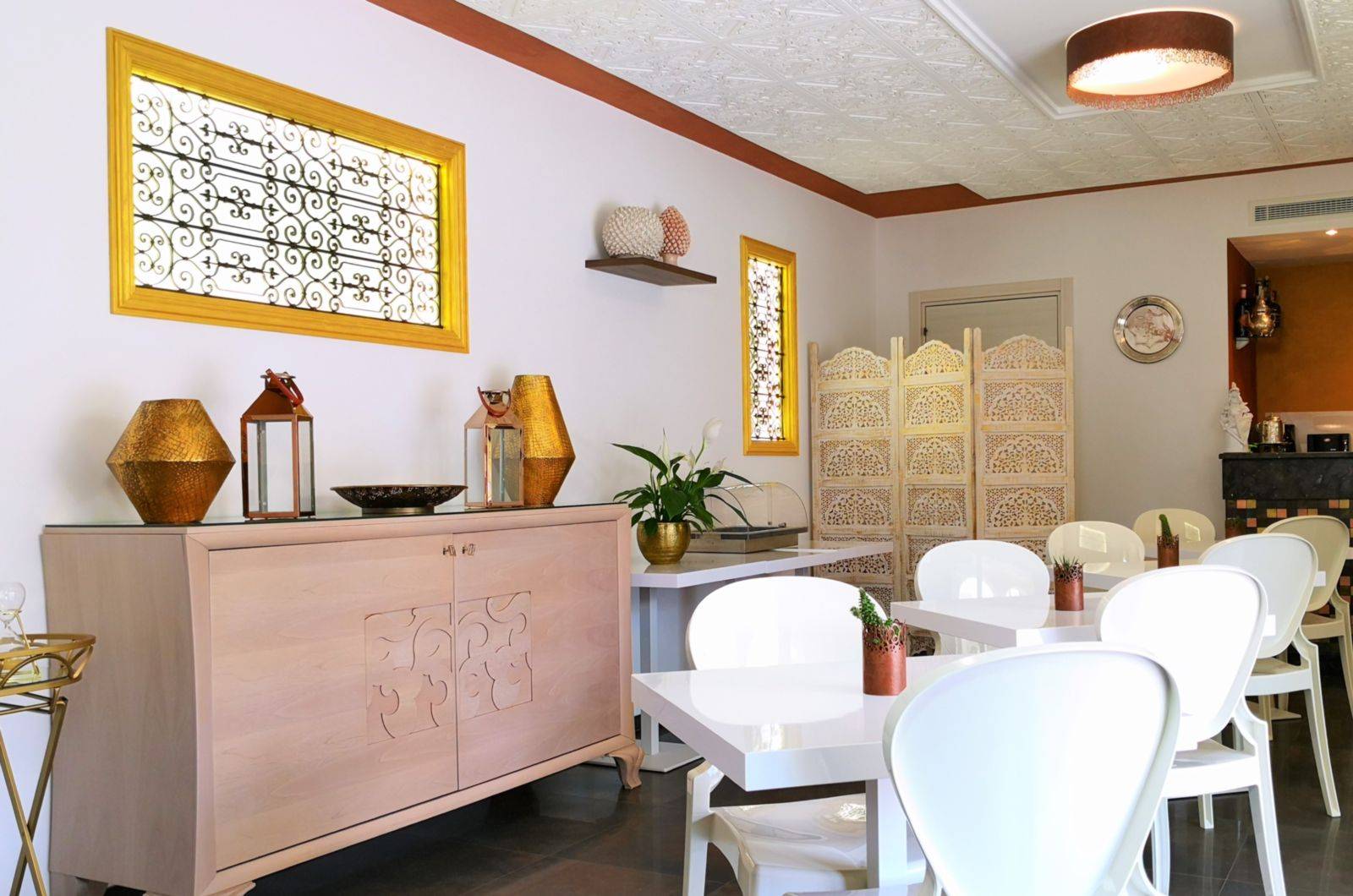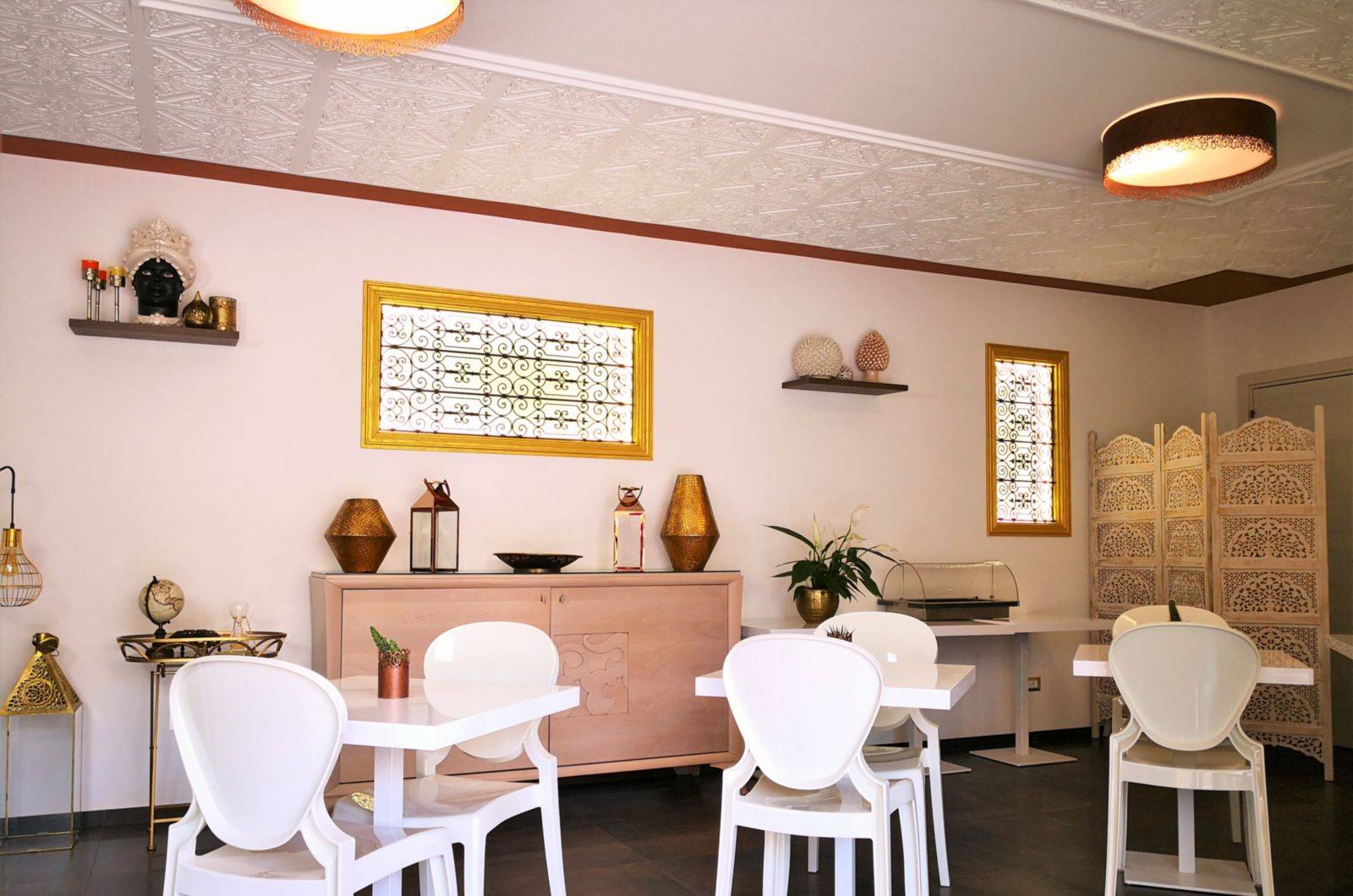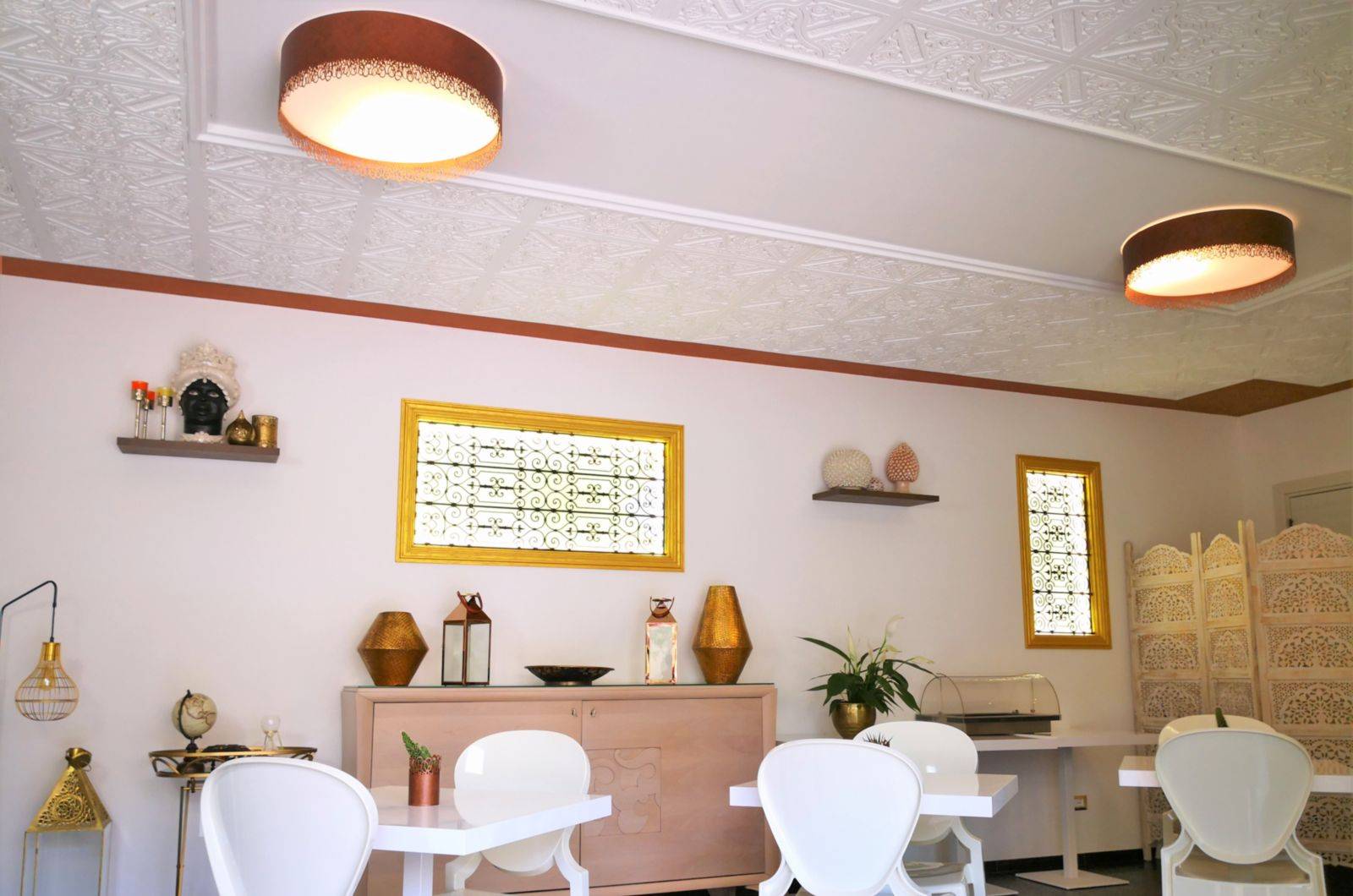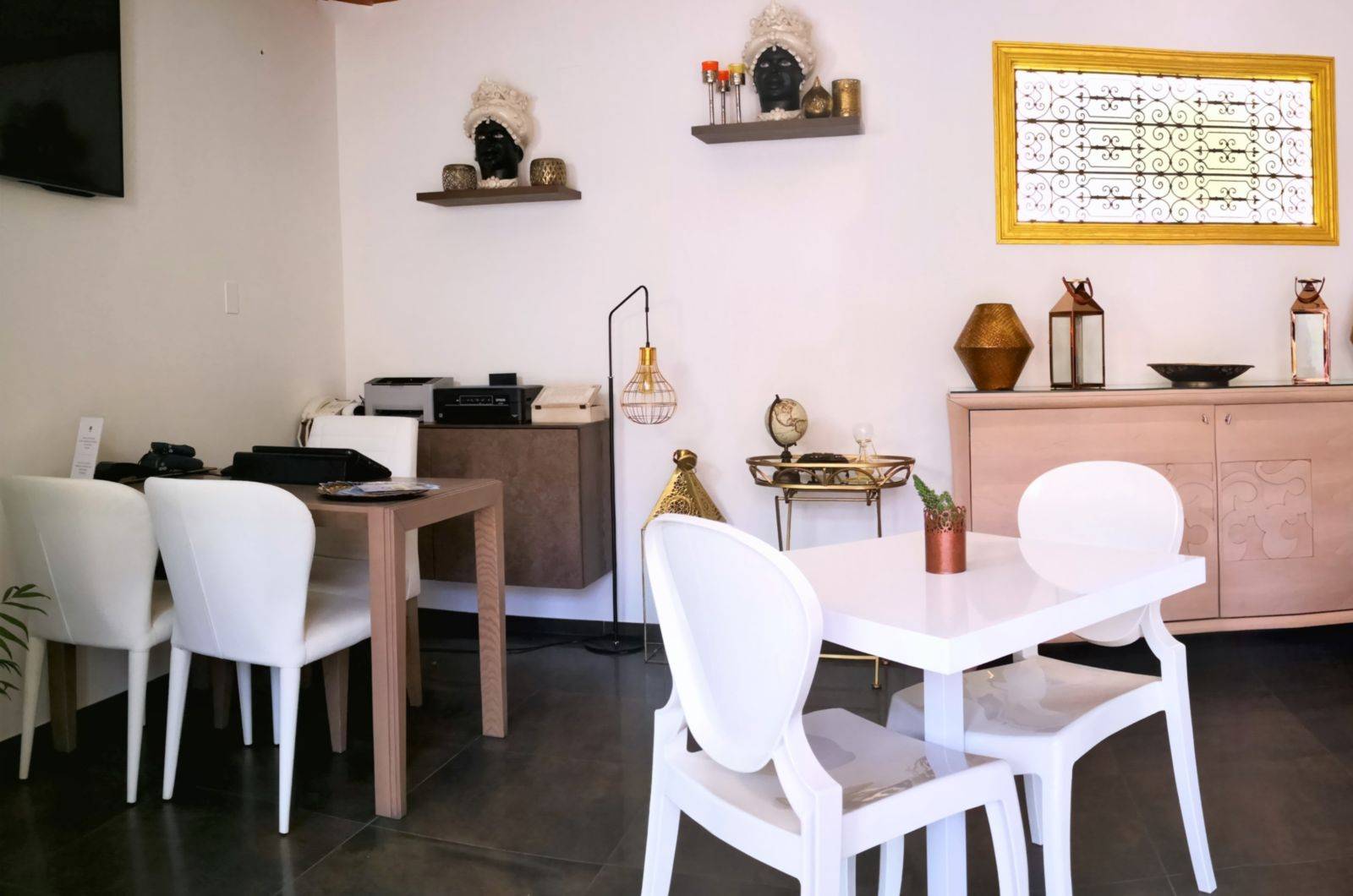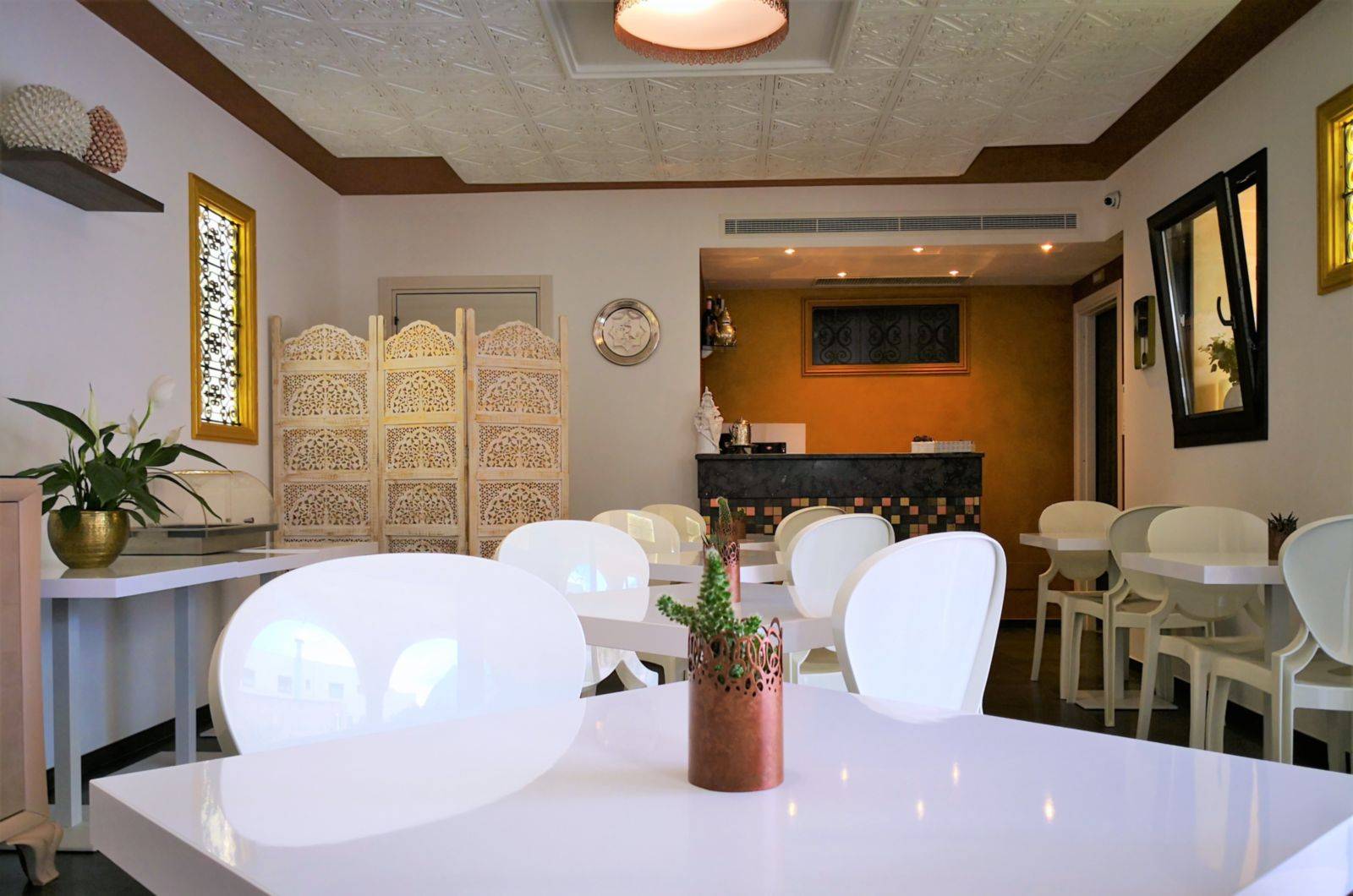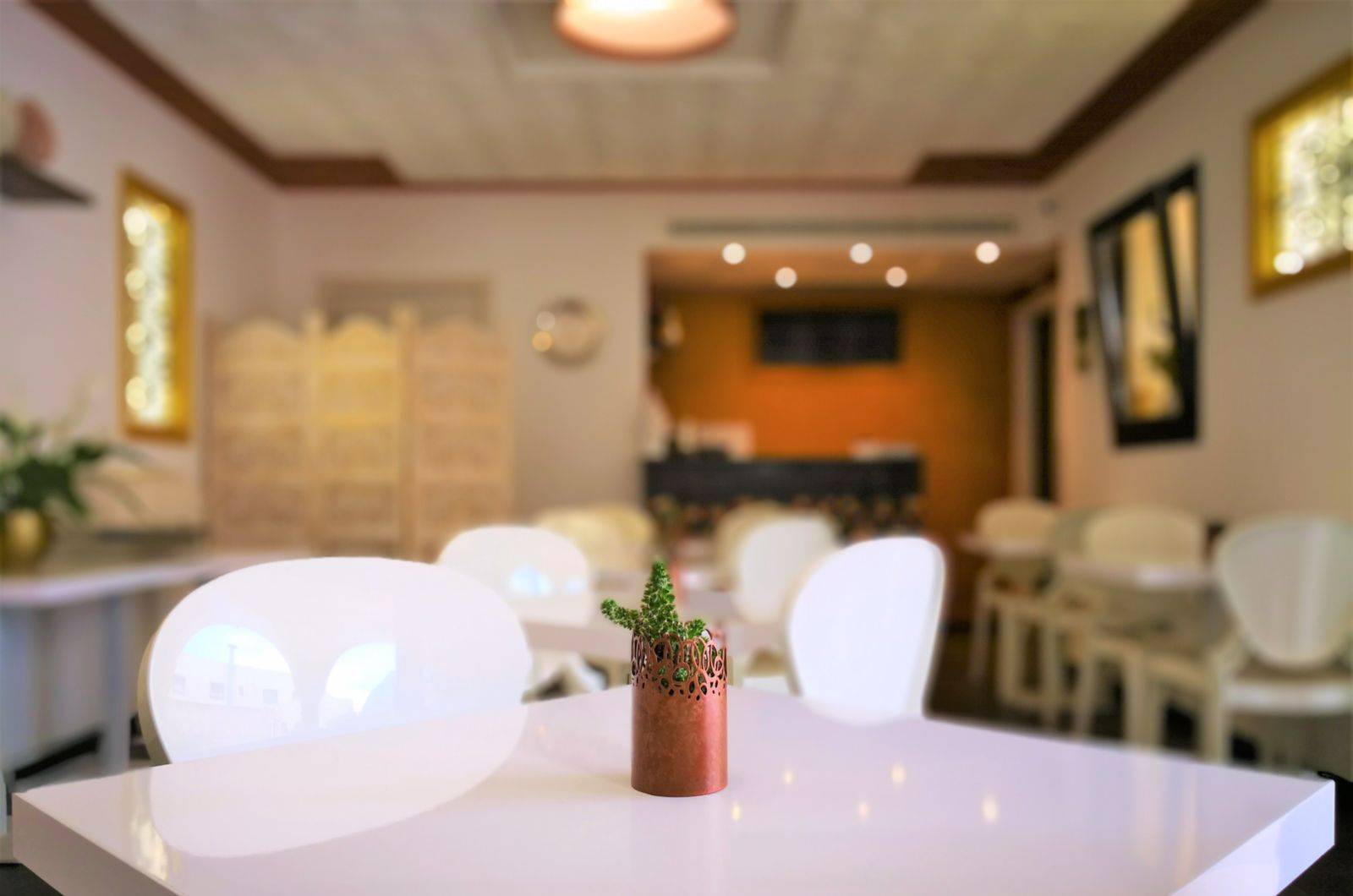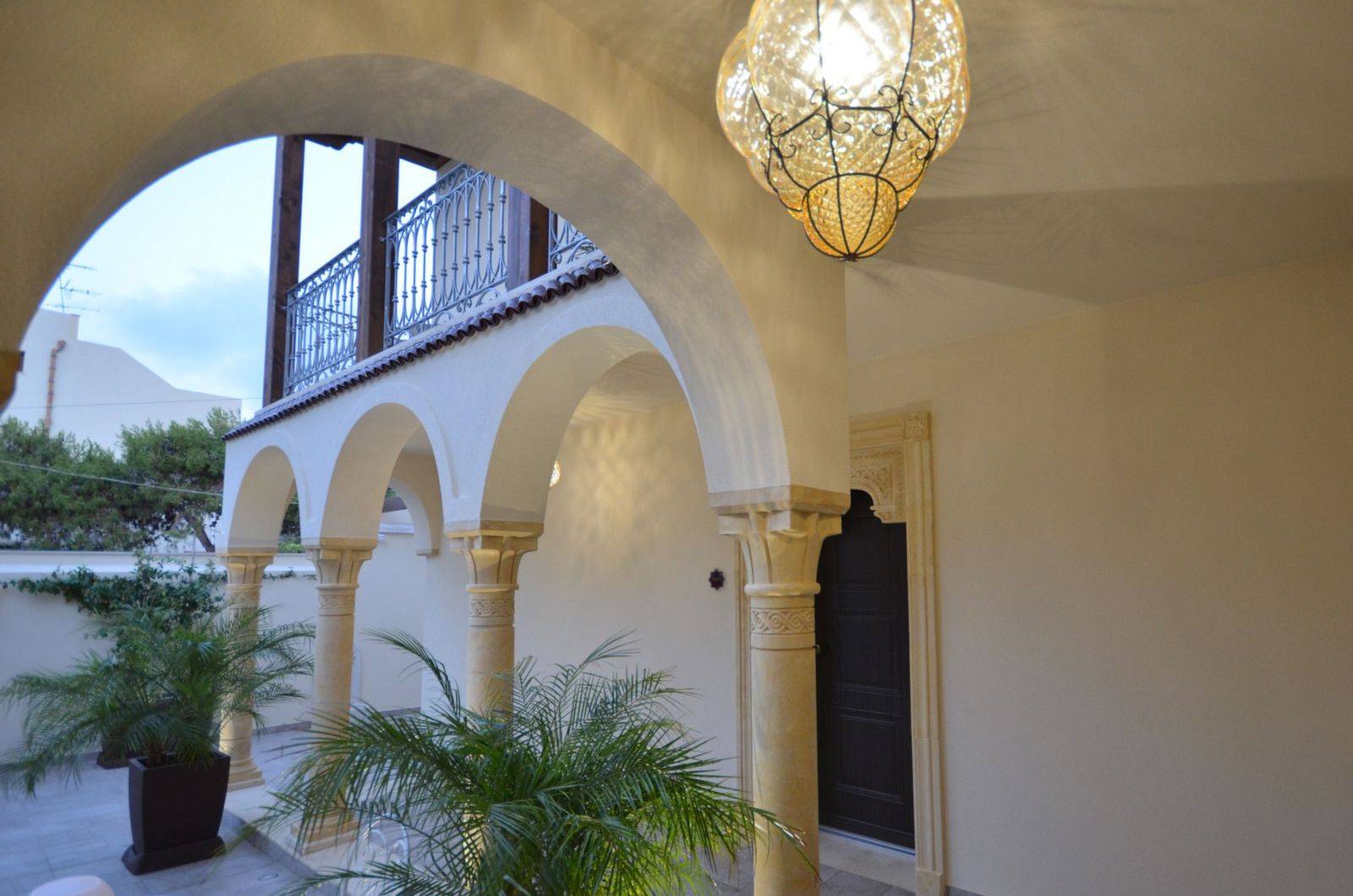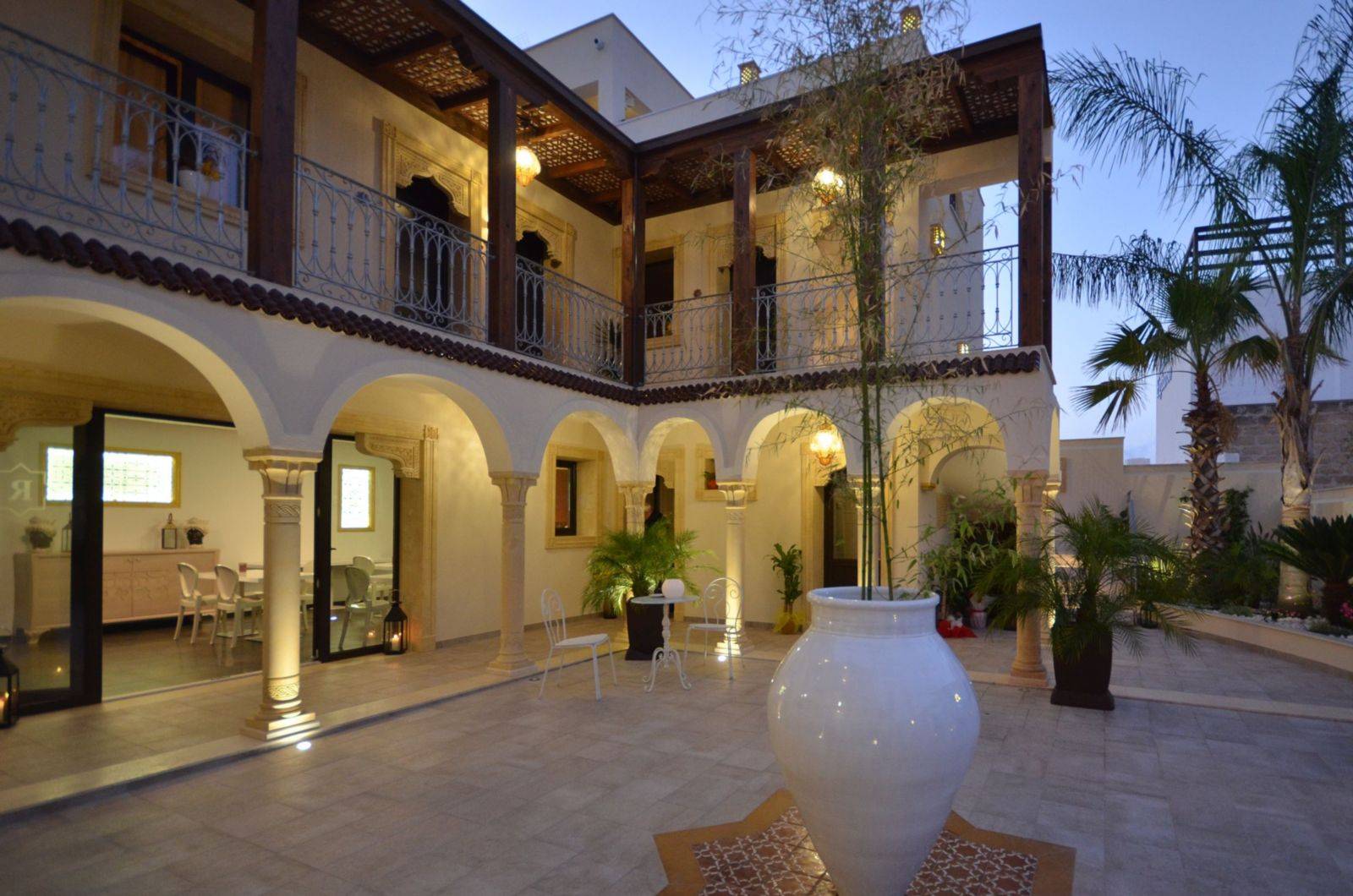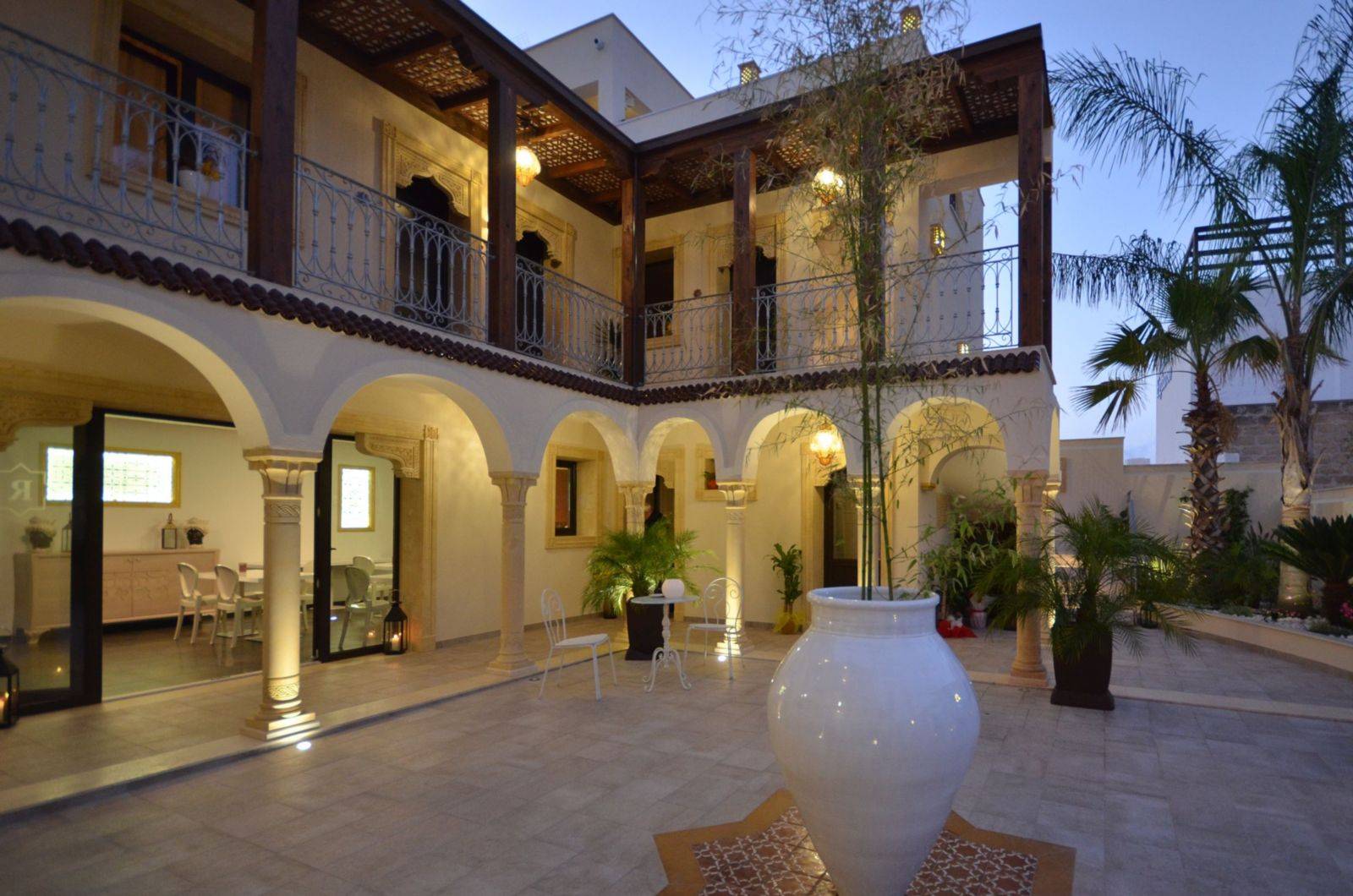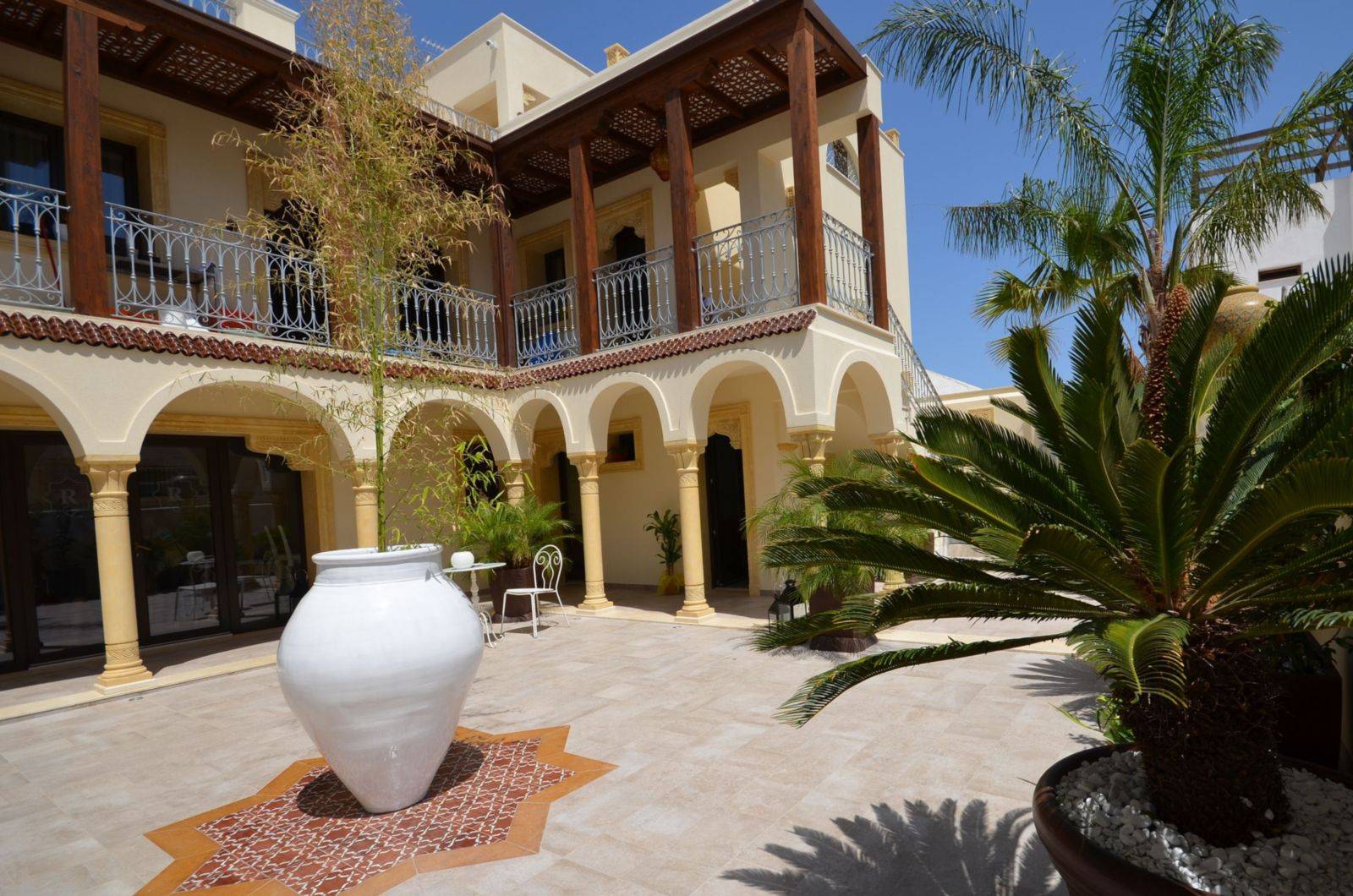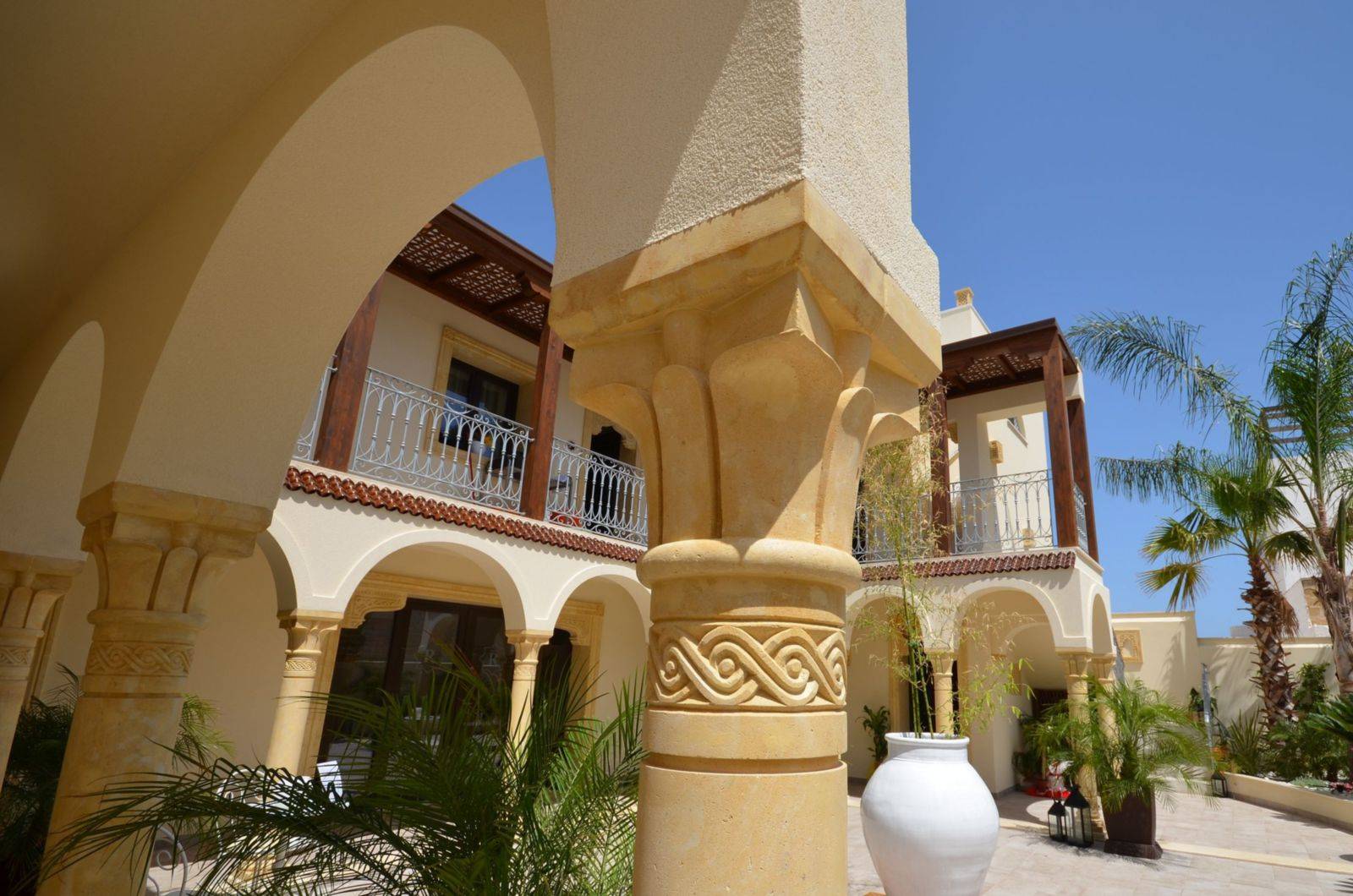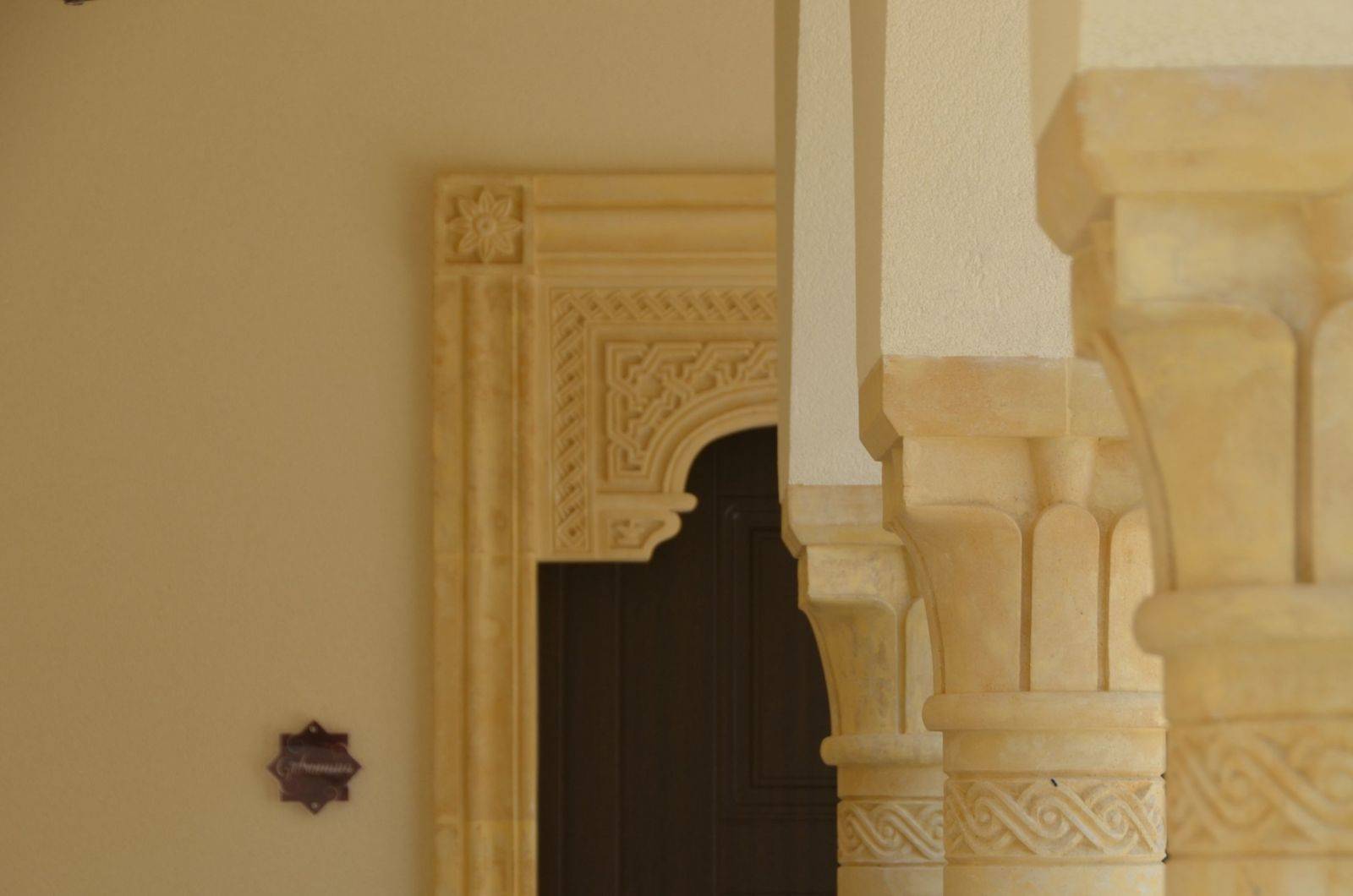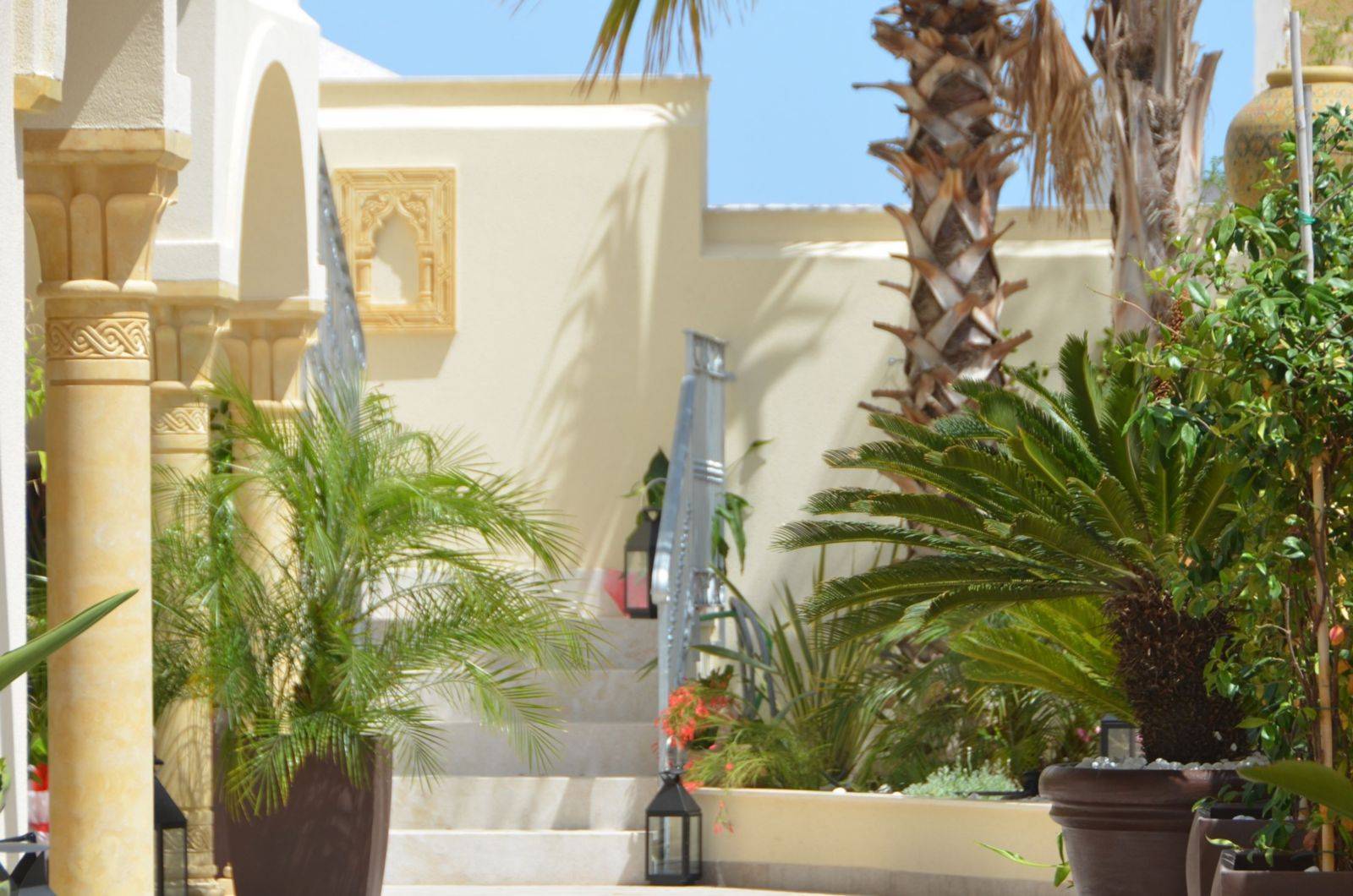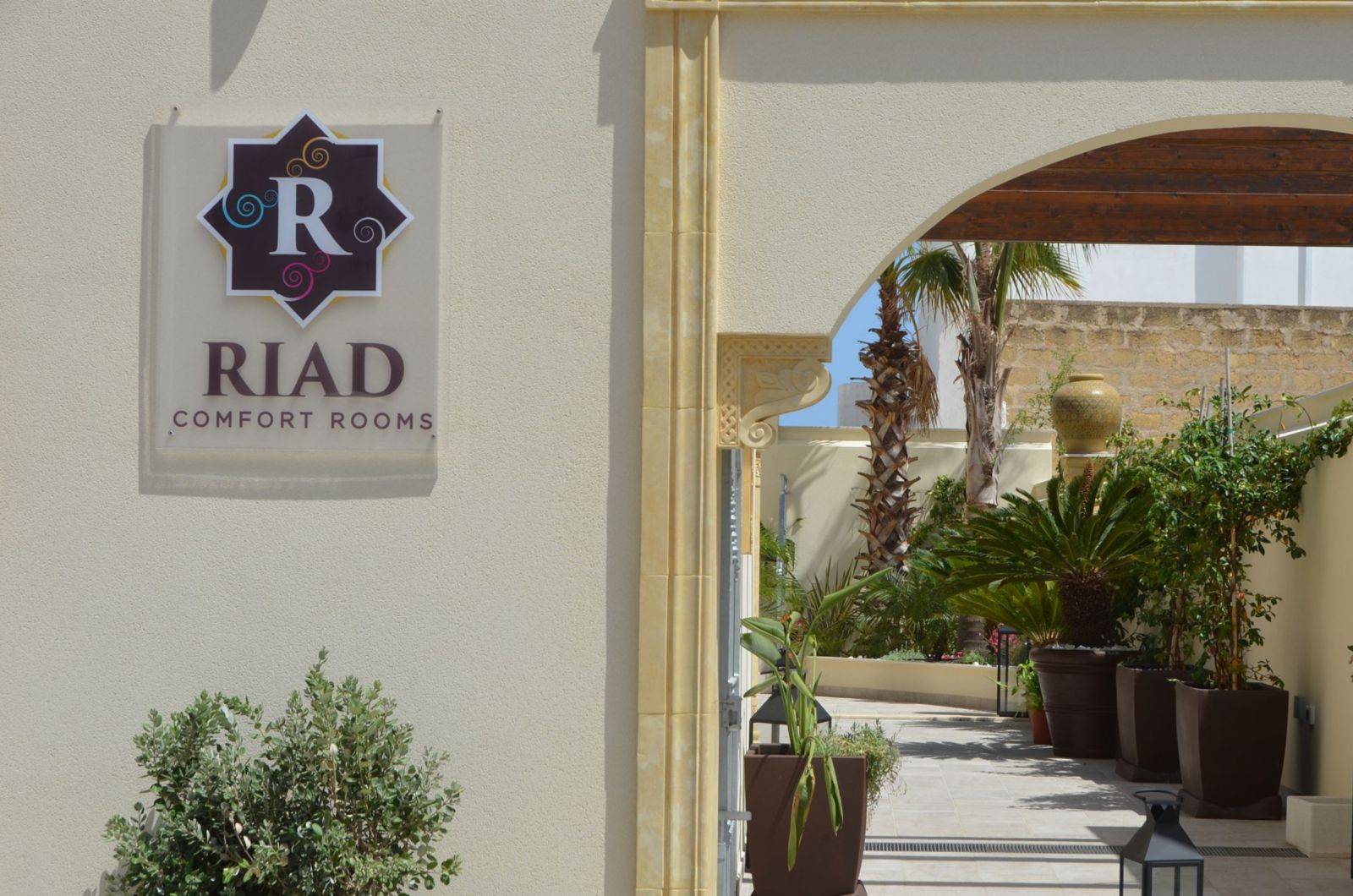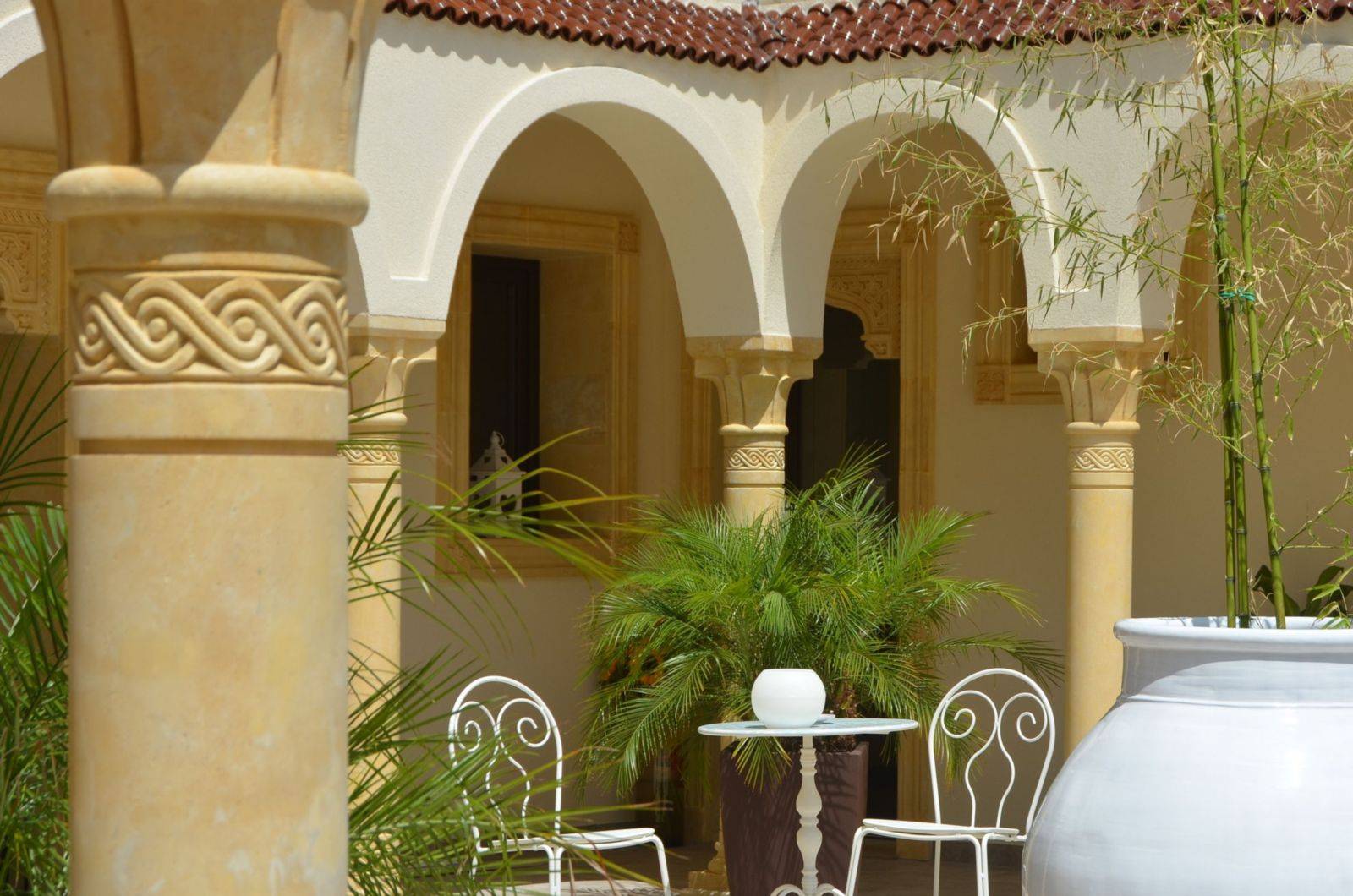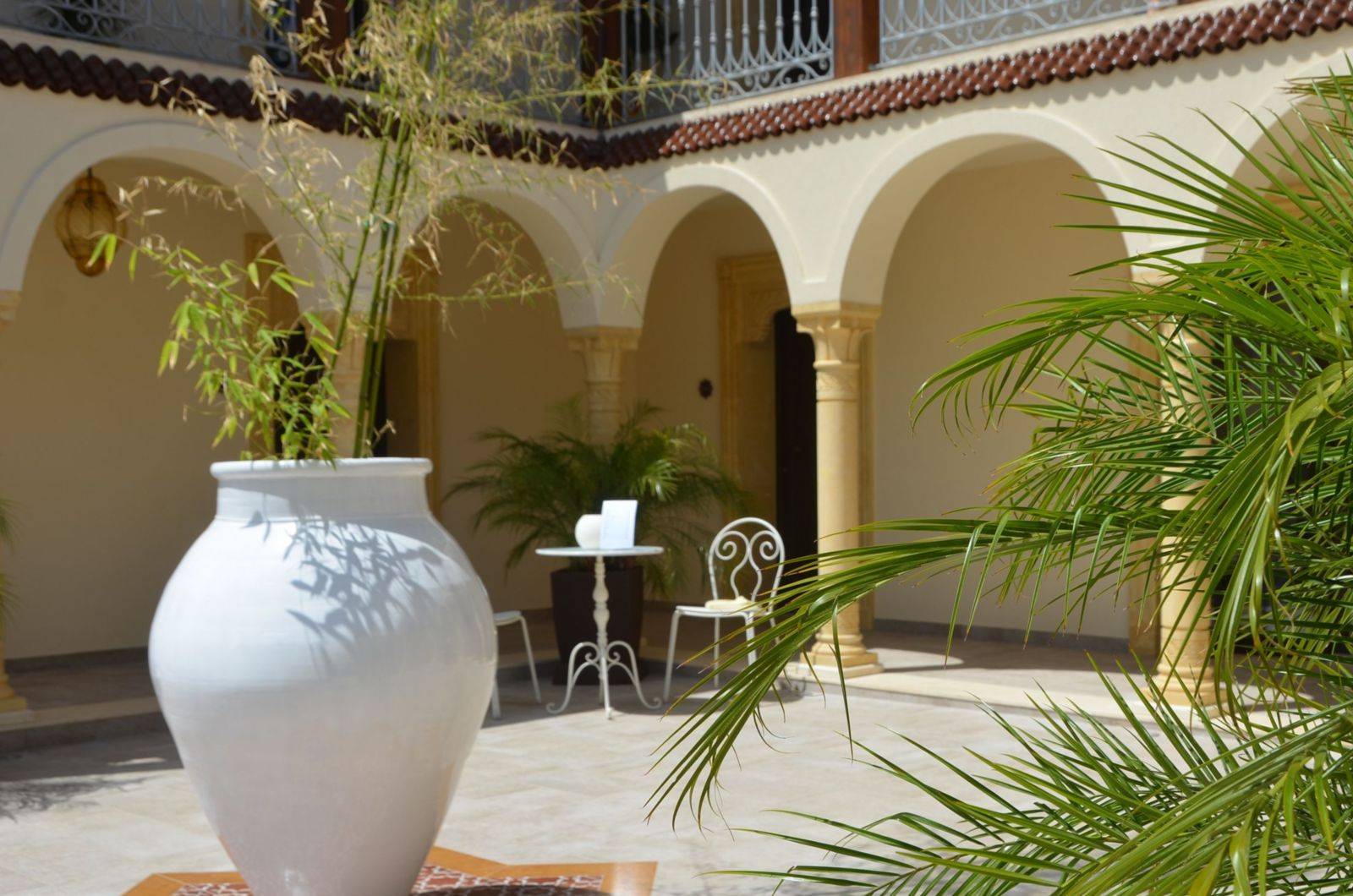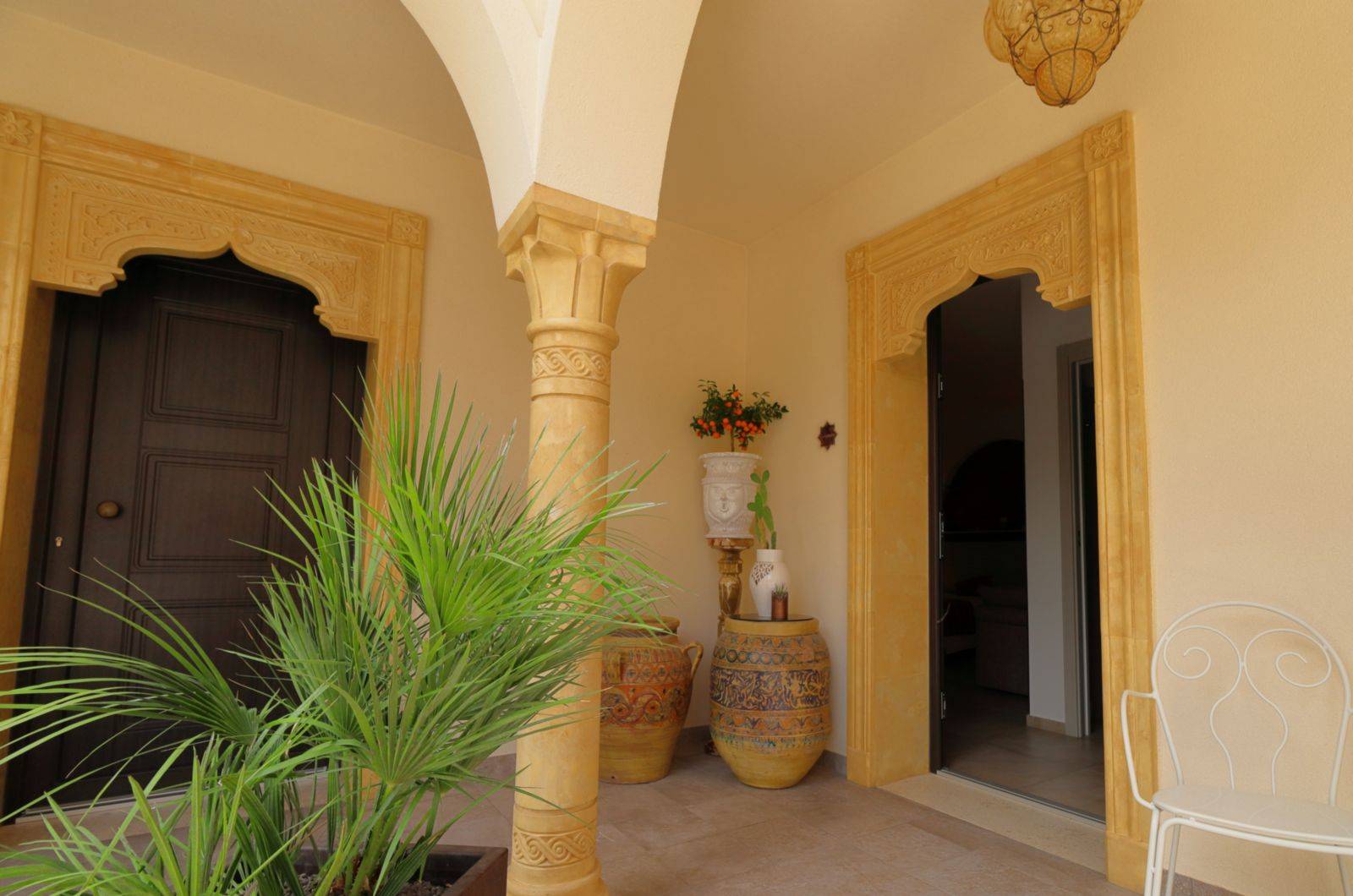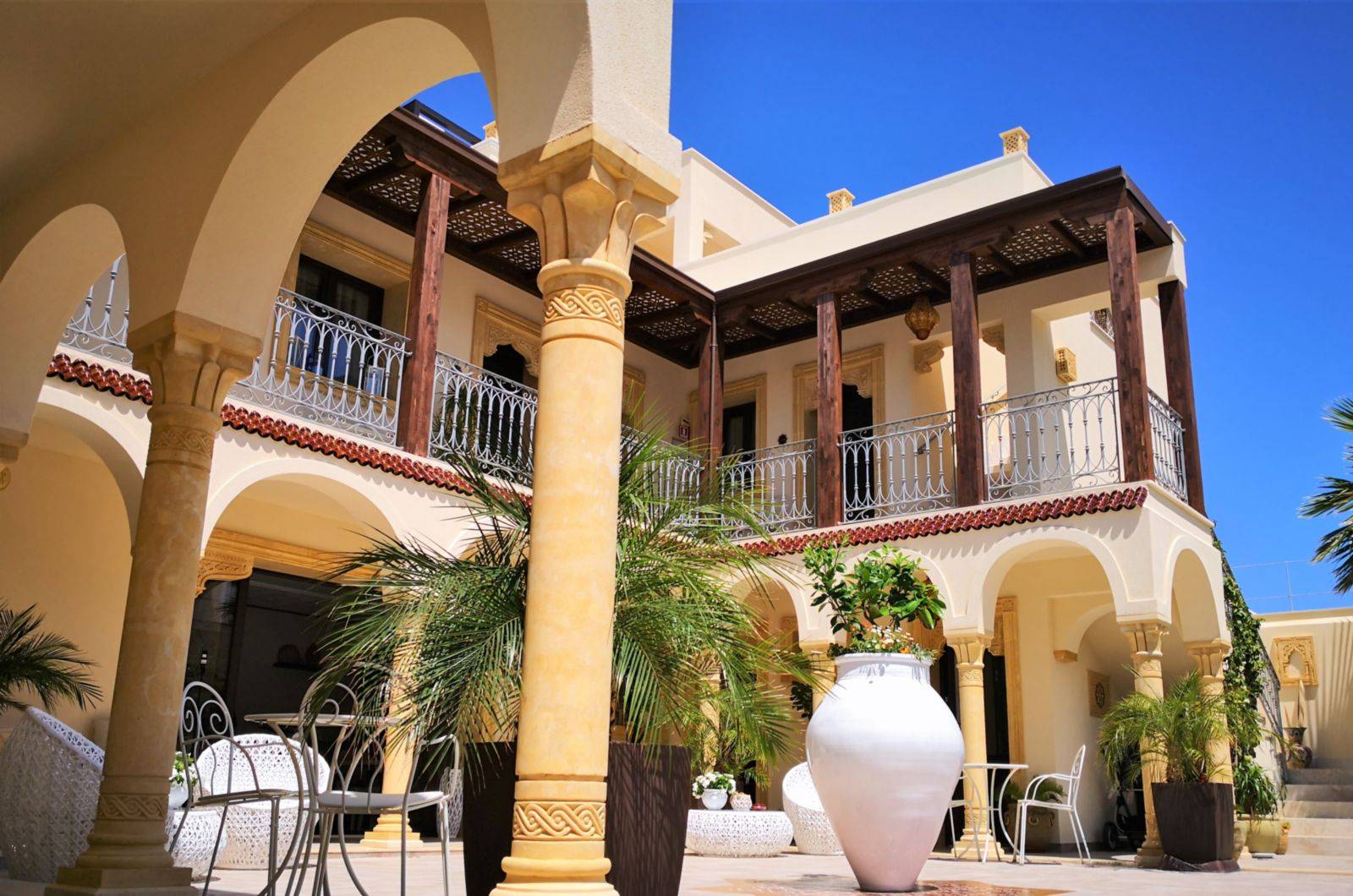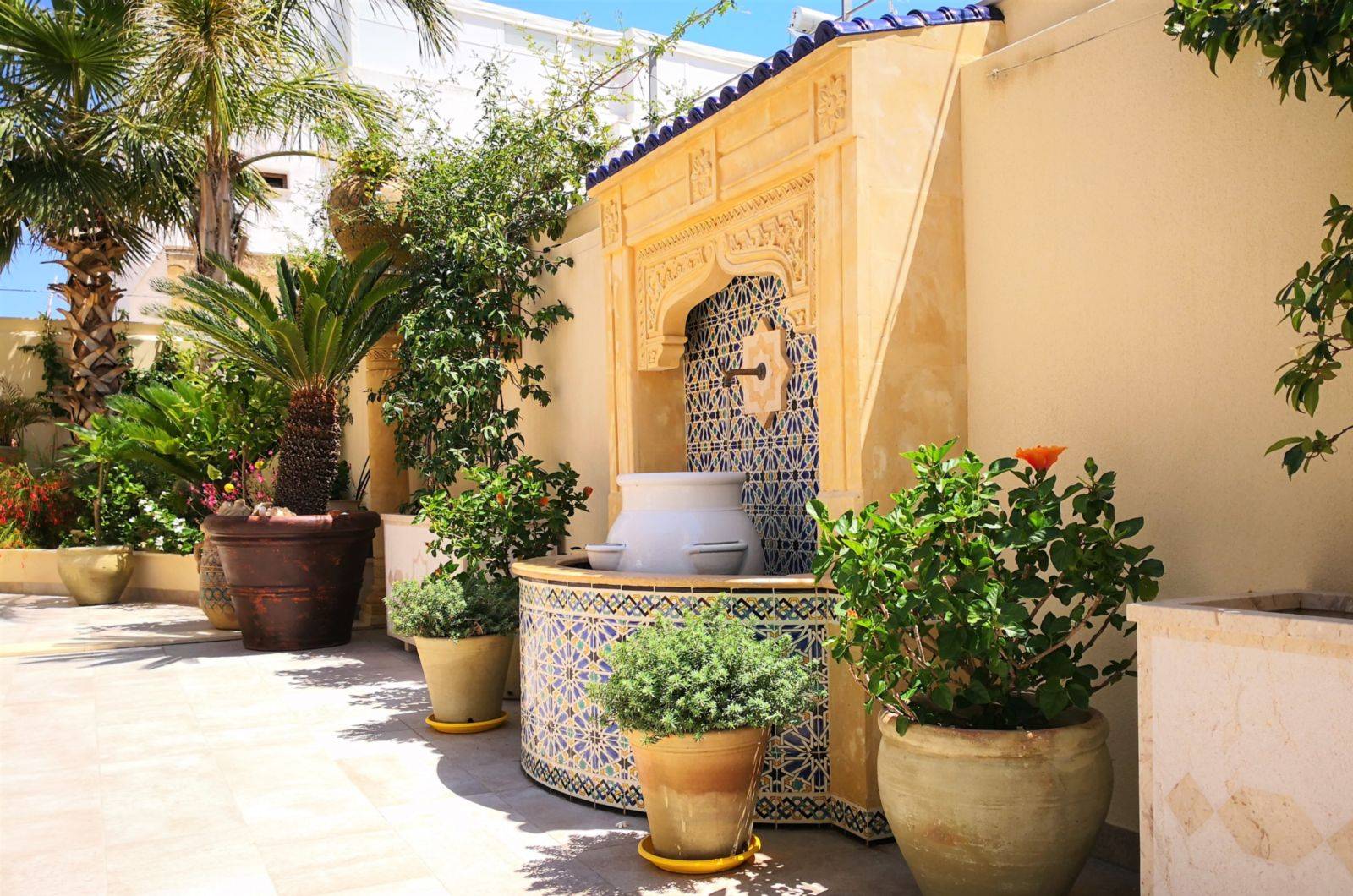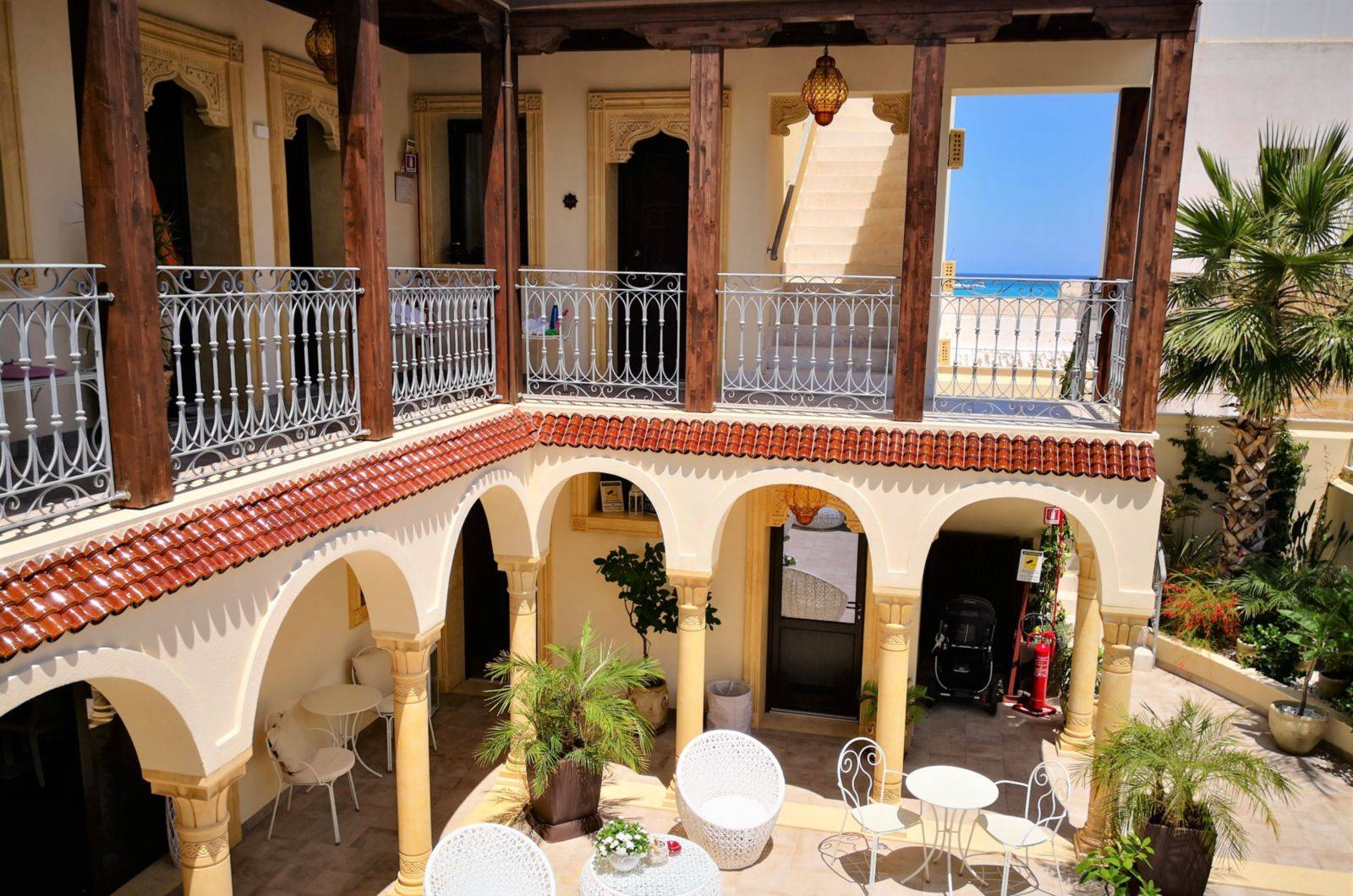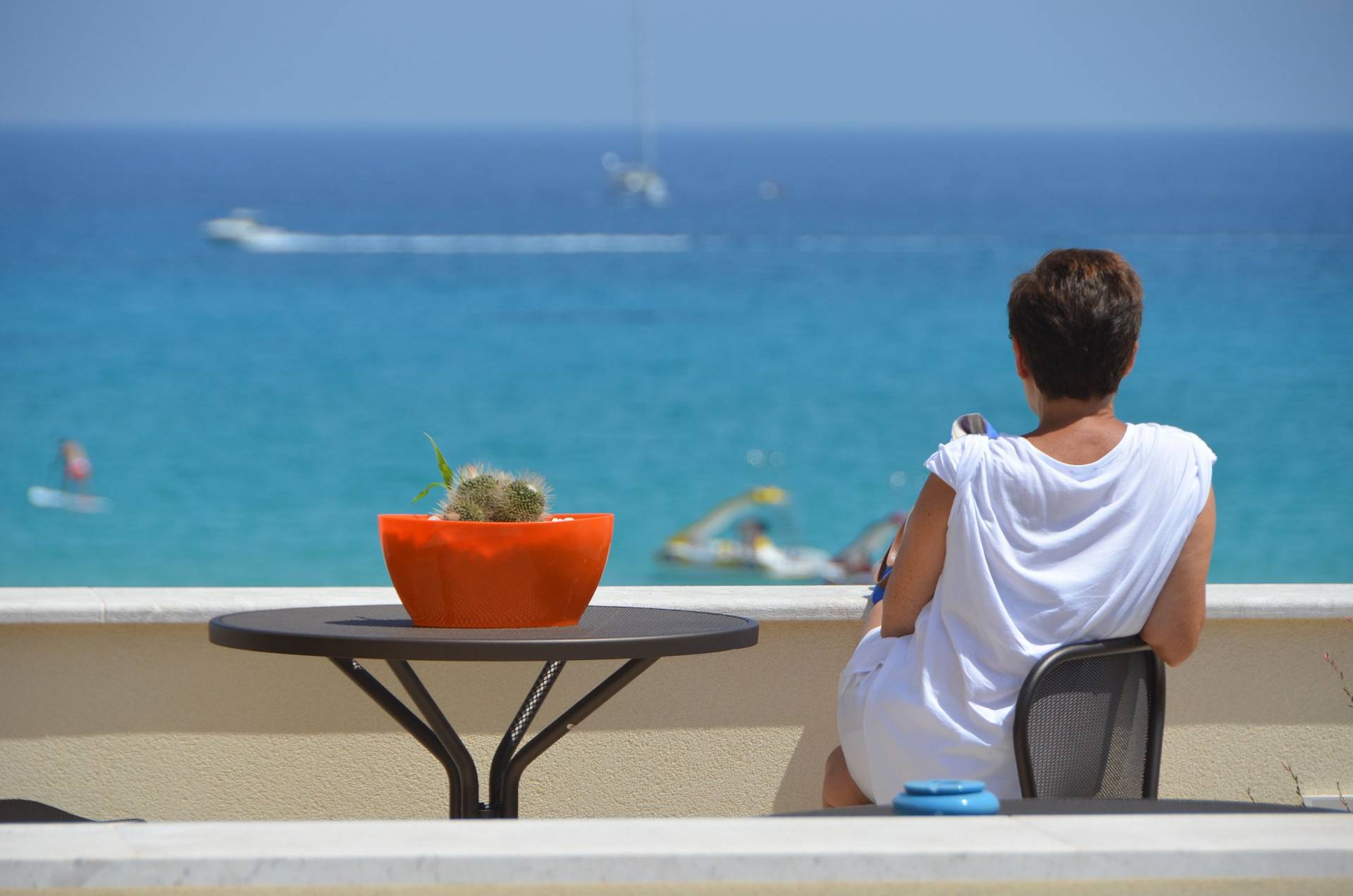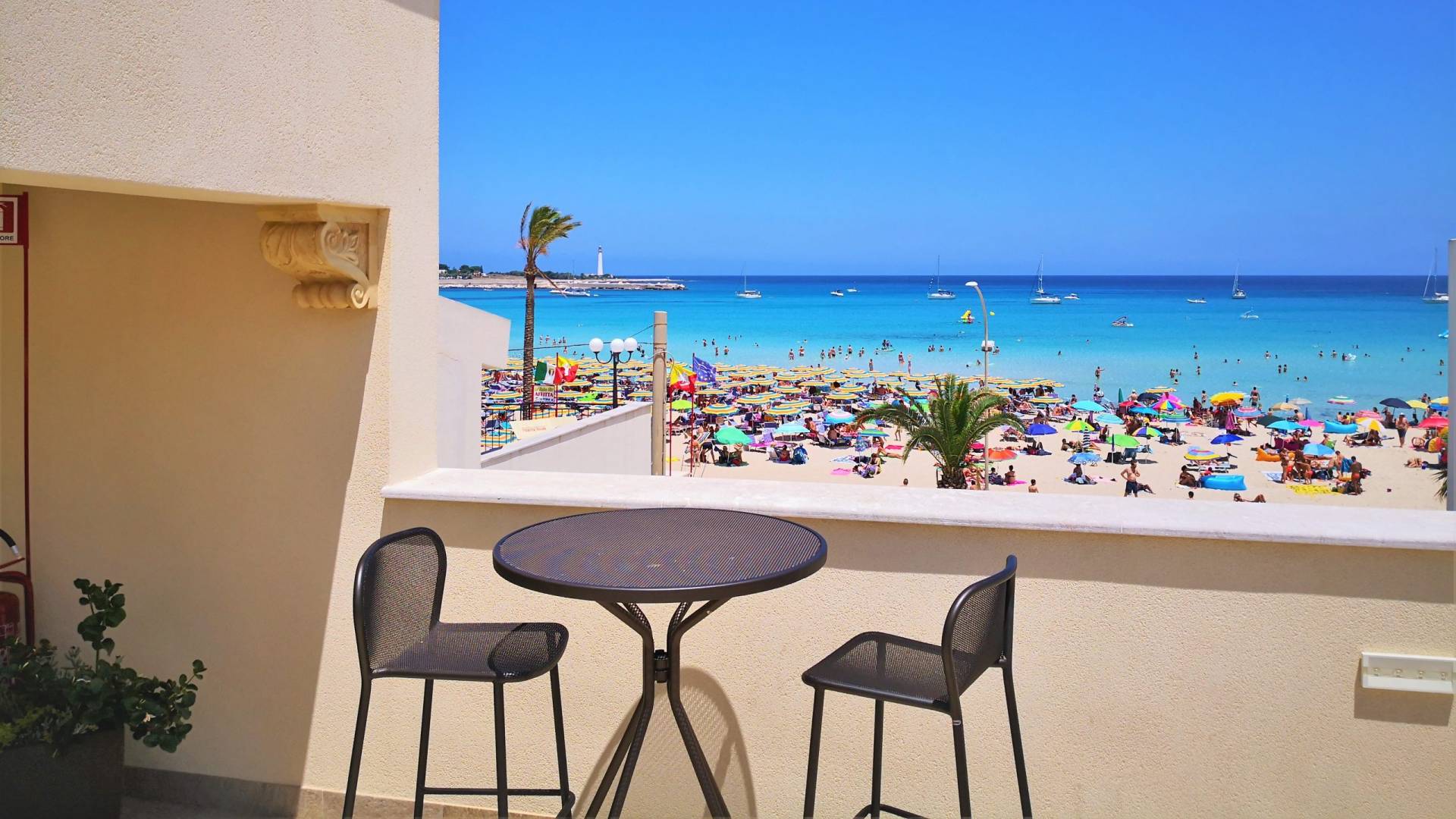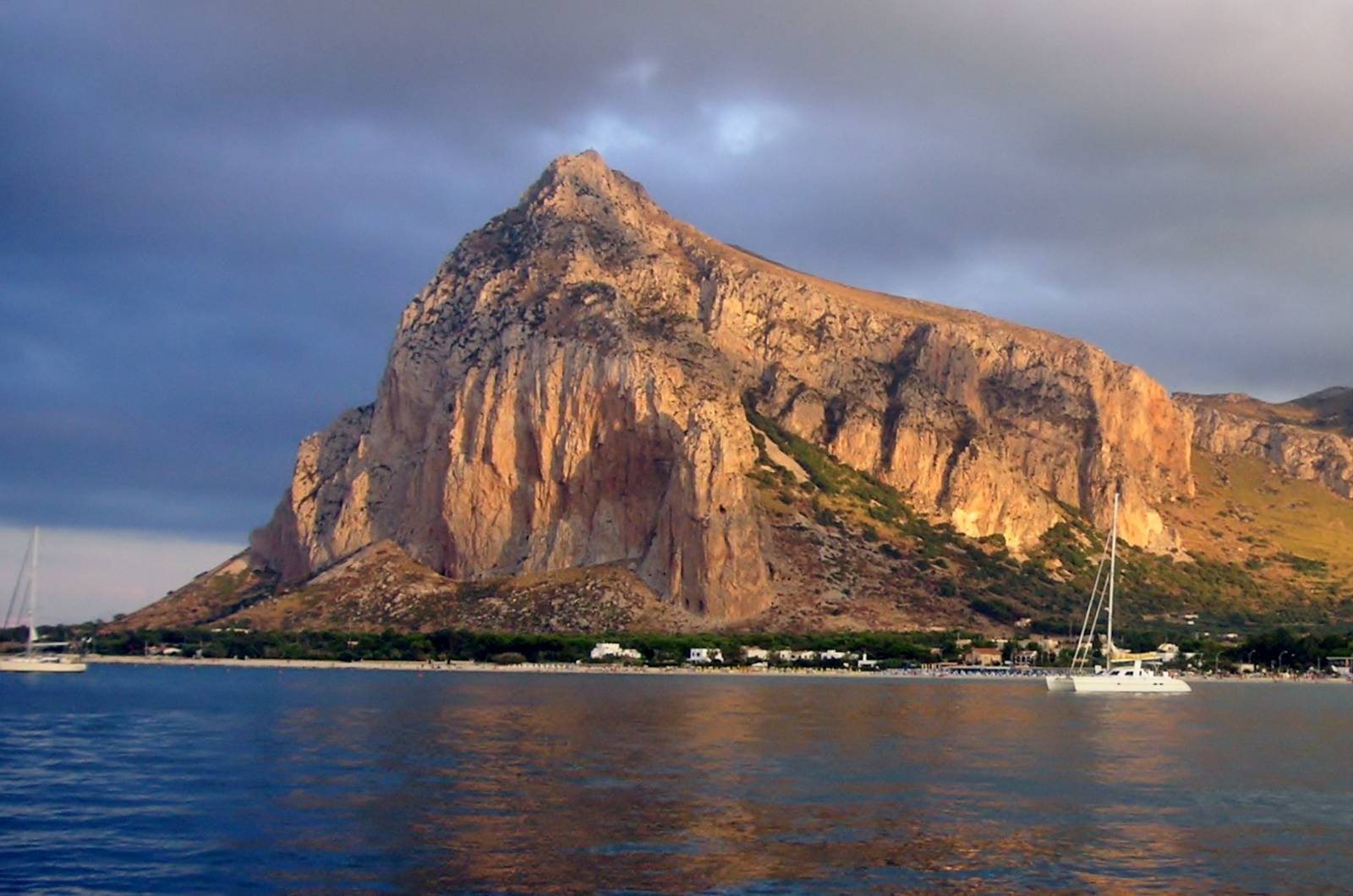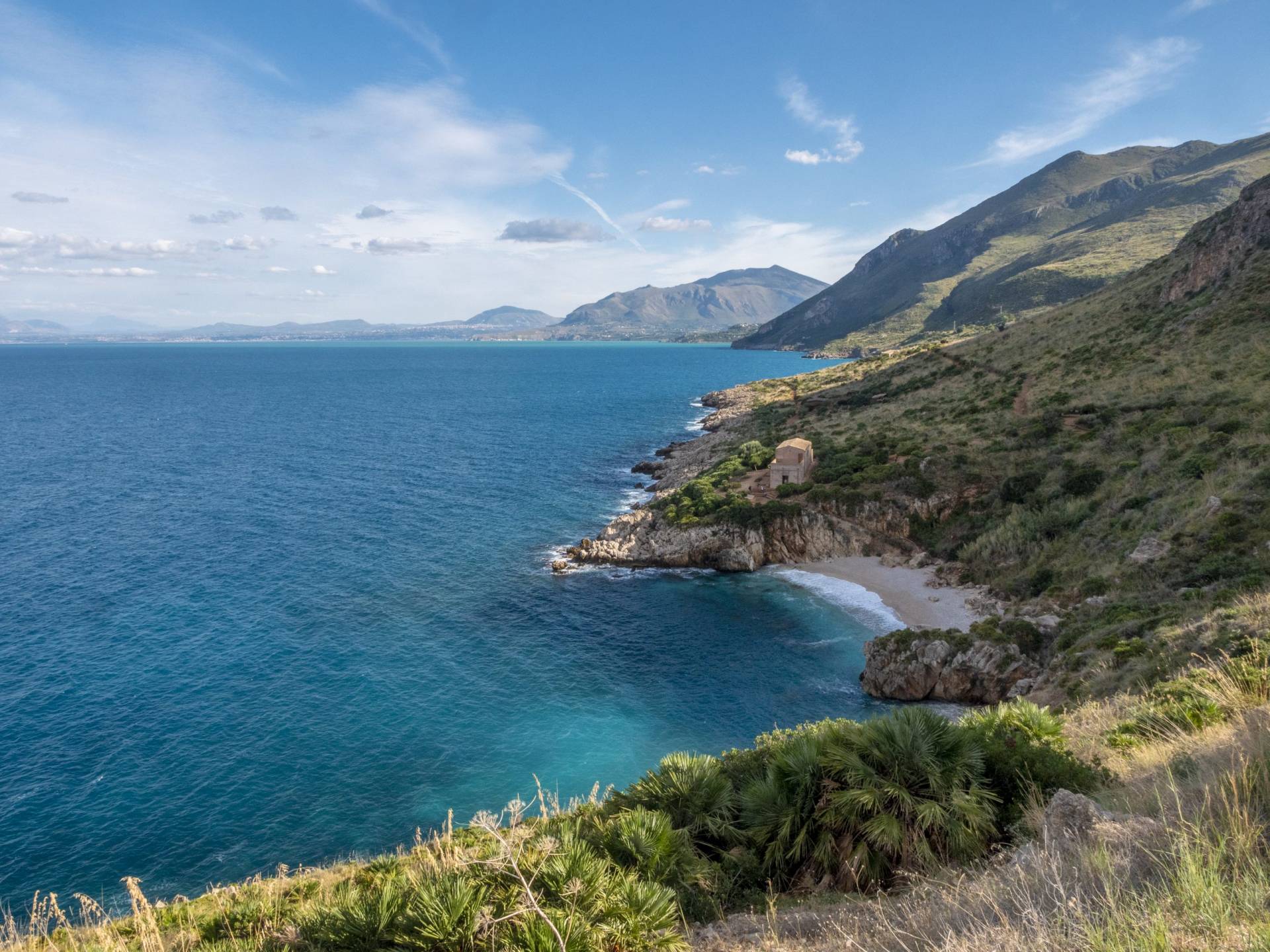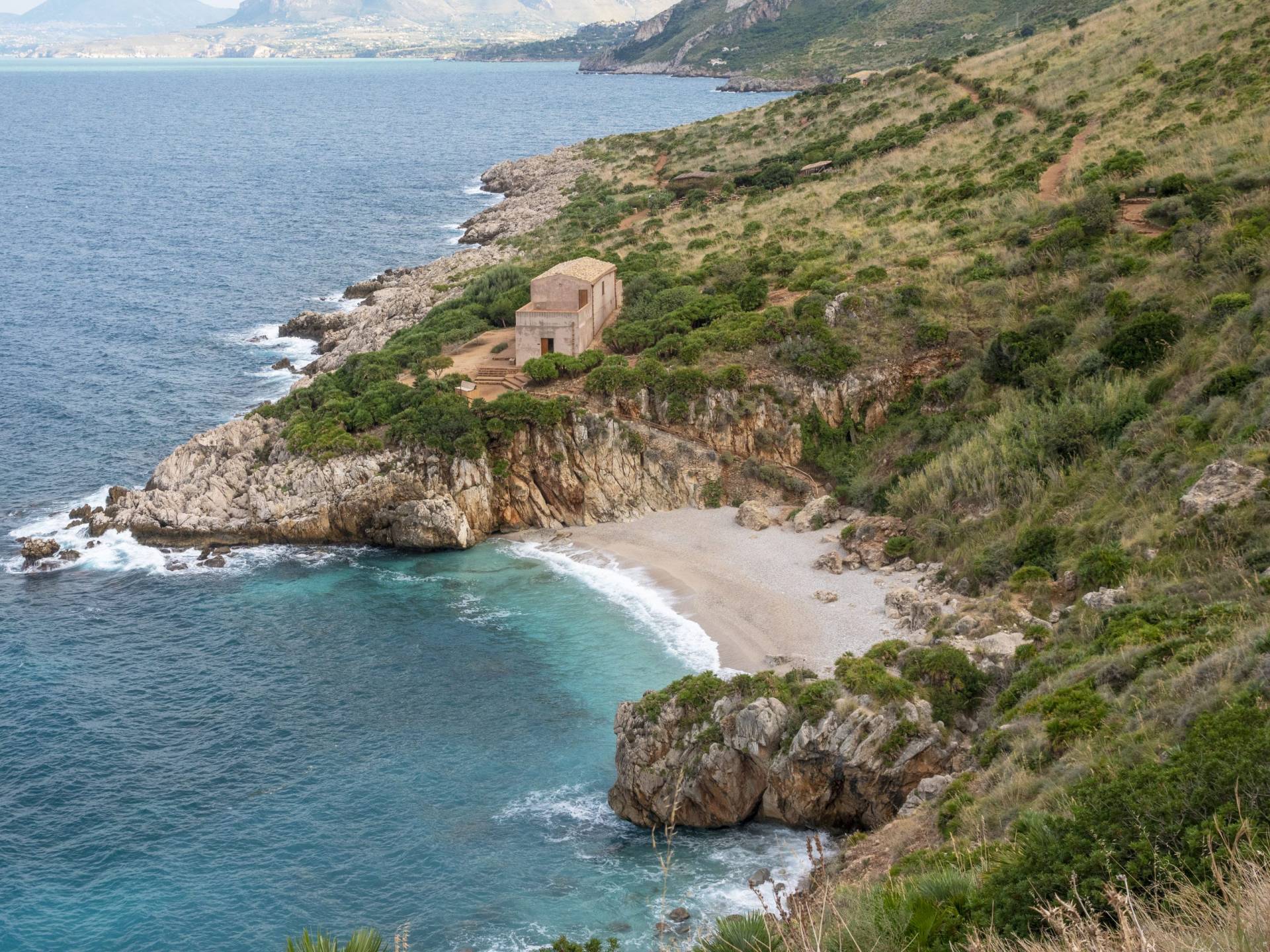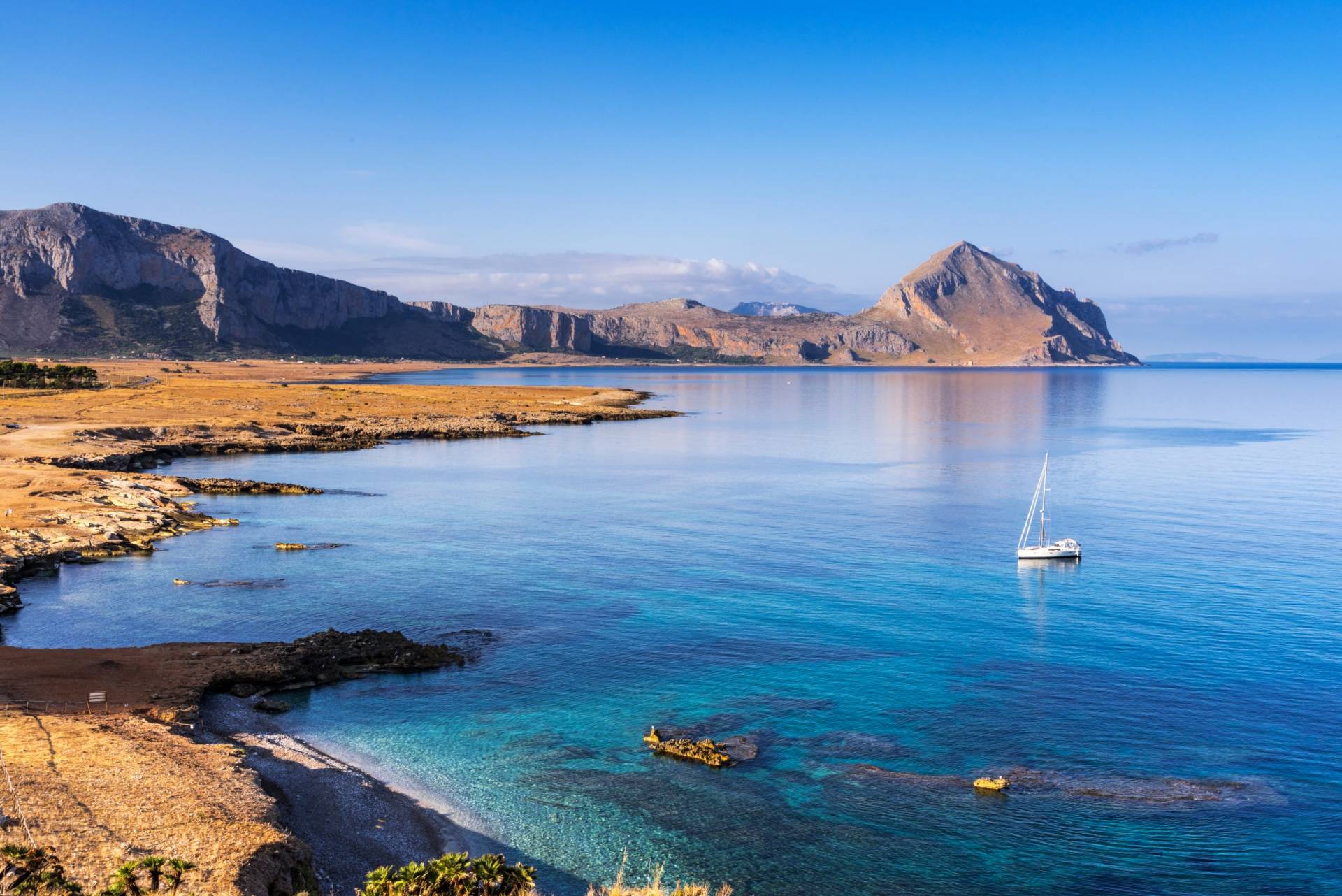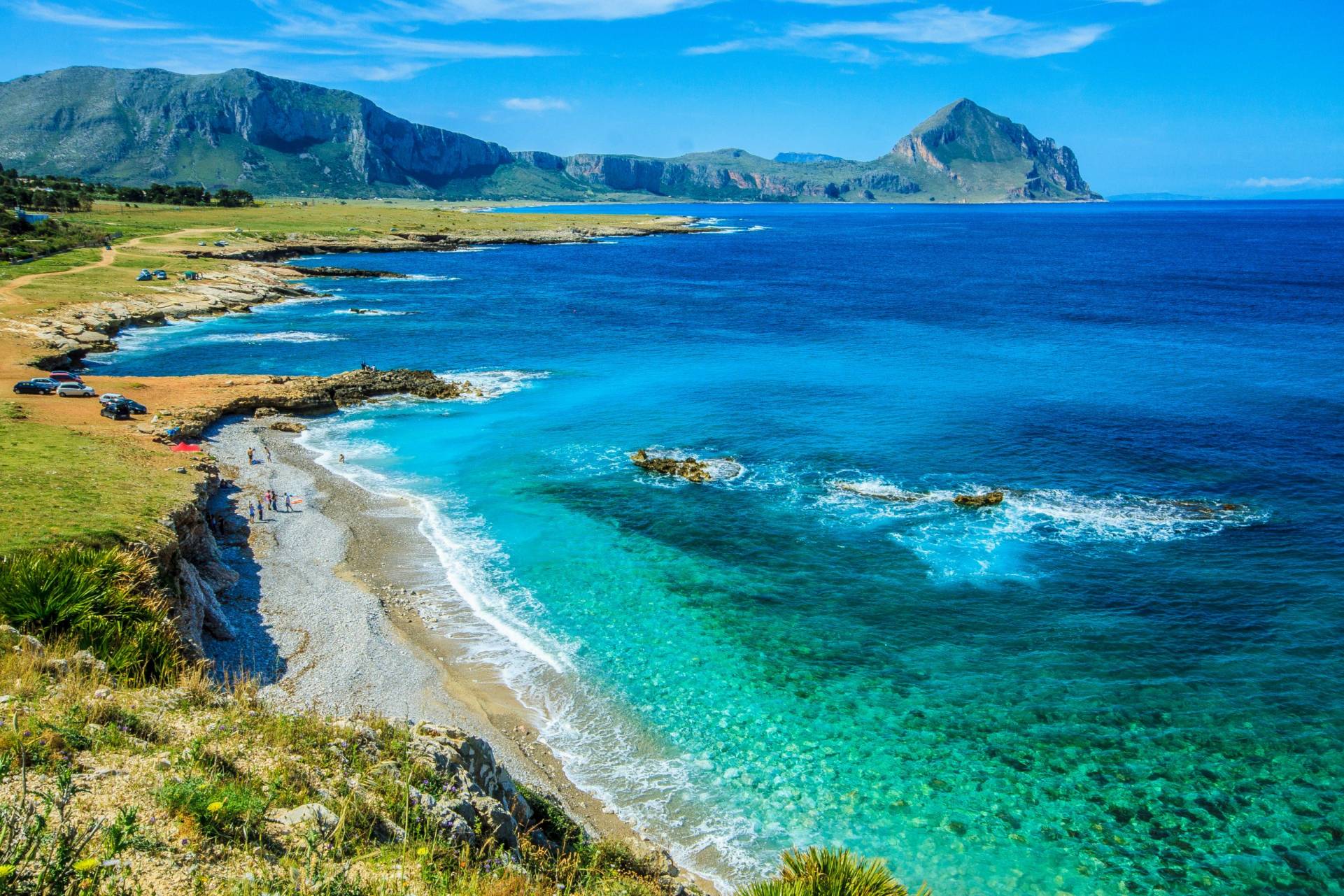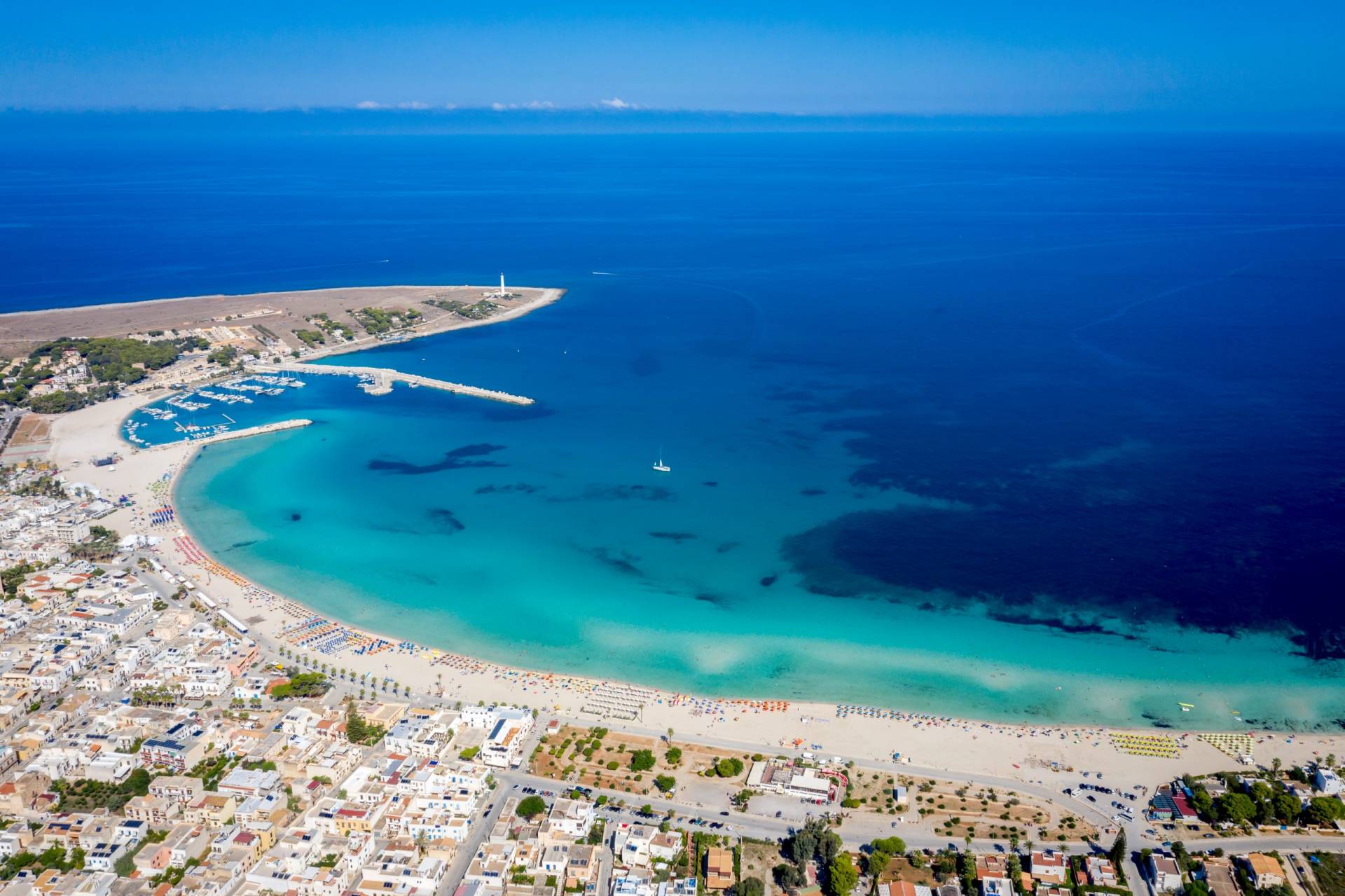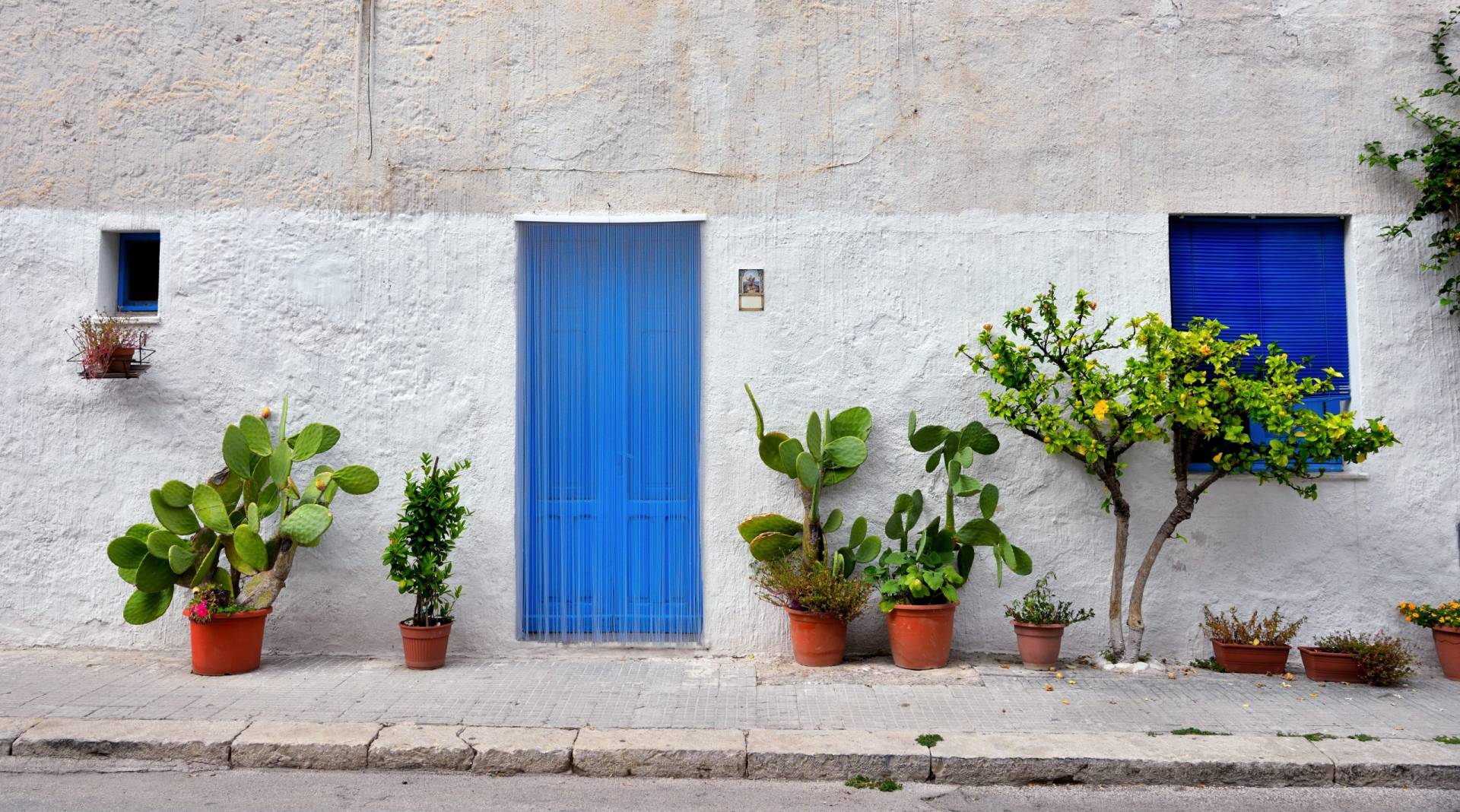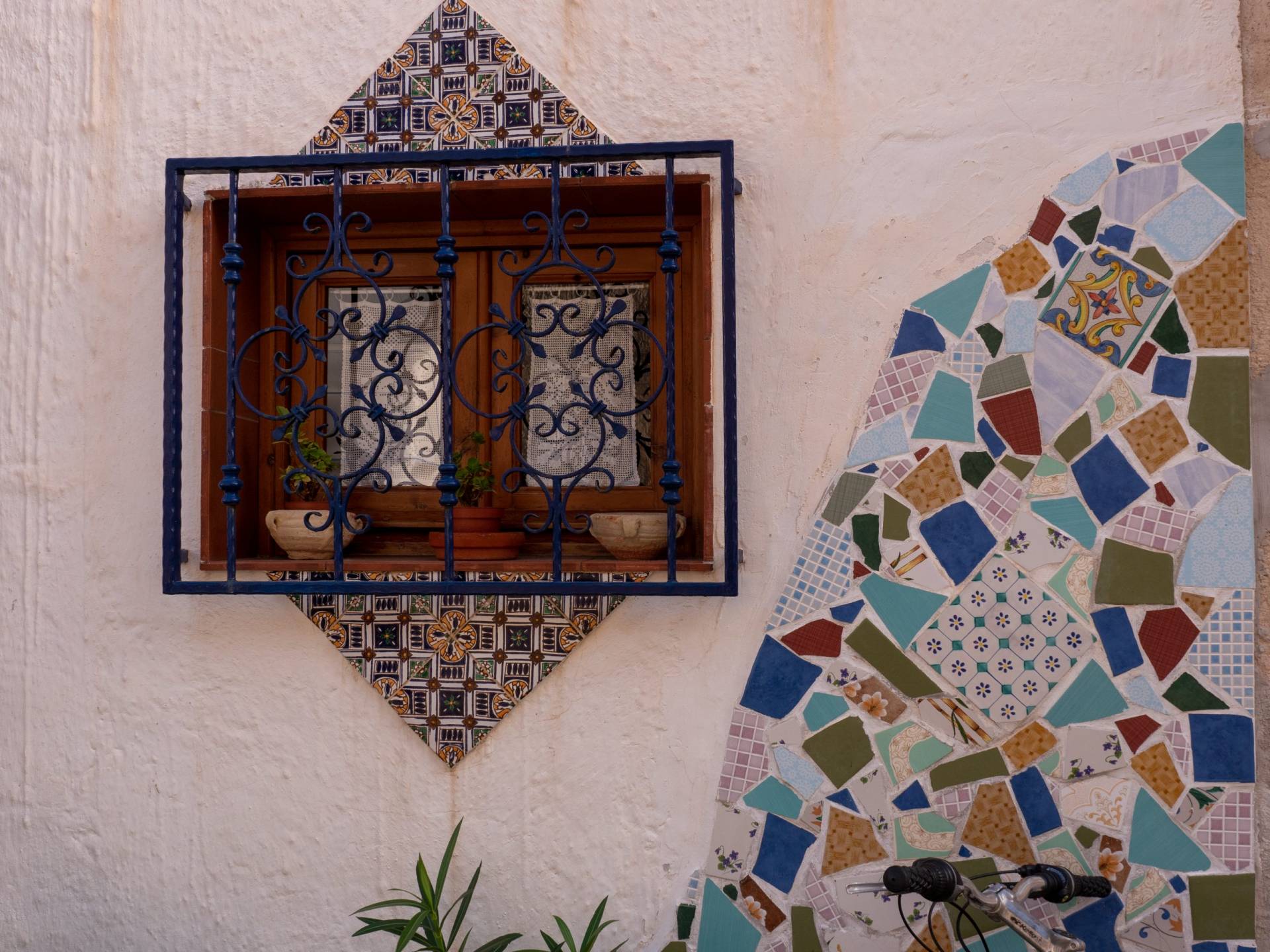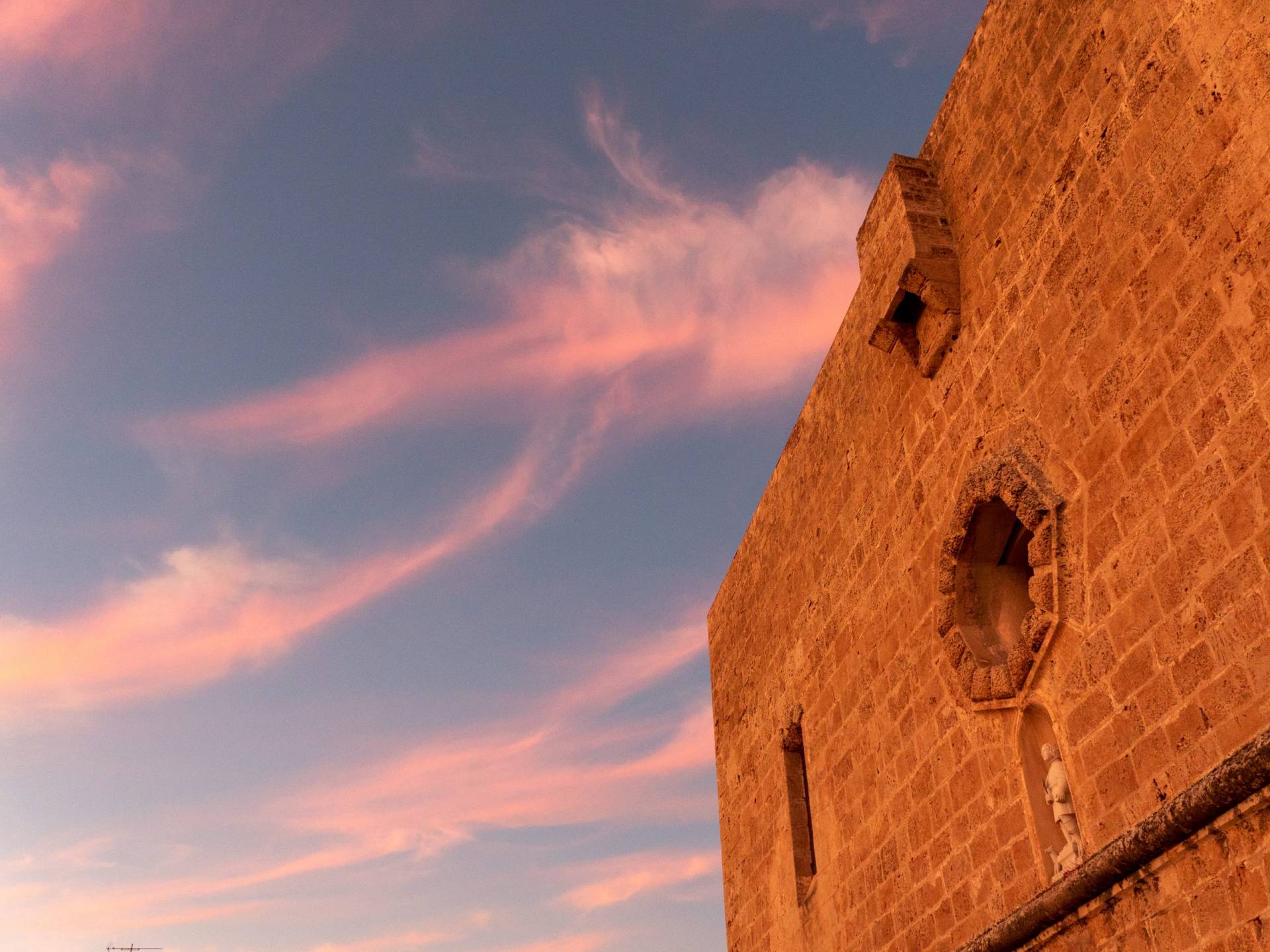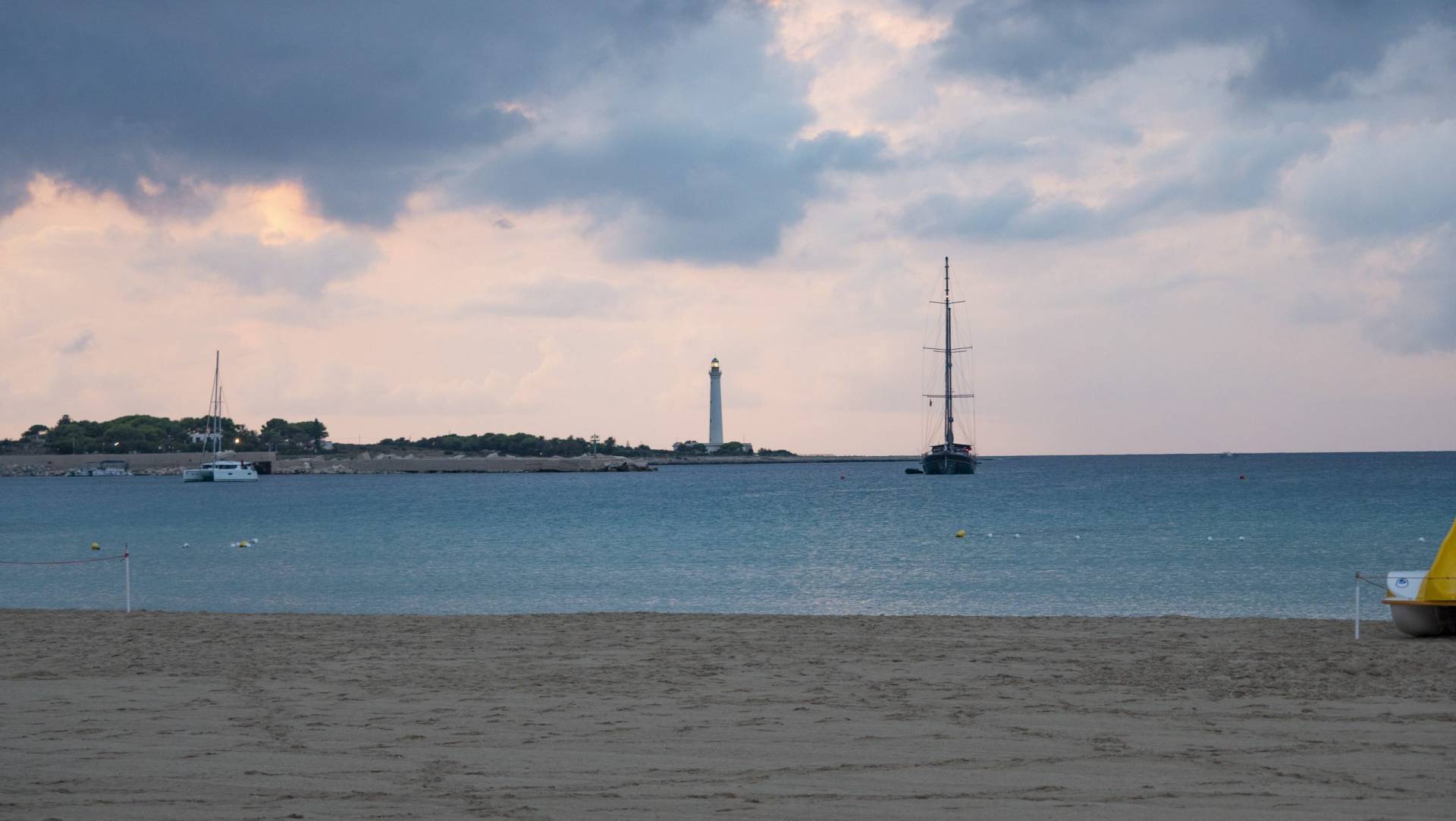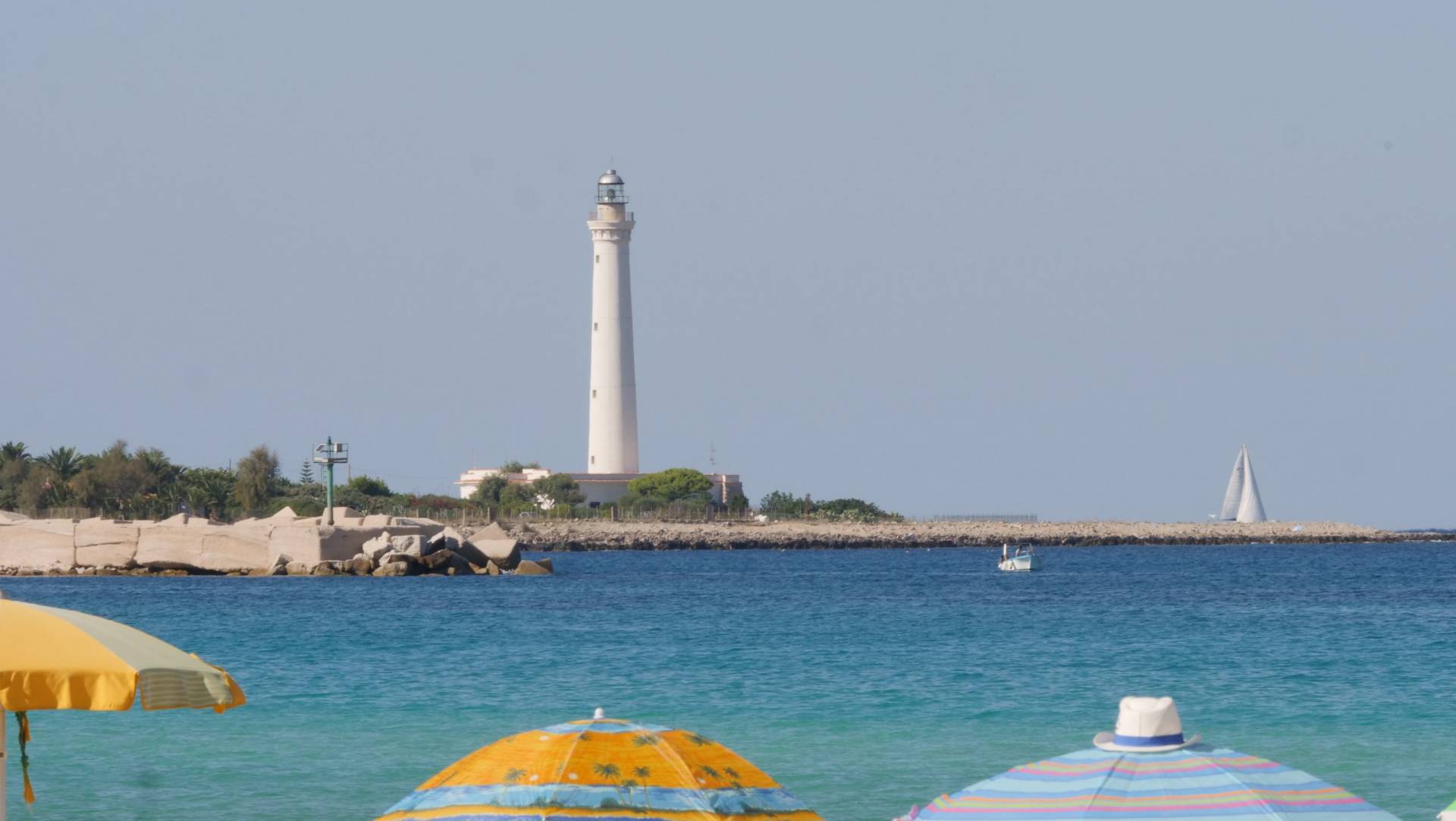 Riserva dello Zingaro - panorama
Spiaggia di Macari San Vito Lo Capo (TP)
San vito lo Capo coast line tourist beach aerial view
Picturesque door and window in the center of San Vito Lo Capo Si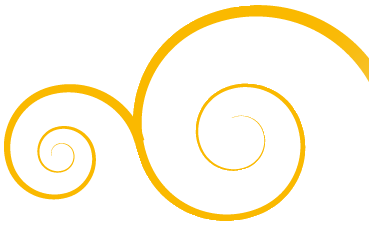 Arriving in San Vito Lo Capo means allowing yourself to be gently overwhelmed by your senses. The whiteness of the coastline, the iridescent blue of the clear waters, the red of the sunsets on the beach.
And then there are the smells: the jasmine and bougainvillea wafting from the houses, the unmistakable fragrance of the sea, and the freshness of the aromatic herbs growing wild in the nearby Monte Cofano and Zingaro nature reserves. And the sound of the wind and the crashing of the waves onto the shore…
RESERVATIONS AND SERVICES
BY BOOKING DIRECTLY WITH US, YOU WILL BENEFIT FROM THE BEST RATES:
BEST RATE GUARANTEE

: Only by contacting us directly will you benefit from the best rate, tailored to your stay;

NO ADDITIONAL COSTS

: You will not be charged any commission costs;

BEST CONDITIONS AND SUPPORT

: If you book directly with us, you will receive the best booking conditions and all-round support;
BREAKFAST WITH ASSISTED BUFFET

The buffet we serve in the morning consists of sweet and savoury items, an expression of Sicilian pastry-making and gastronomy. Our breakfast is very popular, both for its quantity and quality. We have different varieties of milk (lactose-free, soya, rice, almond) and the option to offer (on request) lactose-free and gluten-free products (bar drinks, espresso, cappuccino, tea etc. are included). Breakfast is served in the air-conditioned breakfast room and on the outdoor patio.

MICROFIBRE BEACH TOWELS, ONE PER PERSON, CHANGED DAILY
FREE WI-FI CONNECTION

WELCOME DRINK

USE OF OUR FREE BICYCLES (subject to availability)

DAILY ROOM CLEANING

LUGGAGE STORAGE

HELP ORGANISING TRANSFERS, EXCURSIONS BY ROAD AND SEA ETC.




 
EXTRA SERVICES SUBJECT TO AVAILABILITY AND
REQUESTS MADE BY OTHER PARTIES
PLEASE NOTE: THE FOLLOWING SERVICES MAY BE SUBJECT TO CHANGE DUE TO COVID-19 PREVENTION MEASURES
We are affiliated with a lido and bathing establishment, which offers various solutions and services that can be booked now with a discount. You can hire parasols and sunbeds on the public beach every day without needing to book.
Various parking solutions available:
– Free municipal parking 700m away
– Private, supervised parking 400m away
The RIAD offers a breakfast service only.
We have selected some of the best and most characterful restaurants in San Vito for our guests, which offer "non-touristy" cuisine at a discount.
EXCURSIONS BY ROAD AND SEA
From San Vito Lo Capo, you can take some wonderful excursions.
BY SEA – You can travel to the Zingaro Nature Reserve and the Egadi Islands (Favignana and Levanzo) on a range of different boats.
BY ROAD – Again, you can visit the Zingaro Nature Reserve or the area around San Vito, but only places within an hour and a half radius, such as Trapani, Erice, Segesta, Selinunte, Mozia, Palermo, Marsala, Mazara del Vallo, Valle del Belice etc.
For those opting for a transfer, we offer private or collective transfers.
SUPPLEMENTS AND DAILY DISCOUNTS FOR CHILDREN
Children up to 4 years of age stay free of charge, either in a cot or in a single bed with a safety rail (optional). We also supply a special bathtub for use in the shower. Rates are reduced by 50% for children aged 4 to 11.
Abbiamo soggiornato 7 notti in questa splendida struttura vicina alla spiaggia. il proprietario, Francesco, ha reso la nostra vacanza perfetta in tutto. Le camere e i bagni sono molto spaziosi,... read more pulitissimi e arredati con gusto. La struttura è molto particolare, richiama i tipici Riad marocchini, e dalla terrazza sovrastante si può vedere tutta la baia di San Vito in tutta la sua bellezza! La colazione offre una vasta gamma di prodotti tipici locali e di qualità. Grazie a Francesco e al suo staff per tutto! Più

MONICA R


27 August 2022

Consiglio questo posto a tutti una cornice in questa località mozzafiato. Vicinissimo al mare, posizione eccellente, insomma tornerò il prossimo anno ringrazio sempre tutto lo staff.
San Vito Lo... read more Capo forever

elisamery2020


13 September 2022

Al RIAD abbiamo trascorso una settimana di sole intenso, mare splendido ed ottimo cibo, coccolati come meglio non ci sarebbe potuto accadere da Francesco ed il suo team. La struttura... read more e' incantevole, comodissima perche' a tre minuti dalla spiaggia bianca di San Vito e a cinque dal centro del paese, accogliete, unica nel panorama della ricezione alberghiera locale, pulissima. Francesco e' dotato di naturale simpatia, di un profondo senso dell'ospitalita', di una prfonda cultura del territorio e delle sue storie e di un sorriso contagioso. Colazione a base di dolci siciliani di grande bonta'. Il tutto gestito come se fossi parte della loro famiglia, con molto garbo e calore umano. Ci torneremo, presto! Mario e Monica Più

W3725SAmarios


31 July 2022

Via del Secco n.17/19, San Vito Lo Capo (TP)